career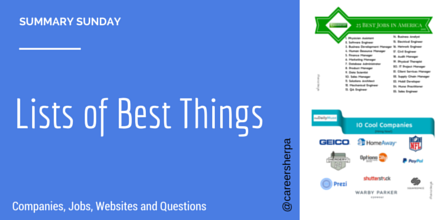 This weekly summary is all about lists...best jobs, companies, Boomer websites and interview questions.
It may not be a big surprise to hear that your job is impacting your self-worth. 47% of working adults said they gain equal or greater feelings of self-worth from their jobs and careers as they do from their personal lives. This is according a study by the University of Phoenix School of [...]
Get serious about managing your career this year! Here are this week's popular articles about starting a new job, being likable, marketing yourself visually and more.
Whatever you do, don't ignore your job search this month. December is one of the best month's for building relationships and getting the news out about your search. It is also time for your to think about your goals and priorities for 2015. December is a social smorgasbord of events! Think about the holiday events you are invited [...]
It may not be your top priority to keep up with job search trends, but it IS mine. Changes in job search can impact your success (or failure) in finding a new job quickly. These are 5 things you must know!  This week's round up of posts comes from my most popular tweets. And I'm [...]
We all need a little pick-me-up and boost to our self-confidence once in awhile. The articles with the most views, shares and retweets this week prove this point. So, there are worth re-sharing here just in case you missed them. 8 Scientifically-Backed Ways to Feel More Confident (Even If You're Not) via Huffington Post Stand [...]