Use these interview and networking questions to help you land your next job! Asking questions and preparing answers to questions are the key to your success.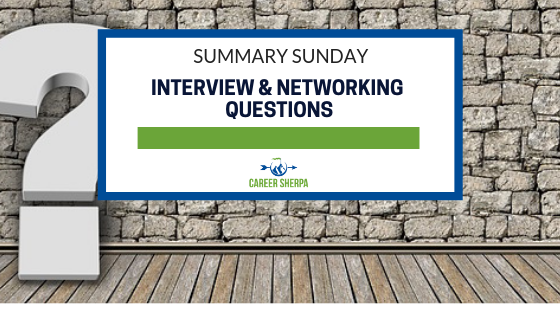 During job interviews and informational meetings, you'll want to have questions on hand that you can ask. You also want to prepare answers to typical job interview questions. This roundup is filled with both.
You'll also find news about LinkedIn's algorithm change and the biggest challenges facing HR in 2019. Plus, learn where recruiters are looking for candidates.
JOB INTERVIEW
How To Answer the 6 Toughest Job Interview Questions
by Beth Luberecki | The Washington Post
You will be asked these questions or a version of them, so hear how career experts recommend answering them.
The Ultimate Interview Guide: 30 Prep Tips for Job Interview Success
The Muse
Here's what you need to do before, during and after your job interview. If you're prepared for the interview, it will be a lot less stressful and this guide will get you there.
Top 12 Best Questions to Ask at the End of the Job Interview
by Pamela Skillings | Big Interview
You know you are supposed to ask questions during the interview, so check out this list of questions and pick your favorites. Oh, and by the way, instead of waiting until the end of the job interview, consider asking questions throughout. It makes for better conversation.
The Best Interview Questions to Ask if You Want the Truth About Company Culture
by The Muse
How will you fit into your next company? Asking someone to define the culture of the organization isn't easy to answer. Luckily, these questions will help you get to the root of "how things get done around here." And if you want to make the most of your job search, ask these questions BEFORE the job interview. Use networking meetings with current or past employees to get your answers.
NETWORKING
70+ Questions to Ask in Informational Interviews
by Susan P. Joyce | Job-Hunt.org
You've heard you need to network during your job search…but you aren't sure what to do. This post provides the guidance you need to prepare for a one on one informational meeting. Joyce recommends starting the process by asking people you know first. When you know what you're supposed to do during these informational meetings, it makes it much less stressful!
LINKEDIN
How the LinkedIn Algorithm Works in 2019
by Michael Quoc | Falcon.io
News flash:
In October 2018, LinkedIn changed its feed algorithm to help private users get their posts seen while slightly reducing the reach of super-popular "power users". That's because while total interactions on LinkedIn have increased 50% YoY, most of those interactions were with the top 1% of influencers. This latest update means that all but the largest users and brands on LinkedIn have seen their average reach and engagement improve over the past few months.
Read this article and learn what you can do to get more people to view your status updates (and profile) on LinkedIn.
RECRUITING
The Secrets of Sourcing on Slack | @EmmaHunt10 on The #SocialRecruiting Show
by Katrina Collier | The Searchologist
I love sharing how recruiters find candidates (and a look behind the curtain). This is a summary of a conversation about how recruiters can source candidates by using Slack. If you are using Slack, think about finding groups related to your industry or occupation and join them. You'll meet interesting people and gain more visibility. You never know, your next boss (or recruiter) could be hanging out there too.
CAREER
LinkedIn Report: These 4 Ideas Are Shaping the Future of HR and Hiring
by Mark Lobosco | The LinkedIn Talent Blog
Based on LinkedIn research from a survey of over 5,000 talent professionals in 35 countries and conversations with experts, these are the four issues/ideas HR and hiring are addressing them.
How to find soft skills
Offering flexible work
Tactics to combat sexual harassment
Pay transparency
In case you missed it
These are recent articles I've written:
Five Ways to Get Out of Your Job Search Rut
Using the Right Pitch at the Right Time

Hannah Morgan speaks and writes about job search and career strategies. She founded CareerSherpa.net to educate professionals on how to maneuver through today's job search process. Hannah was nominated as a LinkedIn Top Voice in Job Search and Careers and is a regular contributor to US News & World Report. She has been quoted by media outlets, including Forbes, USA Today, Money Magazine, Huffington Post, as well as many other publications. She is also author of The Infographic Resume and co-author of Social Networking for Business Success.