Winning Attention Requires More Than an Average Resume.
---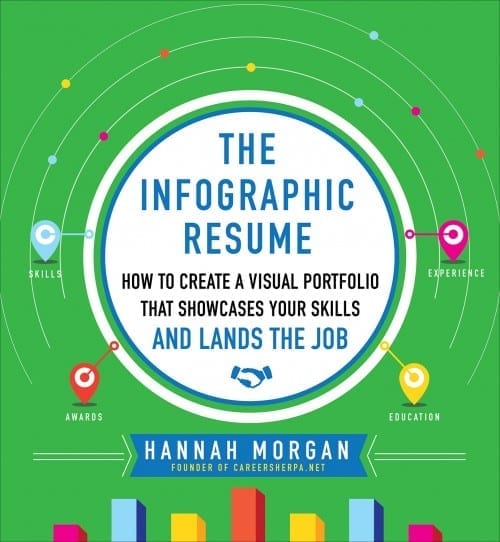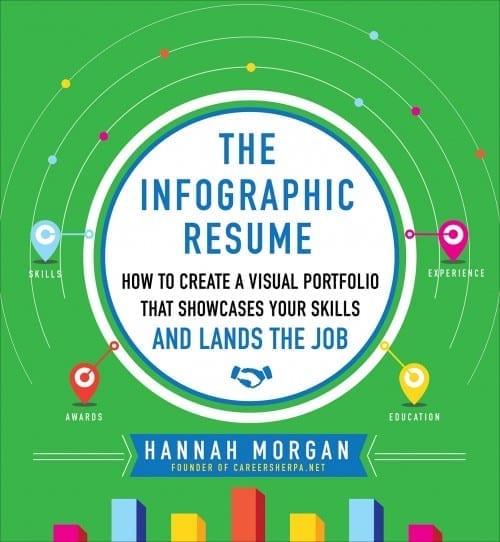 ---

What They Say About The Infographic Resume…
"Six seconds or less. That's how long it takes a hiring manager to decide whether or not to move you forward in the hiring process. You can't land the jobs of today with the job search tactics of the past. Follow Hannah's sage advice regarding a visual resume to complement your traditional resume, and you'll land the job you've been eyeing in no time." -Heather R. Huhman, Career Expert & Founder of Come Recommended
"Finally! A book that shares practical advice on how to showcase your knowledge, skills, and abilities. Thousands of people write job search books every year, but only a few offer real takeaways that can be successfully implemented. As a human resources professional, I can confirm that the strategies Hannah Morgan shares are spot on. In today's free agent economy, "The Infographic Resume" is a must for anyone looking to stand out among the competition." -Sharlyn Lauby, President ITM Group, Inc. and Author of HR Bartender
"Read this book to land a job faster. Hannah provides cutting-edge resources to help you create powerful, meaningful job search marketing documents that both show and tell why you are the best fit for the position." -Miriam Salpeter, Owner of KeppieCareers.com. Social Media Strategist, Job Search Coach, and Author of "Social Networking for Career Success."
"These days, the design of your resume is equally as important as it's content. Yet most resume books only handle content. For the first time, there is a book offering detailed advice, with step by step instructions for creating a beautiful looking resume. With instructions on typography, color and layout, this book could be on the design shelves of a bookstore. And it's not just for it's own sake, Hannah goes into the background of why these new visual resumes are important and how hiring has changed. This is an essential book for anyone serious about their career today." -Joshua Waldman, Author of "Job Searching with Social Media For Dummies"
"If your career is in transition, you owe it to yourself to read this book. The job market is complex – so why not find out how to simplify the search process? Hannah's expertise will make a real difference! " -Chris Westfall, US National Elevator Pitch Champion and Author of "BulletProof Branding."
"As usual, veteran career blogger Hannah Morgan leads the way for job seekers who want to stay ahead of the curve and understand what they need to do to be competitive in an evolving 21st century economy. Morgan's answer is "The Infographic Resume", which capitalizes on the human brain's appetite for highlights presented visually. If you're on the market, you need to read this book and follow its guidance immediately." -Alexandra Levit, Author of "Blind Spots: the 10 Business Myths You Can't Afford to Believe on Your New Path to Success."
"Hannah Morgan is one of the strongest and best voices in the (crowded) job search space, and "The Infographic Resume" is jam-packed with her awesome knowledge and advice. It's more than just a how-to guide for visual resumes; it's a soup-to-nuts manual giving job seekers everything they need to know about branding themselves in the job market today. The book is a must for anyone who wants to get noticed—and hired." -Adrian Granzella Larssen, Editor-in-Chief, The Daily Muse
"I'm not a big believer in infographic resumes (yet), but I am a big believer in Hannah Morgan's advice. And this book is full of Hannah's excellent advice and how-to's for succeeding in a job search. She offers many examples plus step-by-step instructions and resources for a successful job search in today's technology-driven job market. Infographic resumes and online portfolios may well be the future of job search, and, if they are, this book provides excellent advice for moving in that direction for your job search and career." -Susan P. Joyce, Editor/Publisher: Job-Hunt.org and WorkCoachCafe.com
"The resume hasn't yet gone extinct, but it has evolved. In today's ultra-competitive job market, professionals of all experience levels are learning that an old-school resume isn't get the job done. They need an edge; a way to stand out. Infographic resumes can provide that edge – and Hannah Morgan's book is the best possible resource for those who wish to create a visual resume.
But "The Infographic Resume" is much more than that; it's a personal branding manifesto that prompts job seekers through every critical aspect of the job search, from asset inventory to storytelling. Written by one of a handful of career experts who is also a caring mentor, Hannah has crafted a must-have book for every job seeker." -Mark Babbitt, CEO & Founder, YouTern