Presenting the hottest career industry trends for job search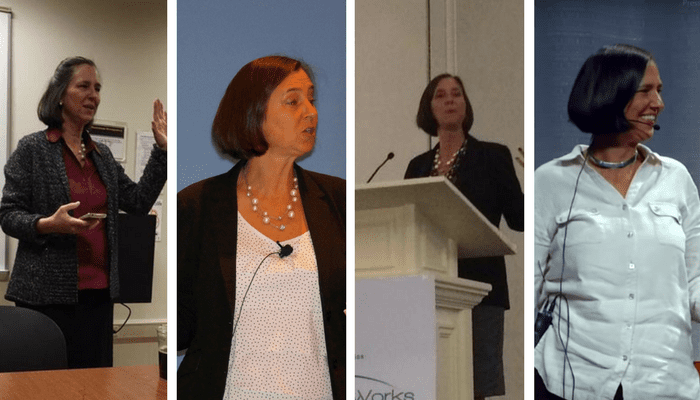 As a speaker, author and educator, I teach how to navigate the confusing terrain on your adventure called Job Search. 
Finding a meaningful job isn't going to be the same as the last time you looked for employment.
Expectations and trends in the career industry change fast. There are higher priorities to your job search than your resume.  It's crucial to have a social media strategy, manage your online reputation and know how to create and maintain the meaningful connections that will be important in helping you land your ideal job.
I'm Hannah Morgan, speaking and writing content on the very heartbeat of all things current in the field of job search.  Educating professionals at career industry events, workshops, career boot camps and hosting webinars are my sweet spots.
Entrepreneurial-minded professionals will learn the latest in social media, visual resume trends and cutting-edge tools and techniques necessary to stand out in a class by themselves.
My tailored keynotes, workshops and webinars can include, but are not limited to, the following presentation topics:
Job Seach
Update Your Job Search with these Proactive Strategies
Taking Online Networking to In Real Life (IRL)
Twitter for Job Search
Harness the Power of LinkedIn
Social Media/Online Reputation
Creating Memorable Social Networking Profiles
How to Easily Share and Create Content to Build a Following
How to Maximize your LinkedIn Profile and Activities
Creative Ways to Implement Visual Content
The Power of the New to Enchant: Infographic Resumes
The New Resume: Who Needs a Portfolio and Why
Career Development
Using Twitter to Network and Build Community
Breakfast of Champions: Personal Branding Through Social Media
Building the Right Presence Online NOW
Bulletproofing Your Career Online
To uplevel your team's social media strategies or job search knowledge, please complete the contact form below:
Praise for Hannah's Presentations
Hannah provided our group of global career coaches with two energetic days of hands-on presentations. She also provided motivating sessions on new trends and social media that will help our clients. Our team is still talking about her sessions. Hannah is clearly passionate about her work
We hired Hannah to be a speaker at our STC Toronto Career Day. She gave a lively, informative, intelligent and comprehensive presentation on "Social Media and Reputation Management". Everyone thoroughly enjoyed what she had to say, and she inspired us all to manage our online presence more effectively.