There's no doubt we are in a job market favoring candidates. When there are more jobs available and most people are employed, it creates a different job search dynamic.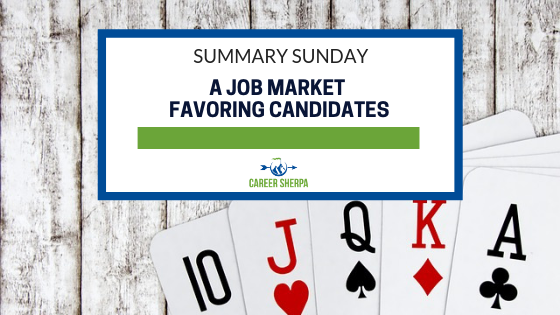 In this week's summary, you'll find articles to help you take advantage of the current job market. The odds are in your favor! You'll find information on Google for Jobs, LinkedIn and it's privacy settings, how to improve your networking, dealing with ageism during the interview, assessing company culture and much more.
And even if you aren't actively looking, you can and should do some things differently in a job market favoring candidates. Learn about LinkedIn's privacy settings and tips for creating a stronger password.
There are a lot of articles this week because I didn't post a summary last week. My site was experiencing some problems, but that's all taken care of!
If you enjoy these articles, please share them. You can also follow the publications and authors to receive their updates directly.
JOB SEARCH
5 Steps to Shorter Job Search with LinkedIn
By Tony Restell, Social-Hire | Job-Hunt.org
Learn about the five changes you need to make to your LinkedIn profile in order to speed up your job search. Tony Restall writes "Today, the success of your job search is now closely tied to whether or not the recruiters who have your ideal jobs actually find your profile and are persuaded to want to contact you"
How To Use Google's Job Search Feature To Land A Job
by Robin Ryan, Robin Ryan Careers | Forbes
What is the best job search engine? Maybe it's Google. Learn how to use Google's job search functionality with the guidance of Susan P. Joyce of Job-Hunt.org.
NETWORKING
It's Not About You: 10 Ways to Improve Your Networking
by Gary Burnison | Korn Ferry
You can't expect people in your network to help you if you haven't been in touch with them or helped them in the past. Here are 10 questions to ask before you network that will shift your thinking and make your more successful at building relationships!
Make The Most Of Your Networking Events With These 13 Tips
by Forbes Coaches Council
Learn what career coaches recommend you do to make the most of conferences and networking events. There are ideas for what to do before, during and after to help your career.
LINKEDIN
LinkedIn's Most Important Settings If You Want to be Found
by JoAnne Funch, LinkedIn For Business |  Business2Community
This is a MUST READ! Take a walk through all the important LinkedIn privacy settings to ensure your profile is easily discoverable.
10 Things you probably don't know about LinkedIn
by Shelly Elsliger as a post on LinkedIn
Skim this list and learn something new on LinkedIn. Even the most seasoned users may find something new!
PS: This isn't an article, but a status update (post) by Shelly. A recent trend on LinkedIn is to post longer, more engaging information/posts rather than linking to an article. This keeps the user on LinkedIn longer which is rewarded by showing the post to more people on LinkedIn.  Try it and see how it works for you.
CAREER
How To Tell If You're Being 'Breadcrumbed' At Work
by Emily Torres | BBC
Have you ever been strung along at work by management? Were you given just enough encouragement to think you may be getting a promotion? Then you've been breadcrumbed. Learn more about the signs of being breadcrumbed.
Why You Need to Stay on LinkedIn Even When You Have a Job
by Virginia Franco | Virginia Franco Resumes
Sharing updates and updating your LinkedIn profile doesn't mean you are looking for a job. It means you care about your career. Check out these 4 benefits of staying active on LinkedIn, especially if you have a job.
INTERVIEWING
5 Ways to Respond to Ageism in a Job Interview
by Rebecca Zucker | Harvard Business Review
Once you hit 40, you don't just need to worry about wrinkles. You need to start thinking about age discrimination. This article contains 7 tips to help you overcome looking like an old fart.
SOCIAL MEDIA
5 New Social Media Platforms Marketers Should Watch in 2019
by Pamela Bump | HubSpot
I realize you may not be interested in marketing. However, it's important to learn about new tools and technology because one day, you may want or need to use it. And maybe, just maybe, you are interested in jumping on board some of these new platforms. Being an early adopter allows you to be a big fish in a small pond. Another way to learn about hot new social media platforms is to ask your teenager- TikTok is one I hear a lot about.
SECURITY
Create Stronger Passwords
by @businessinsider
Watch this short video and see how to create passwords that are extremely difficult to hack! And I don't need to remind you to NOT use the same password for all your accounts, do I? (wink)
Forget the special characters next time you change your passwords pic.twitter.com/Pp1xmgVen6

— Business Insider (@businessinsider) August 4, 2019
MENTIONS
We're in a 'golden age' to get a new job, experts say—here's how to benefit
by Sam Becker |  Acorns (CNBC)
There are still plenty of jobs that need to be filled. According to the July 2019 Jobs report, these three industries had the greatest number of new jobs: educational and health services, professional and business services, and financial activities. We are in a job market that favors the job seeker right now, so it's a great time to actively search for a new job. (No one is quite sure how long these positive employment conditions will last.)
10 Ways to Learn About a Company's Culture
by Hannah Morgan | US News & World Report On Careers
Here are some common and not-so-common ways to research a company's culture BEFORE you get to the interview.

Hannah Morgan speaks and writes about job search and career strategies. She founded CareerSherpa.net to educate professionals on how to maneuver through today's job search process. Hannah was nominated as a LinkedIn Top Voice in Job Search and Careers and is a regular contributor to US News & World Report. She has been quoted by media outlets, including Forbes, USA Today, Money Magazine, Huffington Post, as well as many other publications. She is also author of The Infographic Resume and co-author of Social Networking for Business Success.