In order to get noticed as a candidate or star performer today, you'll have to try new and different ways to stand out.
If you continue to do what you've always done, you'll get the same results. So if you are reading this, I hope that means you are ready to try new and different strategies or approaches to your job search (and career).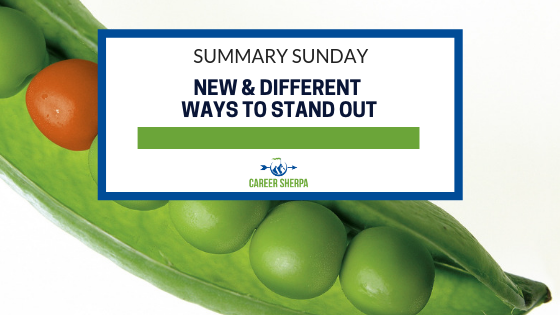 This week's summary features tips on new elevator pitches, different resources within Indeed's job site, examples of what college graduates can put in their LinkedIn summary section, a different strategy to writing a resume and new ways of breaking out of your comfort zone.
As you read these articles, think about subscribing to the sites mentioned and/or following their social media accounts so you can get their updates!
NETWORKING
2 Ways to Create a 1-Line Elevator Pitch (That'll Make People Want to Keep Talking to You)
by Priscilla Tan | The Muse
The title says it all- How will you answer the "What do you do?" question concisely and interestingly? You'll find two modern formulas to zoom in on a short but interesting answer! Start practicing your new pitch today!
JOB SEARCH
10 Tips for Finding Your Next Job on Indeed [Infographic]
by Indeed | The Savvy Intern by YouTern
Make the most of your time on Indeed by following these 10 tips. I bet you'll be surprised by all the information you can find and use in this infographic!
LINKEDIN
5 Stunningly Good Graduate Student LinkedIn Summary Examples
by Andy Foote | LinkedInsights.com
The Summary section of your LinkedIn profile is too important to ignore. But what do you put in that section if you are a college student and about to graduate? See examples, good and bad, of what to write.
RESUME
A woman created a stunning résumé to land her dream tech job — it got her immediate interviews with Airbnb, Uber, and LinkedIn
by Lisa Eadicicco | Business Insider
While this story is from 2015, a strategy like this would work today! As the article says:
What made Mufleh's résumé so interesting to recruiters is that it doesn't really focus on her past experience, although an employer could find that on her résumé if they wanted to. Instead, it showcased her knowledge of the travel industry, what she could contribute to Airbnb, and areas she thinks the company should tackle next.
CAREER
15 Ways To Trick Yourself Out Of Your Comfort Zone
Forbes Coaches Panel
There comes a time when you know you need to do things differently, but it can be challenging to climb out of your comfort zone. 15 career experts provide tips to help you break free!

Hannah Morgan speaks and writes about job search and career strategies. She founded CareerSherpa.net to educate professionals on how to maneuver through today's job search process. Hannah was nominated as a LinkedIn Top Voice in Job Search and Careers and is a regular contributor to US News & World Report. She has been quoted by media outlets, including Forbes, USA Today, Money Magazine, Huffington Post, as well as many other publications. She is also author of The Infographic Resume and co-author of Social Networking for Business Success.