When it comes to your career, understanding what got you here may not get you where you want to go next means looking at your career – past, present and future.
Here's to your career – past, present and future!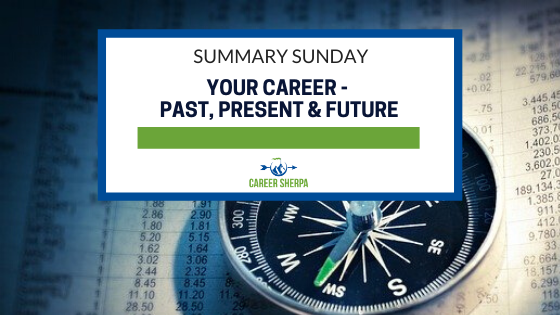 It's worth taking time to understand trends impacting your career growth and trajectory. And this week's summary has just the help you need to skill up. Are you investing enough effort in managing your career (and job search)?
Here's what I know.
We will inevitably face a recession, maybe not tomorrow, but soon, and you want to prepare now by skilling up and establishing your value. This week's summary has tips to help you get there!
Find out more about flex work (and telecommuting, remote work and freelancing) and why it matters to your career.
What steps are you taking to work on your career development?
Understand why embracing social media and networking NOW will help prepare you for the future.
And to really set yourself apart, dig deep when conducting research before your next interview!
CAREER
When It Comes To Employee Engagement, There's No Place Like Home
by Meghan M. Biro | Forbes
Is Remote Work the same as telecommuting? Freelancing? Independent contractors? It's important to understand the differences because, over the last decade, remote work has surged by 91% (according to FlexJobs).
6 Ways to Take Control of Your Career Development If Your Company Doesn't Care About It
by Carter Cast | Harvard Business Review
Don't count on your company to develop your career. Smart professionals know they need to take a DIY approach to manage their own success. Here's how.
How To Prepare For The Next Recession
by Korn Ferry
A slowdown in GDP, uncertain trade negotiations, and cut to interest rates could be indicators that a recession is on the way. So what can you start doing right now to improve your job's future when faced with downsizing? Here are 4 ideas.
SOCIAL MEDIA
Social Proofing Is Key To the Recruitment Process
by Dorothy Dalton | Dorothy Dalton
Social proof (aka reviews) is "a key part of the way we make consumer decisions today" says Dalton. So it only makes sense that both job seekers and recruiters use reviews to evaluate each other. This article helps you understand the challenges recruiters face when managing their employer's online reputation (and why this matters to job seekers!)
Social Media Etiquette in 2019 [Infographic]
by Andrew Hutchinson | Social Media Today
Based on recent research, this infographic offers an interesting overview of the modern communications landscape and shares insights into acceptable and unacceptable practices on social media. It includes the most inappropriate use of social media, where it is acceptable to use and when, and differences by age demographics.
NETWORKING
7 Opportunities You're Missing Out On By Not Doing Informational Interviews
by Mark Anthony Dyson | FinancialDiet
Not only will an informational interview help you understand more about a company, career path or role, it also offers these other 7 benefits. PS: an informational interview isn't an interview at all. It's a meeting you ask for in order to learn!
Here's How to Make People Like You in as Little as 5 Minutes
by Scott Mautz | Inc.
The secret to networking is getting people to like you. Here's what you can do and say to be more likable! PS: These are easy things for introverts to do!
INTERVIEWING
6 Ways You Must Research A Company Before An Interview
by Lindsay Tigar | TheLadders
In order to really be ready for your next job interview, you want to do ALL 6 of these things! Don't stop until you've researched everything! Sure, it takes more time and effort, but your career is worth it!

Hannah Morgan speaks and writes about job search and career strategies. She founded CareerSherpa.net to educate professionals on how to maneuver through today's job search process. Hannah was nominated as a LinkedIn Top Voice in Job Search and Careers and is a regular contributor to US News & World Report. She has been quoted by media outlets, including Forbes, USA Today, Money Magazine, Huffington Post, as well as many other publications. She is also author of The Infographic Resume and co-author of Social Networking for Business Success.