Your next career move, either by your choice or someone else's, takes preparation. Don't wait until a crisis occurs to take some of these steps.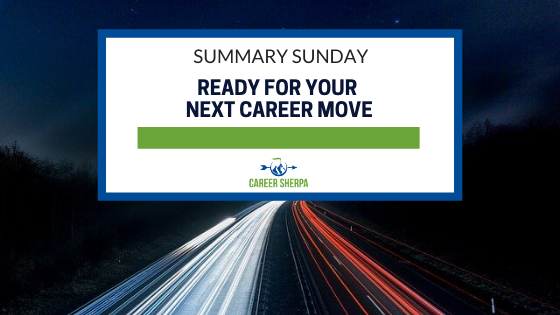 And if you are in the midst of an active job search, you can still work on these career building steps. Remember, never stop looking for your next great opportunity.
JOB SEARCH
Preparing for a Layoff in 2019 — Things to Do at Work
by Susan P. Joyce | Job-Hunt.org
Layoffs can and do happen, often without warning. This is a list of things to do right now, before you get wind of a layoff. If you know someone who is in the midst of a layoff, please share this with them.
How To Avoid the 6 Most Common Mistakes of Job Searching
by University of Colorado at Boulder | Phys.org
This article highlights six mistakes that almost every job seeker makes. Take note!
NETWORKING
Executives: Expand Your Networking Strategy
by Adrienne Tom | Career Impressions
Even if you aren't an executive, all these smart networking tips apply!
LINKEDIN
5 Steps to a Best-in-Class Executive LinkedIn Profile
by Laura Smith-Proulx | An Expert Resume
These are subtle but high-impact steps you can take to increase your visibility on LinkedIn.
CAREER
How to Spend Way Less Time on Email Every Day
by Matt Plummer | Harvard Business Review
You are spending too much time as a slave to your email. Try these tips to free yourself from email-hell!
Microsoft Experimented With a 4-day Workweek, and Productivity Jumped by 40%
by Lisa Eadicicco | Business Insider
Could a 4-day workweek be coming our way? Microsoft Japan tested it last summer and it was successful. Other companies have also had success both with human productivity and decreased use of resources.
The Bottom Line:
Your next career move takes preparation. No matter what your current situation.

Hannah Morgan speaks and writes about job search and career strategies. She founded CareerSherpa.net to educate professionals on how to maneuver through today's job search process. Hannah was nominated as a LinkedIn Top Voice in Job Search and Careers and is a regular contributor to US News & World Report. She has been quoted by media outlets, including Forbes, USA Today, Money Magazine, Huffington Post, as well as many other publications. She is also author of The Infographic Resume and co-author of Social Networking for Business Success.