Is it better to be seasoned or avid when it comes to selling your career?
The answer isn't simple, but it leans towards avid.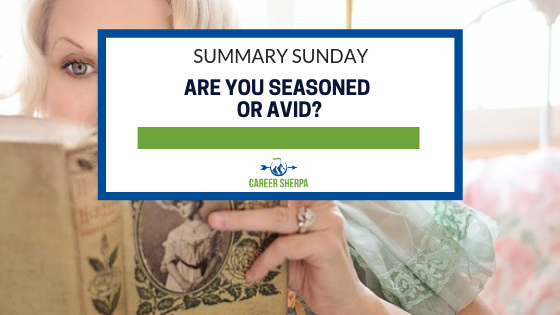 There's no doubt that organizations are facing challenges in hiring talent right now. And there are future challenges facing the workplace.
Baby Boomers will be aging out of the workforce.
Approximately 10,000 people turn 65 each day, the standard age for retirement, and according to Census forecasts, that number is set to rise to nearly 12,000 people within the next 10 years (Yahoo Finance).
Many of you reading this may be thinking about retirement – when will you start and what that will look like. Maybe there are other options to consider too! Read on.
For the rest of us grinding it out, we all know that the days of working for one employer for the duration of our career are gone. Gone too are the days of having just one career. There are more opportunities for movement besides just up.
This week's summary addresses all these issues plus: a formula for finding a new career, unretirement, interviewing tips and even networking advice.
Happy Memorial Day weekend and thank you to all who have served our country!
CAREER
Finally! A Simple Formula for Finding Your Passion
by Christie Mims | The Muse
If you want to make a career change, one of the hardest things to do is to figure out what to do next. The simple formula in this article is a really good way to get started exploring new areas!
New Phase In the Employee Lifecycle: Unretirement
by Sharlyn Lauby | HR Bartender
I'm a huge fan of Sharlyn's work and also a huge fan of the concept she and her husband developed – unretirement! And this article explains why retirement should become part of an organizations career plan. Lauby writes: "Organizations cannot afford to let their talent simply "retire", taking years of knowledge and experience with them. By encouraging employees to unretire for a few years, the organization could create a real win for themselves and for employees."
Career Nomads
by  Korn Ferry Institute
Workers want to "earn and learn" and some organizations have caps on these, forcing employees at all levels to leave. This article explains some of the reasons employees leave after 1-2 years and issues organizations should address.
JOB SEARCH
3 Harsh Realities of Being an Over-40 Job Seeker
by JT O'Donnell | Inc.
Older job seekers have some very real challenges. Age bias is real. But you can't control that. You can control the three things discussed in this article. See if you are guilty of any of these.
INTERVIEWING
How to Show You're Passionate in a Job Interview
by Sabina Nawaz | Harvard Business Review
It isn't the person who is most skilled who gets the job- it's actually the person with skills AND passion. You have to show both. Learn how to convey interest in the work you do!
NETWORKING
4 Types of People Everyone Needs in Their Network
by Lily Herman | Time
Don't wait until you are in job search mode to build your network. Begin today forging relationships with these 4 types of people! (It's always an honor to see myself quoted in articles like these!)

Hannah Morgan speaks and writes about job search and career strategies. She founded CareerSherpa.net to educate professionals on how to maneuver through today's job search process. Hannah was nominated as a LinkedIn Top Voice in Job Search and Careers and is a regular contributor to US News & World Report. She has been quoted by media outlets, including Forbes, USA Today, Money Magazine, Huffington Post, as well as many other publications. She is also author of The Infographic Resume and co-author of Social Networking for Business Success.