When you are making a change in your career, it's hard to know where to start.
If you struggle to explain your change or how to write about your new goals on LinkedIn, then this week's summary will help.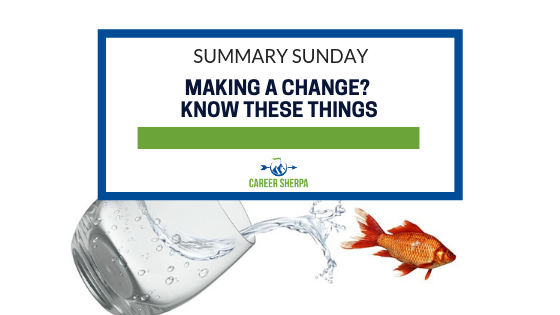 Whether you are completing a degree or you've reached the end of your rope. Getting to the point where you've finally decided to make a change is hard work.
But the next challenge is to figure out how you prove you are qualified for a new role or career.
This week's summary includes advice on the steps to make a career change, how to conduct a personal SWOT analysis to help with your transition, how to write about your career change on LinkedIn and more!
JOB SEARCH
How To Make a Success of a Career Transition
by Hanna Greeman | 3Plus International
This article features 10 steps plus the advice and tips from a wide variety of career coaches! No matter where you are in your career transition, you'll find helpful information. Plus, if don't follow the experts mentioned in this article, I recommend you check them out!
How To Conduct A Personal SWOT Analysis
by Prof. Scott Davis
This is a great exercise if you are planning to change roles or careers. Prof. Davis walks you through each step (with examples) of identifying Strengths, Weaknesses, Opportunities and Threats.
LINKEDIN
LinkedIn for Career Changers
By Virginia Franco | Job-Hunt.org
Section by section, you'll see how to transform your LinkedIn profile when you are making a transition into a new career. This is especially relevant for job seekers who have just completed a degree or training.
4 Stunningly Good LinkedIn Summaries
by Andy Foote | LinkedInsights
Have you ever wondered what a good LinkedIn summary section looks like? It can be challenging to find good ones, but these examples will inspire you to update yours!
Setting Up Meetings Just Got Easier with New Features in LinkedIn Messenger
by Hannah Cutler | LinkedIn Official Blog
Have you ever gone back and forth over email to try and schedule a meeting with someone? Well, LinkedIn has made it easier to schedule using the Messaging app from your mobile. Just share your calendar and find a time (and nearby place) to meet.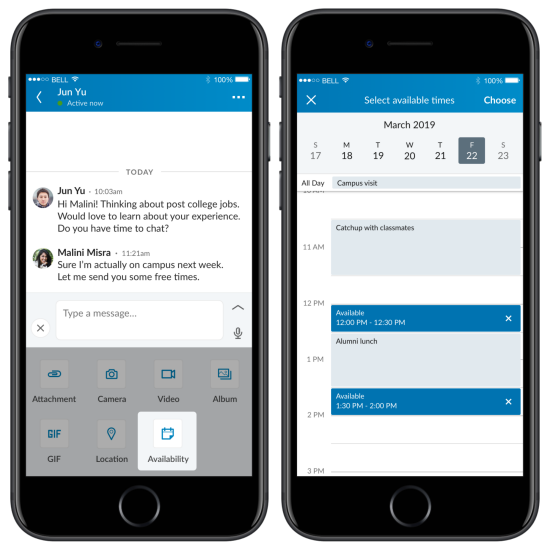 NETWORKING
Why In-Person Networking Is Still Important For Freelancers
by Abdullahi Muhammed | Forbes
I know…you probably aren't a freelancer, but this article is relevant and important. It talks about the tremendous benefits of networking in person. Sure, you can use email and social media, but NOTHING replaces the impact of face to face networking.
CAREER
How To Reframe Your Thinking About the Boring Parts of Your Job
by Art Markman | Fast Company
Let's face it. You won't LOVE every aspect of your job. Yes, some of the tasks will be mind-numbing. But some of these tips may help.
ARTICLES ELSEWHERE
4 New Features To Help You Make the Most of LinkedIn
by Hannah Morgan | SmartBrief Originals
Most people do not use LinkedIn often enough to keep up with all the changes, as the SmartBrief survey below conveys. That's why you should know about the four new features covered in my article.
And if you aren't already a subscriber to SmartBrief's Career newsletter, I highly recommend it. The editors collect content from top resources for their daily newsletter.
How to Use 'To Whom It May Concern'
US News & World Report On Careers
Yes, there are times you can use this phrase, just not when you are writing a cover letter.

Hannah Morgan speaks and writes about job search and career strategies. She founded CareerSherpa.net to educate professionals on how to maneuver through today's job search process. Hannah was nominated as a LinkedIn Top Voice in Job Search and Careers and is a regular contributor to US News & World Report. She has been quoted by media outlets, including Forbes, USA Today, Money Magazine, Huffington Post, as well as many other publications. She is also author of The Infographic Resume and co-author of Social Networking for Business Success.