Sometimes we all need a little advice to help with our career growth.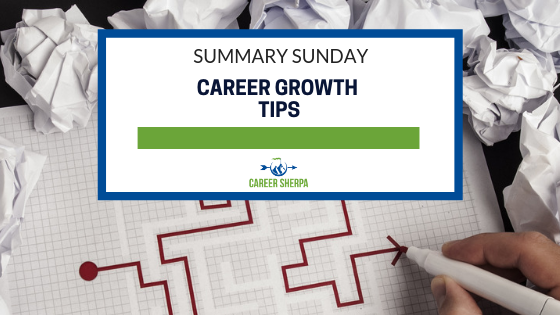 In this week's summary you'll not only find career growth tips, but advice for new college graduates, how to avoid job search scams, important skills you need to promote as well as help for your LinkedIn headline.
These are some of the stand-out points in this week's summary:
12 jobs in your career. That's what the average number is based on DOL research done in 2017.
Losing touch with friends is our biggest regret
Most requested skills across jobs/industries: CRM experience (Customer Relationship Management), customer service, sales experience, teamwork, communication skills.
CAREER
Take 5: How to Kickstart a Successful Career
by Kellogg Insight
Research and insight from five Kellogg professors give new college graduates help and hope! These pieces of advice are great for anyone early in their career and eager to get ahead.
Three Ways To Make Your Non-Linear Career Path Work For (And Not Against) You
by Amy Blaschka | Forbes
Workers change jobs an average of 12 times in their careers (according to DOL). Not all these moves are up. This article helps you realize that all that moving isn't bad but it up to you to spin it the right way!
JOB SEARCH
Job Seekers, Put These 5 Skills On Your Resume If You Want to Boost Your Appeal
by Melissa Locker | Fast Company
No matter what job you are seeking, there are 5 skills that are requested. Check out this article to see how the research was done and what those 5 skills are!
How to Avoid 5 Major Types of Online Job Scams
by Susan P Joyce | Job-Hunt.org
Sadly, there are many scams targeting job seekers. This article lays out the different types of scams plus what steps to take to verify the legitimacy of the postings.
NEW GRADS
The 2019 LinkedIn Grads Guide to Getting Hired
by Blair Decebrele | LinkedIn Official Blog
Tis the season when college graduates begin to panic. Send this link along to all the new grads you know!
LINKEDIN
Stand Out with the Perfect LinkedIn Headline [Infographic]
by Top Dog Social Media | YouTern
Invest a little time reviewing the infographic and enhance your LinkedIn headline.

Hannah Morgan speaks and writes about job search and career strategies. She founded CareerSherpa.net to educate professionals on how to maneuver through today's job search process. Hannah was nominated as a LinkedIn Top Voice in Job Search and Careers and is a regular contributor to US News & World Report. She has been quoted by media outlets, including Forbes, USA Today, Money Magazine, Huffington Post, as well as many other publications. She is also author of The Infographic Resume and co-author of Social Networking for Business Success.