In the workplace and during a job search, it's important you are keeping up with the times. And I'm not just talking about the newest technology. There are new ways of doing business, interacting with customers and clients, and even new types of jobs and career paths.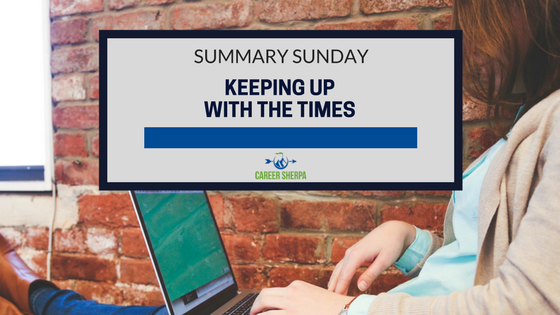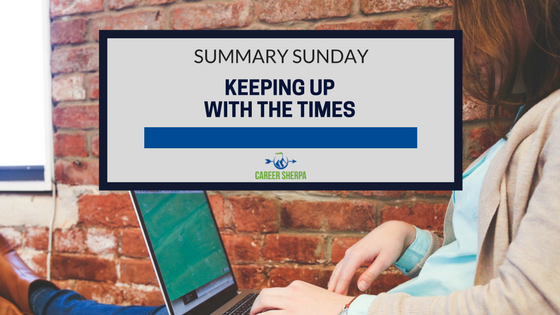 It has become our responsibility to manage our career. This weekly summary highlights some of the new workforce trends and practices in recruiting and hiring you'll want to keep up with!
From trends in training, social recruiting, new types of jobs, and classic interview tips, this week's summary is sure to up your knowledge on all things career-related!
CAREERS
Hot New-Collar Careers and the Skills You Need To Get Them
by Rebecca Koenig and Nancy Pham | US News & World Report
What are New-Collar jobs? They are jobs that require skills but NOT necessarily a college degree. There's an interactive graphic in the article that allows you to learn more about New-Collar jobs in healthcare, technology, engineering and software. Here are some of the jobs mentioned in the article:
computer support specialist
web developer
NET developer
registered nurse
field service engineer
physical therapy assistant
medical assistant
cable installation technician
5 Ways to Help Employees Keep Up with Digital Transformation
by Deb Henretta and Chopra-McGowan | Harvard Business Review
As the authors say:
Digital transformation is not just about technology. The way a company communicates with its employees, organizes them, and reskills them will play a fundamental role in its ability to take advantage of the new paradigm of the consumer products landscape.
While this article talks about CPG (consumer packaged goods), the five steps apply to any organization! I hope you uncover some new ideas!
by Josh Bersin | Bersin by Deloitte
Micro-learning or on-demand learning is rising. Flip through this presentation to learn why changes in jobs, careers and training have been changing and what companies are doing to upskill employees! I'm a trainer at heart and love data, so this presentation hit all the right buttons for me.
JOB SEARCH
by Paul Milano | Paul Milano
It is unlikely that robots will steal your job. BUT, you have to change your thinking and strategy. There are six very concrete steps you can take to make sure you stay employable. Make sure you block time for them!
SOCIAL MEDIA
by Jeff Lipschultz | Job-Hunt.org
When a recruiter tells you how they research candidates, you really should pay attention. That's exactly what this article does! It's up to you to make sure recruiters, hiring managers and anyone looking for public information about you finds the best stuff.
JOB INTERVIEW
by YouTern
Job interview tips all wrapped up in one easy infographic.
MENTIONS
The Voice of Job Seekers Podcast with Mark Anthony Dyson
I've always enjoyed my conversations with Mark! Here's another quick one!

Hannah Morgan speaks and writes about job search and career strategies. She founded CareerSherpa.net to educate professionals on how to maneuver through today's job search process. Hannah was nominated as a LinkedIn Top Voice in Job Search and Careers and is a regular contributor to US News & World Report. She has been quoted by media outlets, including Forbes, USA Today, Money Magazine, Huffington Post, as well as many other publications. She is also author of The Infographic Resume and co-author of Social Networking for Business Success.