Searching for a new job now and into 2021 means that you'll need an understanding of labor market trends as well as recruiting trends. This information will help you conduct a smarter job search.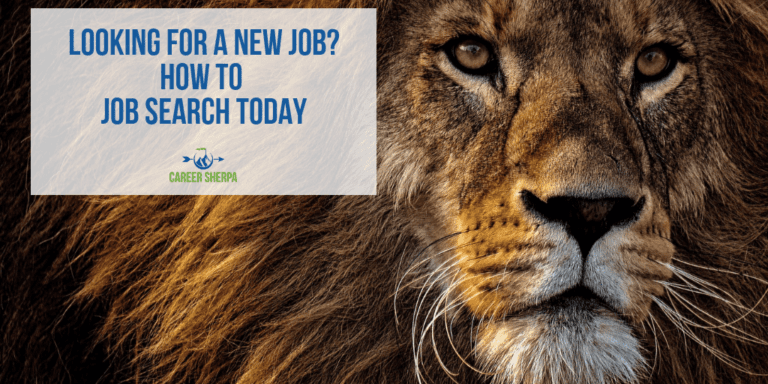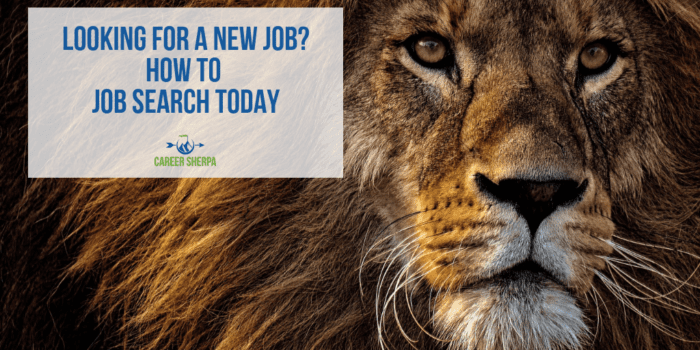 The job search landscape has once again become treacherous. The pandemic has forced some employers, not all, to lay off or furlough employees. Yet some industries are booming.
I want to help you understand what's going on, so you can adjust your job search. So here's what you need to know about searching for a new job now and into 2021
This Downturn Is Different
According to Harvard Business Review, these are 4 ways today's downturn is not like previous ones:
Large unemployment numbers didn't last long. In previous downturns, it took years to see the unemployment numbers drop. By contrast, unemployment this year came back below nine percent within four months. While we continue to see companies laying off, the unemployment numbers are still in single digits.
Jobs are going unfilled. Due to the risk of being exposed to Covid, many roles requiring on-site presence are going unfilled. This requires employers to increase the pay of these workers.
Job seekers are moving. But they aren't moving towards cities with jobs. They are moving towards family, a better lifestyle, or less expensive locations. This causes a geographic mismatch between available talent and vacant roles and leads to fewer jobs being filled.
Rapid Job Recovery: In previous downturns (2001 and 2008) the number of job openings quickly dropped below 4 million and continued to sink for months. Since June, the number of new job openings continues to rise.
The Labor Market At A Glance
According to the Department of Labor's Job Openings and Labor Turnover Survey (JOLT) released November, 2020:
There were 6.4 million jobs available on the last business day of September (compared to 2.2 million jobs available in July 2009, the worst of the Great Recession).
The unemployment rate is currently at 6.9% (October 2020) versus 10.0% at it's worst during the Great Recession in October 2009.
Industries with Hiring Increases & Decreases
The industries with largest increases in hiring this year (according to DOL) include:
Transportation
Warehousing
Utilities
And we've seen tremendous growth in services like video meeting technology, online learning, and other companies well-suited for remote work and growth.
The DOL reports decreases in hiring this year in:
State and local government education
Arts
Entertainment
Recreation
Embedded in these numbers are retail, hospitality and tourism.
Remote Work Is Here (for awhile)
According to Gallup's September 2020 polling, this is how US workers report their remote work status:
33% "Always" working remotely
25% "Sometimes" working remotely
42% "Never" working remotely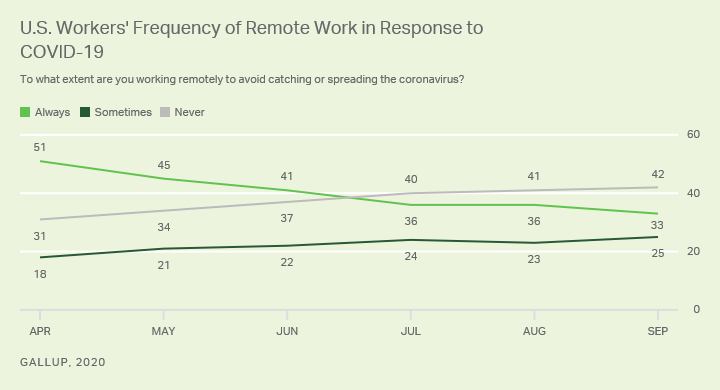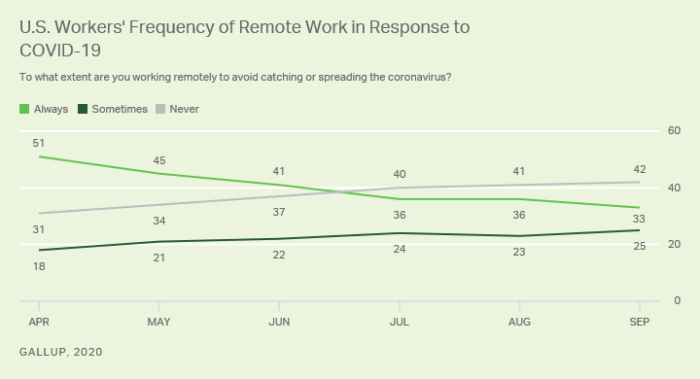 (The number of people who say they are not working remotely is surprisingly high based on my conversations with workers.)
About two-thirds of remote workers want to continue to work remotely.
What This Means For Job Seekers
As we move into 2021 and a vaccine becomes available, we'll probably continue to see more people return to the office, either by choice or required by employers. It's likely we'll see hybrid remote work scenarios. Yet, employers will have to find a way to accommodate the desire for some employees to work remotely.
As you look for jobs, look for those that are 100% remote as well as jobs in your city/region that may be "remote for now."
Hiring Is Especially Challenging Now
Sit in a hiring manager's seat for a second. If you have a role to fill, how comfortable would you be hiring someone right now?
Virtual interviews and no in-person onboarding seem rather risky. And even if you do find the right candidate, how can you be sure the new employee will perform well working remotely?
There's already a lot of risk involved in hiring a new employee. Now, that risk is even greater. That could slow down hiring.
What Job Seekers Can Do
Your appearance on camera is critical so master video interviewing. Once you have accepted the job, you'll want to take initiative to meet people inside your new organization and set up a regular schedule to meet with your manager to ensure you're meeting expectations.
Use Online Job Portals As A Last Resort
It's been said that 75% of applicants are never looked at. While it feels productive when you apply for jobs online, be sure to diversify your job search strategies. This means talking with people in your industry, in similar roles and most importantly, inside target companies. Also, if you are staying in your industry and role, be sure to contact third-party recruiters.
What Job Seekers Can Do
Always get referred for a job which will increase your chances of getting an interview! Always find an inside contact when searching for a new job.
Understand how to format your resume and include the necessary keywords so recruiters notice your resume. Read How To Get Past The Applicant Tracking System
You also have to follow directions when searching for a new job. Don't be lazy. Before You Apply, Spend More Time Doing This
Pay Isn't Falling
Pay isn't being slashed, despite what you may think. The U.S. Bureau of Labor Statistics reports:
"From October 2019 to October 2020, real average hourly earnings increased 3.2 percent, seasonally adjusted."
Salaries are determined by supply and demand. Are there lots of people qualified to do the role you are interviewing for? This could drive salaries down.
Or are you interviewing in an industry that isn't performing well? That may also decrease the money they'll be able to offer.
What Job Seekers Can Do
Research salaries and perks for your job, industry and city. Know the going rate and trends for salaries in your field and industry. Read The Best Way To Find Salary Information
You cannot, nor should not try to negotiate during the interview. Wait until you have received the job offer. This is the point at which you ASK, not demand, more. Keep in mind the value of health insurance. If you really want/need more vacation, then ask for it! Read 9 Tips To Negotiate A Job Offer Like A Pro
Social Media Matters
The online search results for your name is just as important as your resume, perhaps more! Companies are using social media to source and vet candidates. Be sure they find information that makes them want to call you for an interview!
72% of recruiters turn to LinkedIn to find candidates (Jobvite 2020) And they use other platforms too (60% Facebook, 38% Twitter, 37% Instagram, 36% Glassdoor, 27% YouTube) PS: Instram recruiting has increased.

What Job Seekers Can Do
While searching for a new job, don't overlook your activity on social media especially LinkedIn. Engage with like-minded professionals in online forums, groups, and other social media channels.
You don't need to be self-promotional. Focus on helping others by sharing helpful articles others have written or share tips based on your personal experience. Employers will be looking at what you've posted on social media during the recruiting process. Read Build Your Brand By Sharing Content
To get discovered, become more visible – online! Read 8 Ways To Stand Out and Build A Reputation of Excellence
And be sure to update your LinkedIn profile! Read Is Your LinkedIn Profile Awesome?
Recruiting Trends
Jobvite's Recruiting Trends highlights these are the factors most important to recruiters right now:
Improving quality-of-hire: 52%
Increasing retention rate: 24%
Improving time-to-hire: 23%
Growing talent pipeline: 22%
Diversity hiring: 22%
The focus for companies is on improving the quality of new hires. But retention, talent pipelines and diversity hiring are all in a close second place.
Diversity
Recruiters want to hire diverse candidates but are having difficulty finding them. Companies know that a diverse workforce is more productive and innovative. Maybe they aren't looking in the right places. Expect to see a greater emphasis by companies to attract diverse candidates.
New interviewing tools
To find candidates who are the best fit (for the role and the company), there are tools to help employers assess candidates. It may seem like these assessments add additional hoops to jump through and lengthen the interview process, however, the end result should be a better long-term fit for YOU and the company. These are some of the interview tools you could experience:
Online soft skills assessments
Job auditions
Virtual reality (VR) during interviews
What Job Seekers Can Do
If you are asked to participate in any of these, don't be surprised. Practice video interviewing. Read this: 17 Video Job Interview Tips To Help You Land the Job
Artificial Intelligence
It's anticipated that companies will use Artificial Intelligence (AI) across all phases of the recruiting process- from sourcing candidates to interviewing candidates. According to YOH, there is software that interprets video interviews. "With the help of emotion recognition software like Affectiva, companies can better assess candidates' emotional intelligence and truthfulness during video interviews by analyzing facial expressions, their word choice, speech rate and vocal tones."
Another form of AI is chatbots. These are computer programs that conduct a conversation either by text or voice. Expect to interact with chatbots to answer questions about the company, it's application or your application status. FYI, the reason companies are using AI is to help them hire faster, better and more efficiently.
What Job Seekers Can Do
Don't be surprised if you see a popup window or are walked through an automated process.
Hot Skills In Demand
While searching for a new job, you'll want to have the right skills. According to LinkedIn's 2020 research, these are the skills employers are looking for.
| | |
| --- | --- |
| The 10 most in-demand hard skills | The 4 most in-demand soft skills |
| 1. Cloud and Distributed Computing | 1. Leadership |
| 2. Statistical Analysis and Data Mining | 2. Communication |
| 3. Middleware and Integration Software | 3. Collaboration |
| 4. Web Architecture and Development Framework | 4. Time Management |
| 5. User Interface Design | 5. Leadership |
| 6. Software Revision Control Systems | |
| 7. Data Presentation | |
| 8. SEO/SEM Marketing | |
| 9. Mobile Development | |
| 10. Network and Information Security | |
What Job Seekers Can Do
Right now is a great time to evaluate your skills. Are you missing some of the skills jobs are looking for?
While you are unemployed, begin acquiring or developing some of these in-demand skills. You don't need to go back to school. Online training platforms offer classes in every single one of these skills.
Read Learn New Skills With These Online Classes
What Should Job Seekers Do Differently?
During this pandemic, we've all had to learn how to work (and meet) virtually. It's been amazing to see how fast people of all ages and backgrounds learned how to use Zoom!
As a modern job seeker, searching for a new job, you'll want to use a mixture of reactive and proactive job search strategies.
Reactive means chasing after posted jobs (online job boards).
Proactive means you are pursuing unadvertised jobs or jobs that may not be available…yet. The focus of your proactive job search is to get the word out about the value you provide. (The problems you solve, the skills you possess, and the success you've achieved.)
Your job search process looks like this. Read instructions on searching for a new job here.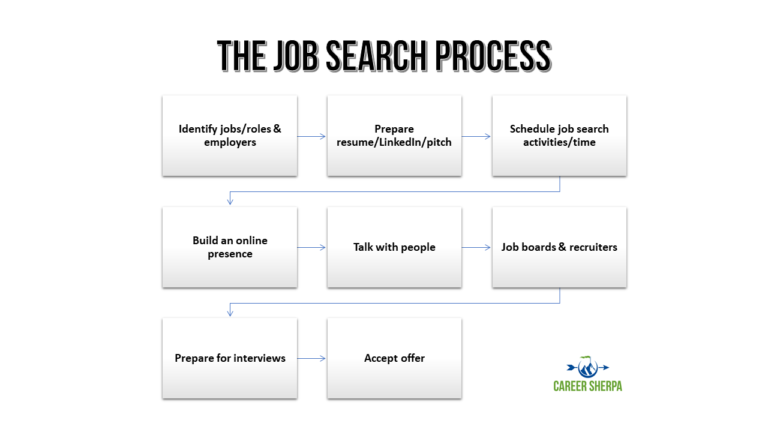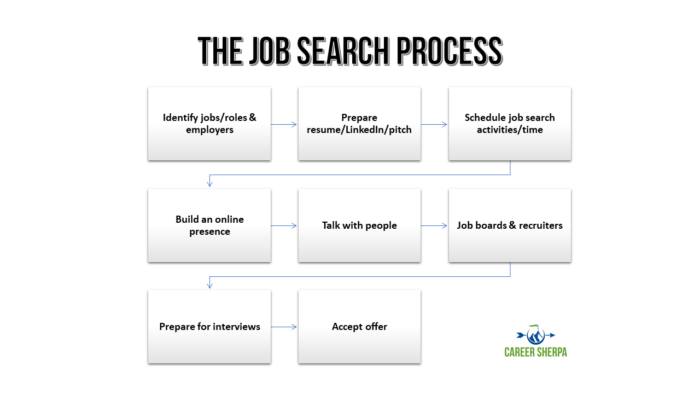 Identify companies you would like to work for and see if they have online career communities you can join. You will use this list to find people to network with. Remember, referrals are the top source of new external hires! Learn more about getting referred here: How To Get Referred for a Job
Network. If you haven't been keeping in touch with your network, start rekindling those relationships now! You what to get on the inside track and hear about job opportunities BEFORE they are publically posted. Networking is a Waste of Time- Or Is It?
Meeting people virtually is a necessity, so learn how to use social media to meet people and get the word out about your job search. Social Media Can Help Your Job Search
Use the right tool for the job! First, find the right job boards and credible resources to answer your job search questions in the Best Websites for 2020 Job Search. And check out these valuable job search tools.
Volunteer or take on a role with a professional association or organization related to your career. This will help you network and gain exposure with people in your field who may know of new opportunities.
Always negotiate your job offer! Yes, even during a pandemic. Consider asking for a sign-on bonus or other non-monetary compensation items such as flex-time, time off, retirement matching, mentoring programs, tuition assistance, or childcare. Learn more about negotiating here.

Hannah Morgan speaks and writes about job search and career strategies. She founded CareerSherpa.net to educate professionals on how to maneuver through today's job search process. Hannah was nominated as a LinkedIn Top Voice in Job Search and Careers and is a regular contributor to US News & World Report. She has been quoted by media outlets, including Forbes, USA Today, Money Magazine, Huffington Post, as well as many other publications. She is also author of The Infographic Resume and co-author of Social Networking for Business Success.