A successful job search requires you to understand 2020 recruiting trends and what's important to recruiters right now. Thanks to Jobvite's 2020 Recruiter Nation report, that's exactly what you'll get!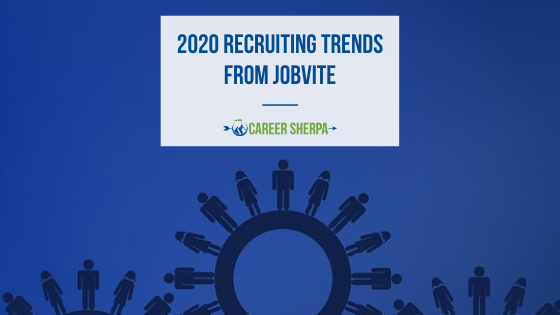 Recruiters adjust how they source and hire new employees so it's important that job seekers understand these 2020 recruiting trends. That's why I look forward to sharing this data along with my advice, tips or take-aways for job seekers.
In September of 2020, Jobvite surveyed 802 recruiters in the United States to capture the adjustments and changes recruiters have made during this year, which has been especially challenging due to the pandemic.
These are some of the key topics covered in Jobvite's 2020 Recruiter Nation Survey report:
Priorities for Recruiters
Investments for Recruiters
Changes Based on COVID-19
Recruitment Marketing
Social Recruiting
Employee Referral Programs
Resume/Application Evaluation
Side-Gigs
Texting
Virtual Interviews
Negotiating Job Offers
D&I Initiatives
What's Important To Recruiters This Year
This report includes answers from two types of recruiters – in-house and third-party. In-house recruiters are employees of the company they recruit for. Third-party or agency recruiters are usually contracted by an outside company to find and fill an opening.
Recruiting priorities have shifted more for staffing agency recruiters (79%) vs. for in-house recruiters (67%).
Priorities
Looking to the future, these are the top priorities for recruiters for the next 12 months:
Improving quality-of-hire: 52%
Increasing retention rate: 24%
Improving time-to-hire: 23%
Growing talent pipeline: 22%
Diversity hiring: 22%
These priorities influence recruiter activities and the money they invest in technology and resources.
Investments
These are the areas recruiters say they will invest more time/money in over the next 12 months. As you can tell, recruiters will be focusing a lot on social media (marketing their company and job opportunities). You'll learn more about the top 3 investments later in this article.
Social media: 46%
LinkedIn: 40%
Employee referrals: 36%
Job boards: 34%
Recruiters' professional networks: 29%
COVID-19 Factors
There are some recruiting factors that are unique to this year and COVID. Job seekers can use this information to understand that remote work hiring makes up a some, but not all jobs being filled; it's OK to ask about the company's COVID policies; some executive recruiting is being outsourced to agencies; and recruiters keep tabs on strong candidates.
47% of recruiters report that job seekers today frequently inquire about their organizations' COVID-19 safety measures
Recruiters representing staffing agencies (35%) report more executive-level openings than do in-house recruiters (10%)
One-third (32%) of surveyed recruiters report that, at their organization, 50% or more of open roles are being hired as remote workers
77% of recruiters have gone back and hired a candidate who was second or third on the candidate list, or who had a great resume but wasn't a fit at the time
Recruitment Marketing
What is recruitment marketing? It's how companies promote their company and their job opportunities. In fact, more than half of the recruiters surveyed believe recruitment marketing is more important in an increasingly digital world.
Top tools for growing employer brand
Social networks – 47%
Company's career website – 22%
In-person or virtual recruiting events – 10%
Top hiring sources for high-quality candidates:
Internal hires – 36%
Employee referrals – 29%
Job boards – 27%
Social Recruiting
Recruiters use social media channels to find potential candidates and promote job openings. Only 72% of recruiters use LinkedIn today, down from 92% in 2017. Instagram use for recruiting has grown to 37%.
This should help you understand that recruiters are diversifying where they look to source and attract potential candidates.
If you hadn't considered Glassdoor a social channel, it looks like it's worth your time and effort to engage there.

Recruiters are leveraging other social media platforms for recruiting purposes. This happens more often in the highly competitive technology and IT-hardware industries where recruiters use TikTok the most for recruiting efforts. Overall, this is how many recruiters use these channels:
TikTok – 7%
Snapchat – 13%
When it comes to high-quality candidates, you'll find recruiters relying on LinkedIn and Facebook. But depending on the industry and role, these are other channels recruiters count on for high-quality candidates: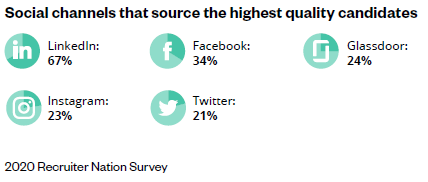 Turn-Offs
As with any communication channel, you want to make sure you make the best first impression. These are things to watch out for because they turn off recruiters: Spelling/grammar, drugs and alcohol, politics and showing too much skin.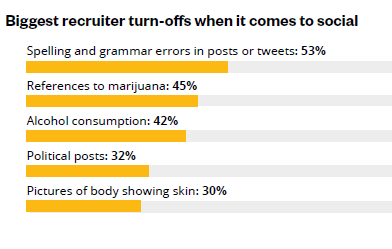 Employee Referral Programs
While most companies do offer employee referral programs, most employees don't participate in them.
71% of organizations offer employee referral programs
88% incentivize referrals
81% of larger companies (500+ employees) offer referral programs vs. 61% of smaller companies (< 500 employees)
(65%) of surveyed workers have never participated in a company's referral program
This is how companies share/promote information about their ERP and jobs: newsletters, email, and company social media are most popular.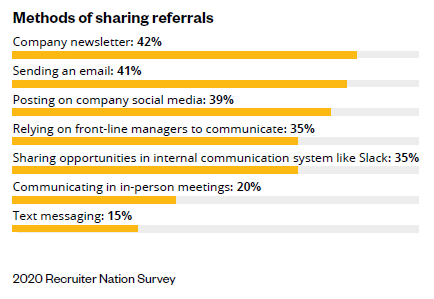 Take-Away
When reaching out to employees inside a company, be sure to ask them if they have seen information about their company's employee referral program. Better yet, follow the company on social media and see what they are posting/sharing.
Resume/Application Evaluation
Every recruiter evaluates resumes a bit differently. But when crafting your resume, it's important to understand which sections mean more to recruiters so you can invest more time into crafting them. When scanning resumes and applications, these are the areas recruiters focus on:
Previous job experience – 70%
Employee referral – 37%
References – 35%
Relevancy of education to role – 32%
Resume format – 29%
Evaluating Candidates
Could cover letters be making a comeback?
27% of surveyed recruiters prioritize cover letters in screening decisions, up from only 8% in 2017. These are other shifts in what's now important to recruiters.
Note that previous experience has become less important this year and so have employee referrals. But these things are more important: resume format, cover letters and online education certificates.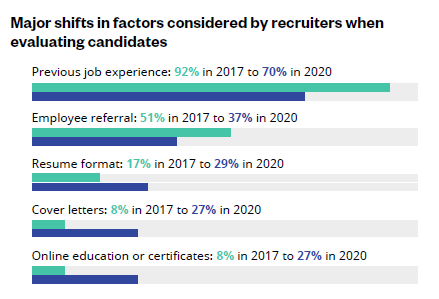 Side-Gigs
Jobvite's 2020 Job Seeker Nation Survey found that 46% of workers surveyed in April plan to have a second source of income outside of their regular 9-5 jobs.
And recruiters are seeing this too. 48% report they see more employees taking on side jobs.
Texting
Recruiters use text messages either to reach out to potential candidates (those who have not applied to a job) or to communicate more quickly with applicants.
44% have used text messaging to source potential candidates
66% have used text messaging to engage and communicate with current applicants
Recruiters with larger companies (500+) are more likely (52%) to reach out via text to people they source (identify as a potential candidate). Only 37% of recruiters from smaller companies (< 500 employees) text.
Virtual Interviewing
While 77% of recruiters believe that in-person interviews are better, they've had to adjust. During the pandemic interviewing looks like this:
67% via video
49% via phone calls
53% conduct half or more of their interviews via video
40% believe that virtual interviews will be the default moving forward
What NOT To Do During Any Type Of Encounter (Virtual Interview or Screening)
When meeting virtually or in-person, these are the things that turn-off recruiters. It should be noted that all these percentages have fallen since 2017. Meaning that recruiters are a bit more foregiving.
Rudeness to the receptionist or other support staff – 62% (vs. 86% in 2017)
Checking one's phone – 48% (vs. 71% in 2017)
Showing up late – 46% (vs. 58% in 2017)
Poor hygiene – 46% (vs. 52% in 2017)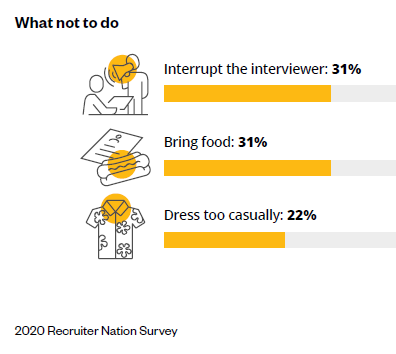 Negotiating
The good news, according to this year's Job Seeker Nation Report is that 61% of respondents were "very" or "somewhat" comfortable negotiating salaries, despite the pandemic.
51% of recruiters report a significant or moderate increase in candidates negotiating for higher salaries since the onset of the pandemic
53% report that average salaries across their industry have remained the same
Diversity & Inclusion
Prior to the pandemic, we heard a lot about D&I initiatives. Companies are making progress (and candidates are forcing the issue) in addressing diversity & inclusion. These initiatives are more common among larger companies (69% vs. 56% smaller companies). The majority of companies have specific goals for diversity in hiring with respect to:
Race/ethnicity: 63%
Gender: 54%
Age: 37%
Veterans: 33%
LGBTQ+: 29%
Immigrants: 28%
Disabilities: 25%
Wrap Up
These 2020 recruiting trends provide a lot of information to take in. But, what I hope you take-away from this is that recruiters do more than you think they do. Their priorities are greater than letting candidates know where they are in the cycle.
These are challenging times for everyone and we all have to learn how to adapt and adjust to the changes we find ourselves in at this moment.
Here are some actions you can take:

Hannah Morgan speaks and writes about job search and career strategies. She founded CareerSherpa.net to educate professionals on how to maneuver through today's job search process. Hannah was nominated as a LinkedIn Top Voice in Job Search and Careers and is a regular contributor to US News & World Report. She has been quoted by media outlets, including Forbes, USA Today, Money Magazine, Huffington Post, as well as many other publications. She is also author of The Infographic Resume and co-author of Social Networking for Business Success.