Here are video job interview tips to help you stand out during your next interview. As we all know, video job interviews have become the norm. This is a checklist of what you should do before, during and after your video interview to ensure you present yourself in the best way possible!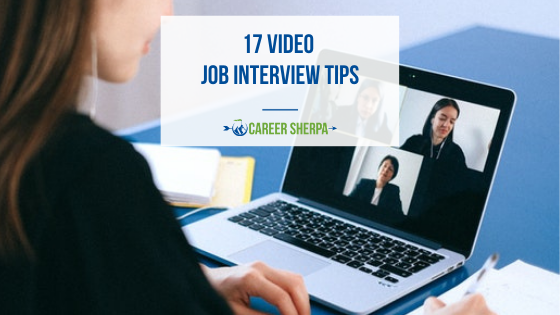 Preparing for a video job interview isn't all that different from preparing for a regular, in-person job interview.
You'll still need to do the same interview preparation, which is spelled out in How To Prepare for An Interview. (Practice interview answers, research the company and people you'll be interviewing with, review the job posting, etc.)
If you haven't had much (or any) experience with video interviews, don't worry. They are just like regular job interviews, except you are using video instead of a conference room.
Benefits of Video Interviews
There are a lot of job seekers who think video interviews are awful. But since you know you'll be asked to do one, it's better to look at the bright side!
Here are some good things about video interviews:
Don't have to travel to the company
Your notes can be hidden yet accessible
Home turf advantage
You can learn more about why companies use video interviewing here.
Video Interview Technology
Knowing how to use the technology will bring piece of mind.
Zoom is the most popular tool, but there are others like Google Hangouts, GoToMeeting, Microsoft Teams or Cisco Webex Meetings. They all work basically the same way. These tips are designed to be universal.
You may also be sent a link to interview using one of these video interviewing tools, Spark Hire, VidCruiter, HireVue, or Jobvite.
It's important to know if the interview will be live or one-way, where you record your answers to questions. Always read the directions carefully!
You can always practice your video interviewing skills with a free Zoom account or even your phone. A little practice under your belt can go a long way in making you feel more comfortable.
Getting Started with Your Video Job Interview
The employer will send an invitation with a link to the interview and hopefully information on how long it will last and what to expect. (Will you meet with more than one person or will it be a group or panel interview.)
It's usually best to use your computer or laptop to log in to the interview, even though some of these tools do have apps for your smartphone. It's a little more difficult to navigate some of the settings and features on your phone.
These are video job interview tips to help you prepare for the big event.
Before Your Virtual Interview
1) Test the video interview technology in advance
If you are using the video interview platform for the first time, make sure you are familiar with common functions like mute, share screen and chat. Also, allow extra time before the meeting starts to download any software.
If you have any concerns about the technology, be sure to practice with someone before the video interview, if possible. You don't want to waste time at the beginning of the interview figuring out how to do the basics.
Recruiter, Ed Han, pointed out that the chat function helped resolve connectivity issues during interviews he's had with candidates. So open up your chat box!
And check the link the recruiter sent you the day before to make sure it works. This tip was provided by Alexander J. Davidson.
2) Check your video and audio
Test your camera and audio before the video interview starts. By logging in 5-10 minutes early, you should have time to familiarize yourself with the settings.
3) Use a work-appropriate background
You may not have a home office, so choose a location like your kitchen or living room. Just make sure that any visible personal items are appropriate. Also make sure the area behind you is uncluttered or organized. I would also recommend you don't use your bedroom (or any room where a bed is visible). It just seems less professional to me.
Should you use a virtual background? Honestly, in many cases when I've seen this used on Zoom, I witnessed disappearing arms, heads and other odd things. I would recommend keeping it simple and avoid the fancy backgrounds.
4) Good lighting is important
Turn on the lights in the room if there isn't enough light. It's best to have the light coming from in front of you. Many people recommend buying a low-cost ring light that you put behind your computer or device. And don't sit with your back to the window. Too much light coming from behind makes you appear as a silhouette and your face can't be seen.
5) Select a quiet location
Dogs barking in the background or family members chatting in the kitchen will be heard by everyone on the call. Find a quiet space and let others know you will be on a conference call so they can keep the noise level down.
Turn off the dishwasher, laundry machine, dryer and other loud appliances.
6) Use headset or earbuds with mic for better audio
Instead of turning up the volume or shouting into your laptop, use earbuds or a headset. The sound quality of your voice will be better. Another benefit of using headphones or earbuds is that they tend to reduce outside noises.
7) Set your camera at eye level
Elevate your laptop or video camera so it is at eye-level, not on your lap or on the desk. This can be as simple as putting a couple of books under your laptop. People don't want to look up your nose. Setting the camera at eye level or just above is more professional and flattering.
8) Dress for the occasion
Wear what you would normally wear to a job interview. Dress as if you were participating in-person.
9) Connect directly to the internet, if possible
If you have an inconsistent or weak wifi signal, plug directly into your router for a more stable connection.
10) Have your materials accessible
Print your resume, notes, the job posting and list of questions you want to ask easily accessible. If you want, you can even post them behind your camera so you can look at them without looking away.
During Your Virtual Interview
11) Arrive about 5 of minutes early
Don't log in too early and don't be late. Give yourself a buffer of time in case you run into technical difficulties. Usually 5 minutes early is appropriate.
12) Look into the camera when speaking
When you speak, look directly into the camera. If you need to put a post-it note near your camera to help you, then do that! And be sure to smile!
13) Mute yourself when not talking
To avoid hearing you shuffle papers, type on your keyboard or any other noises the mic might pick up, mute yourself if you aren't talking.
14) Do not drink on camera
Sipping on a glass of water during any video meeting, especially a video job interview, is very noticeable and distracting. If you must take a sip of water, limit how often you do this.
15) Focus on the conversation
Eliminate and avoid distractions from texts on your phone or alerts on your computer. It's best to turn your phone and computer notifications off. You want to show you are paying attention during the interview.
After Your Virtual Interview
16) Be sure to log out of the interview
Always use the "end meeting" or log out feature to ensure your camera and video are off before moving on to other activities.
17) Follow up on any action items
Make sure you followup on action items from the interview. It's easy to forget.
These video interview tips should help you feel more confident during your next virtual job interview!
INFOGRAPHIC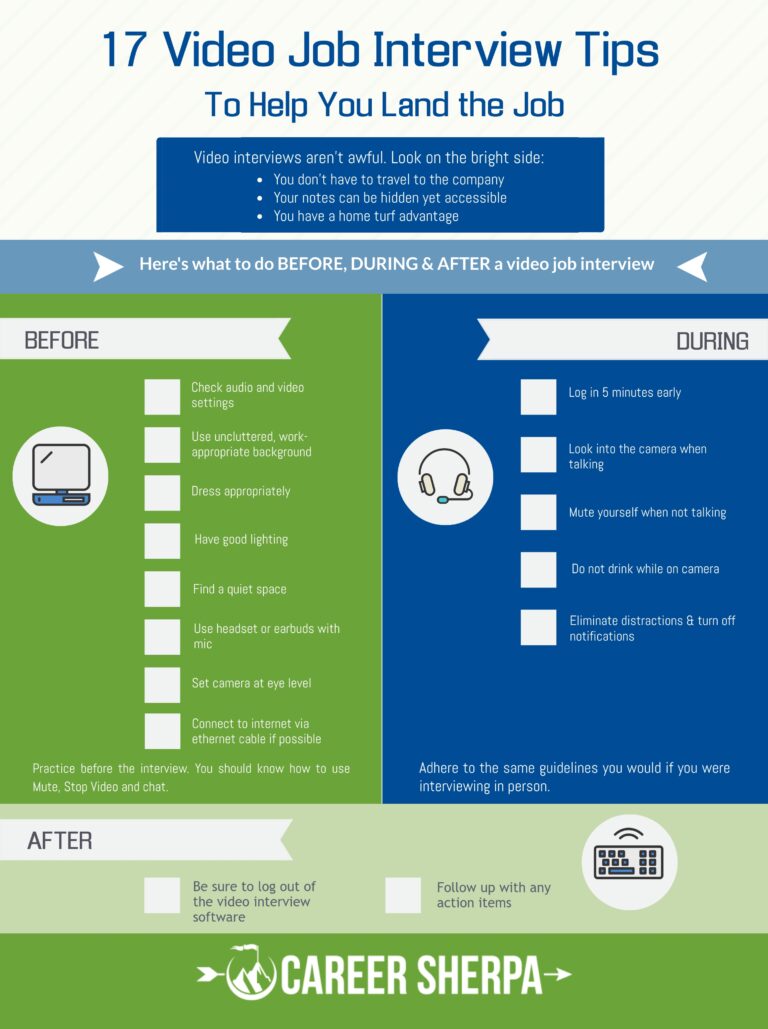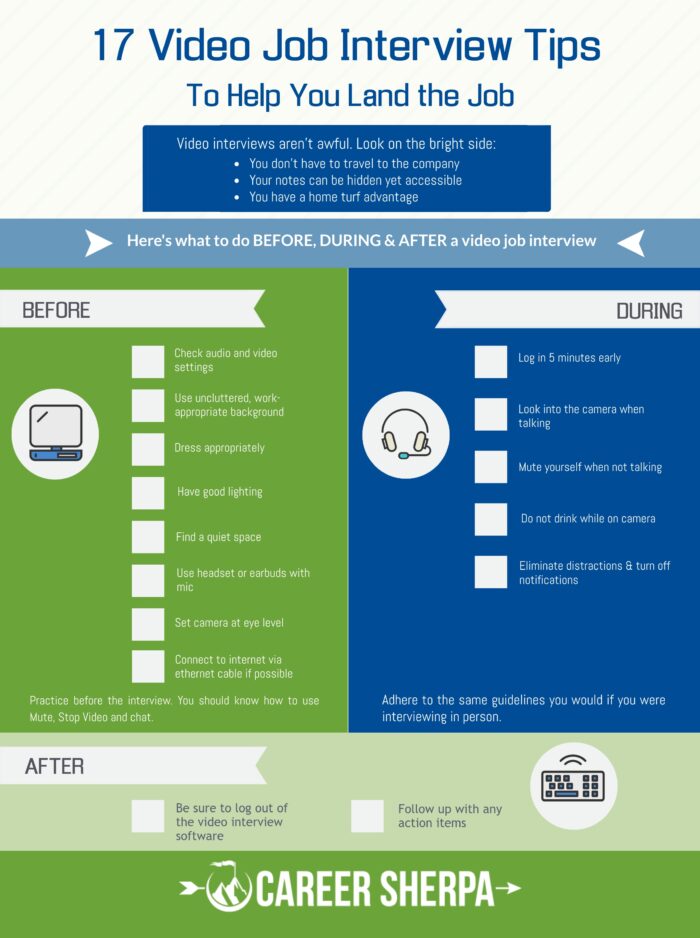 Hannah Morgan speaks and writes about job search and career strategies. She founded CareerSherpa.net to educate professionals on how to maneuver through today's job search process. Hannah was nominated as a LinkedIn Top Voice in Job Search and Careers and is a regular contributor to US News & World Report. She has been quoted by media outlets, including Forbes, USA Today, Money Magazine, Huffington Post, as well as many other publications. She is also author of The Infographic Resume and co-author of Social Networking for Business Success.