If you are tired of your application falling into a black hole and want a better way to communicate with a potential employer and secure an interview, then you need to get referred. Here's how to make contact and what to say!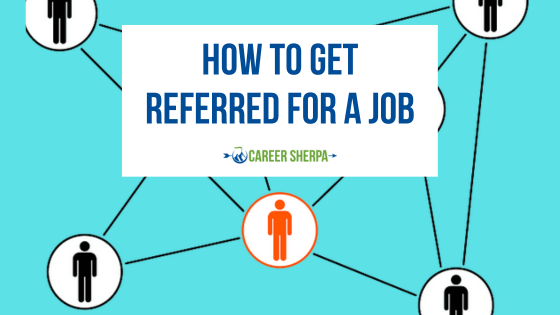 Referred Candidates Are The Top Source Of Hires
Companies report that employee referrals beat out all the other hiring methods including applications from job boards, promoting internal candidates, candidates sourced by company recruiters, and even candidates from the company's career website.
In fact, referred candidates are hired more often than any of those other sources.
What does this mean for you as a job seeker?
If you are randomly applying for jobs online without asking an employee you know to refer you, your chances of getting an interview and getting based on your amazing qualifications are slim.
You see, hiring is risky.
Employers want to eliminate the risk of hiring the wrong candidate. And one way to do this is to hire someone who is a known entity. This happens when an employee can vouch for you as a candidate.
There's evidence that referred candidates stay longer, perform better, and come up to speed quicker in new jobs.
This is one powerful reason why companies are keen on interviewing and asking for referred candidates.
The Majority of Companies Offer Referral Programs
More than three-quarters of U.S. workers say that their company has an employee referral program according to talent acquisition solution provider iCIMS's 2017 Modern Job Seeker Report. This means there is an incentive for employees to refer candidates for job opportunities. Why is this? Referred candidates stay in the role longer and make better employees.
70% of referred employees surveyed have not changed positions since being hired. (source: iCIMS)
60% of employers believe referrals bring in candidates that are a better fit for the company. (source: iCIMS)
86% of employees say they would expect to be happier at a job they were referred for than one they were not referred for. (source: iCIMS)
But financial incentives aren't the only reason employees refer people for openings in their company. Believe it or not, people want to help you and help their company. All you have to do is ask. There are two ways to get referred – proactively (before a job is posted) or reactively (after a job is posted).
Proactively Get Connected (then referred)
Before a job is posted, contact people who work inside companies you are interested in working for. You can learn more about creating a target list of companies here.
It's best to start with the people you already know who work inside these target companies. They are more likely to have a conversation with you because they already know you.
Even if the person you know isn't in the right department, they still have opinions about what it's like to work for the company. Once you've had a conversation, you can ask if they will introduce you to someone who works in the department you are interested in.
Remember, your objective is to speak with people inside companies to learn what it is like to work there.
The best time to do this is before a job is open because once a job does get posted, lots of people will be reaching out and asking for these meetings.
The secret is staying in touch with these insiders so that when a job is posted they will think of you and reach out to let you know about the new opportunity.
So what do you do if you don't know anyone inside the company?
You can still politely reach out via email or through LinkedIn and ask someone who works in the role or department you are interested in if they have time for a 15-minute call with you so you can learn about their experience with the company.
Since the person does not know you, the odds are a bit slimmer that they would take time to speak with you. So it's important to look for and mention things you have in common such as:
Cities you've both lived in
Organizations you both are part of
Schools you've both attended
Companies you've both worked for before
When reaching out to ask for a conversation, be sure to mention what you share in common. This makes you seem like less of a stranger and a safer person to speak with. And this increases the likelihood of their accepting your request for a call.
Reactively Find A Referral
The second way to get referred happens after you've found a job opportunity.
Use your in-person network, LinkedIn, Twitter, and even Facebook to identify friends or friends of friends inside the company.
Use every means possible to find someone who knows someone inside the company with the job! It doesn't matter what role your contact holds. What is important is that you reach out and ask for a referral.
You can email all your contacts and ask who they know inside the company
Always tap into your existing network first. Ask the people you know inside a company with a posted job what they know about it and who they recommend you speak to. Don't let them suggest Human Resources. You can't network with them. You need to speak with someone in the department/area that is hiring.
Keep in mind, that it is easier and faster to reach out to the people you know inside a company and ask them to refer you for the job than to try to build new relationships with employees you do not already know.
LinkedIn's Get Referred Feature
Not only can you search for people you know inside a company using LinkedIn, but you can also now use LinkedIn's job search filter to search for jobs where you have connections.
With Ask for a Referral you can:
See jobs where you already know someone through the "In Your Network" search filter on LinkedIn Jobs.
Easily request a referral by clicking the "Ask For A Referral" button on jobs where you know people.
Know what to say with suggestions on how to craft your message and put your best foot forward.
Learn more about it on LinkedIn's blog here
When asking for a referral, either choose either someone you know well or someone who is familiar with your work. Asking someone you don't know very well to refer you can be awkward and may not get the desired results.
Email Your Inside Contact Instead
Many people are either not regularly active on LinkedIn or do not receive email notifications from LinkedIn so you may want to reach out via email instead. Here's what your email message should include:
Remind your connection how you know each other
Reference the job
Explain why you're a good fit
State why you're interested
Here's a template to help make it easier to ask (and get) a referral.
Hello [name of connection]:

I wanted to reach out and ask for your help. There's a job for a [job title] at your company and I'm very interested in applying for it.

You may remember, [state how you know each other].

Based on what I read, I believe I would be a great fit for the role.
• [#1 qualification you meet]
• [#2 qualification you meet]
• [#3 qualification you meet]

I have been watching [company] and am excited about [something interesting the company is working on]. Additionally, [company]'s focus on [volunteer projects the company supports] aligns well with the volunteer work I've been doing at [volunteer organization].

If you need more information, I'm happy to have a conversation if that would be easier.

Thank you in advance for your help and support!

[your name]
[email]
[LinkedIn URL]
[phone number]
The best way to get your resume to the top of the stack is to tap people you know (or meet) inside the company.
Before Your Request A Referral
It's important to note that you must be a good match for the job. Simply knowing someone inside a company isn't enough to land you an interview.
Be sure you do these two things to prove you are a strong candidate for the job:
Thoroughly read the job posting, line by line, to understand what it is requesting. You do not need to meet every qualification, but you do need to have 60% or more of the skills and experience they are asking for.
Also, make sure you have a good understanding of the company and its culture. This allows you to express why you are interested in working for them.
After You Request A Referral
One of the most important things you can do for your career is to learn to stay in touch with people who have helped you. This is particularly important when someone has referred you for a job.
Thank the person who referred you and keep them updated on the progress you are making. While you may not think this is important to them, it is. They took their time to help you and they are curious about the outcome. Thank them and keep them in the loop.
Doing this shows you appreciate their help and makes it more likely they will help you again in the future.
Who knows, they may even be able to share what they hear about how the hiring process is going, delays or changes, or perhaps even who your competition is for the job.
Nurturing your network means giving and receiving help so be sure to listen for opportunities to offer assistance to this person in the future. You can even ask if there is anything you can do to show your gratitude.
Take Action Today
Many candidates will miss out on job interviews because they didn't get referred. Start reaching out to people you know today and expand your network so you will find it easier to ask for a referral in the future.

Hannah Morgan speaks and writes about job search and career strategies. She founded CareerSherpa.net to educate professionals on how to maneuver through today's job search process. Hannah was nominated as a LinkedIn Top Voice in Job Search and Careers and is a regular contributor to US News & World Report. She has been quoted by media outlets, including Forbes, USA Today, Money Magazine, Huffington Post, as well as many other publications. She is also author of The Infographic Resume and co-author of Social Networking for Business Success.