Do you feel like networking is a waste of time? Have you been thinking "I don't have time to talk to people who can't help me, plus it's faster to apply online, right?"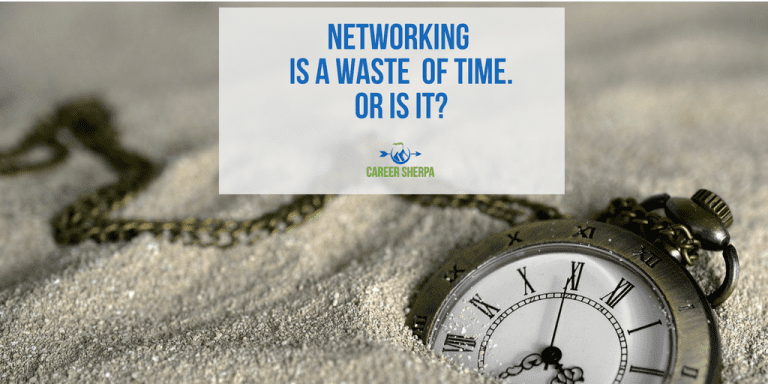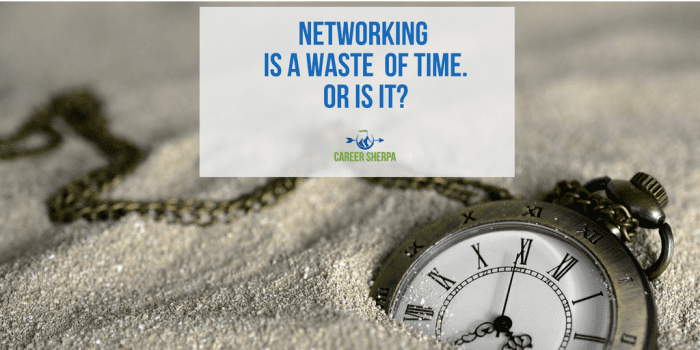 Here's a piece of data to change your mind.
One of the top ways people secure a new job is through a referral.
How do you think you get one of those? Hint- networking.
Let's redefine and reframe networking. It may make it more comfortable for you.
Networking is not asking for a job or a job lead
Networking is about getting AIR. Networking can rejuvenate how you feel about your job or your job search the same way oxygen reenergizes your body. AIR is an acronym that stands for
Advice (career advancement, job search, career-changing)
Information (company, industry trends, news)
Recommendations (associations to join, books to read, skills to develop, people to talk to)
Who Are The "Right" People To Network With
The truth is, you never know who can help you. But the only way you'll find out is to meet new people.
Meet people who:
work inside and outside of your industry.
know you well AND those who do not know you at all.
are working and people who are not working.
If you want to be strategic about who you network with, add these four types of people to your networking efforts:
Past colleagues
People who work inside companies you are interested in
Alumni
Industry experts
As long as your mission is to learn what other people know and to clearly convey what you can do and how the person you are meeting can help, you'll benefit.
Your Meeting Agenda
You probably asked for a 20-30 minute meeting. The time will go quickly so you'll want to set an agenda to keep you on track. Here's a general outline for you to follow:
| | |
| --- | --- |
| Agenda Item | Time |
| Greetings, small talk | 3-5 minutes |
| Your pitch and purpose of the meeting | 3-5 minutes |
| Ask questions | 15-20 minutes |
| Thank you, ask for other contacts, offer help | 3-5 minute |
Questions To Ask
In order to get the conversation going, you want to have questions. I've found that people are often afraid of networking because they don't know what to say.
So here you go. Any of these questions can get the other person talking. And the more they talk, the more they will like you.  I found a list of questions long ago, and I don't know who to give credit to.  But these open-ended questions will help you get a conversation going! Here are 32 more informational interview questions.
Tell me about your business.
How is business?
What is happening in the industry?
How do you do what you do?
What exactly do you offer your clients or customers?
How was this business started? What is the history of this industry locally?
What are the most significant factors affecting your business today?
What future direction do you see the company taking?
How have changes in technology most affected your business?
What is the greatest demand for your services or product?
How has your company grown or changed in the last couple of years?
Where is most of the pressure from increased business felt in your company? Which department feels it the most?
How do you differ from your competition?
Describe what it takes for someone to be successful in this company.
What are the qualities of people who perform best in this business?
How do you think most of the employees would describe this workplace?
If this company was known for 3 things as a workplace, what do you think those would be?
How would you describe your company culture?
What trends do you see in the future that will affect your organization and industry?
What do you think the company will look like 5 years from now?
I hope you try using some of these the next time you meet someone new instead of asking what they do.
Here's an infographic to help remind you of your mission during networking.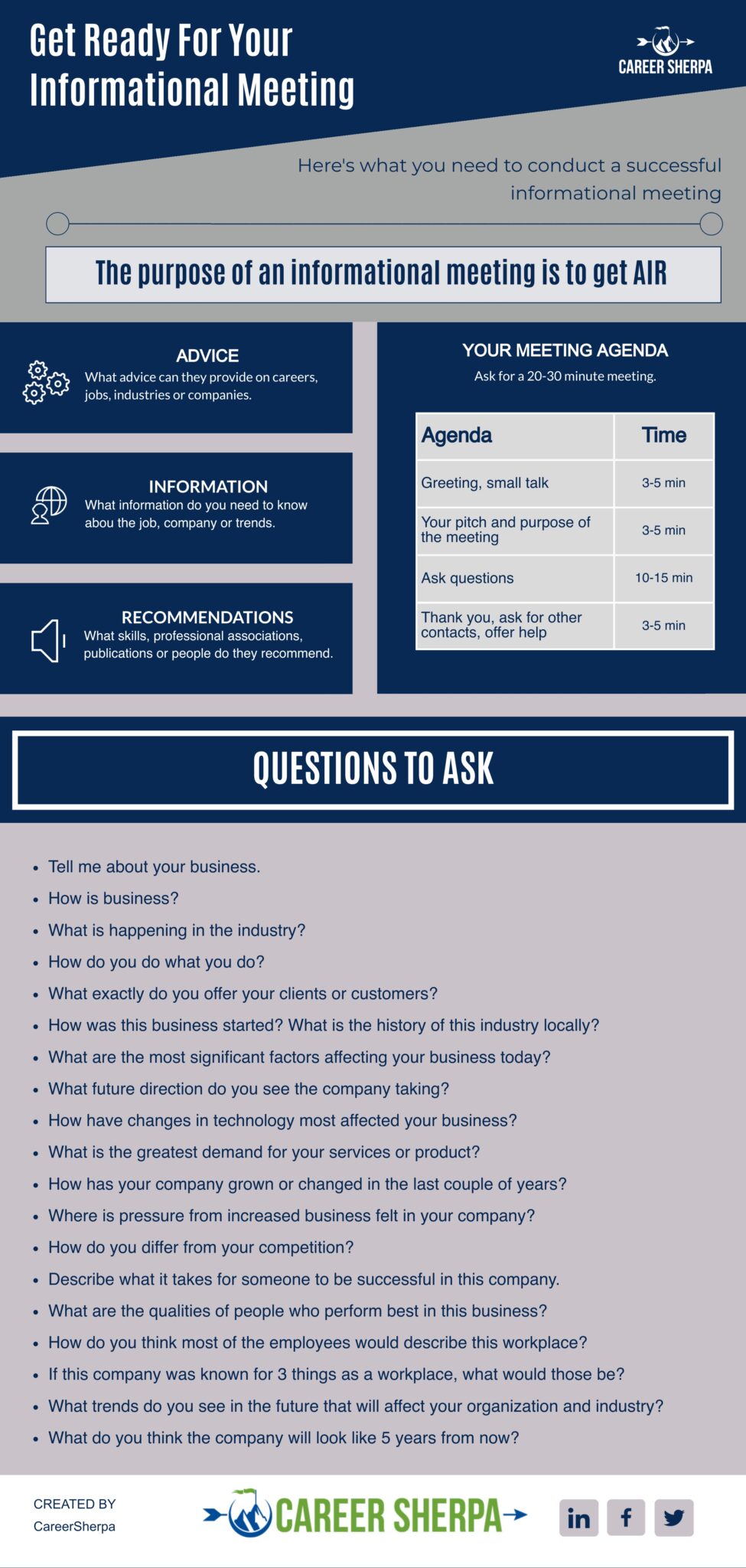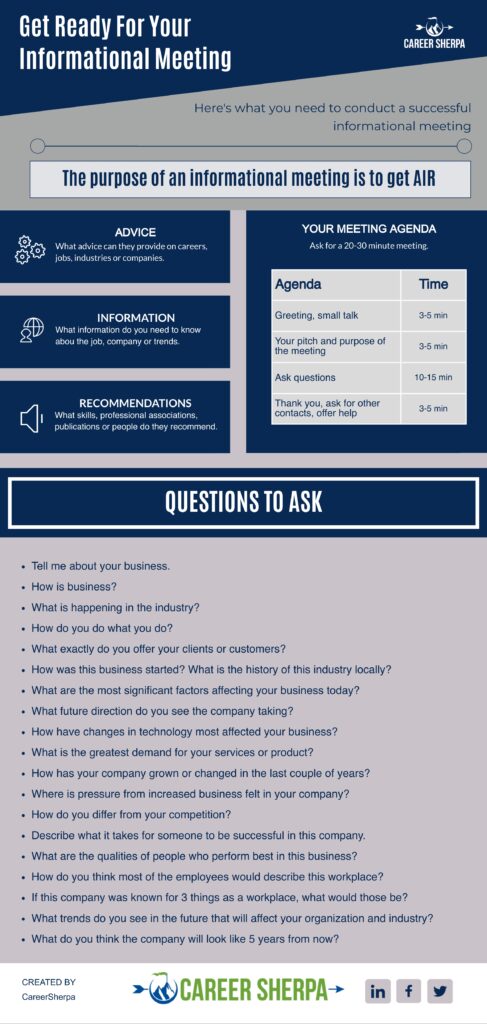 Hannah Morgan speaks and writes about job search and career strategies. She founded CareerSherpa.net to educate professionals on how to maneuver through today's job search process. Hannah was nominated as a LinkedIn Top Voice in Job Search and Careers and is a regular contributor to US News & World Report. She has been quoted by media outlets, including Forbes, USA Today, Money Magazine, Huffington Post, as well as many other publications. She is also author of The Infographic Resume and co-author of Social Networking for Business Success.