Online classes are an easy way to learn new skills. Check out these 16 training providers offering online classes and uplevel your skills any time any where.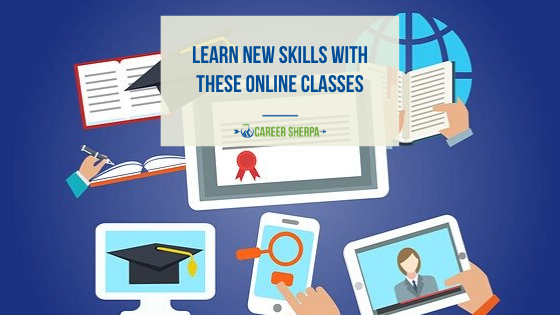 Today is the best time to invest in learning new skills and focus on your professional development.
Ideally, you would be working on your skill development on an on-going basis, but there isn't always time.
If you are unemployed or dissatisfied with your job, make time to assess your skills match what other employers are looking for.
If you see technology or skills mentioned in job postings that you don't possess, those are likely the skills you want to develop.
You don't necessarily need a degree or to take classes at a university or college. That can be expensive and may not work with your schedule. You could find someone to tutor you.  You may even be able to do some self-study.
Address any skill gaps sooner rather than later to make sure you can compete with other candidates looking for similar jobs.
Online Training – Classes & Courses
If you are looking for online classes to uplevel your skills, there are many options.
As you may know, online classes are a cost-effective way to build skills and knowledge, especially when you're unemployed or have downtime.
New platforms emerge every day, but the ones listed below have been rated well overall.
It all started with MOOCs (Massive Open Online Courses) by Coursera, edX, FutureLearn, Canvas offered by universities. Given the advancements in technology and the rise in demand for just-in-time learning, many more online training providers have entered the market. You'll find a wide range of categories and subjects.
But before you sign up for anything, here's what you should think about.
What To Consider Before Signing Up for Any Training
Before selecting any course, research the class and trainer to make sure it provides what you expect and is worth your money.
Explore and browse different courses and providers.
Read the course descriptions thoroughly.
Investigate student reviews.
Be prepared to dedicate time to do the assignments.
Determine whether you need a certification or just the knowledge. Certifications usually cost money.
Online Classes
Below is a list of top providers of online classes and courses – some offer free courses and some charge fees for access to the classes.
LinkedIn Learning – A 30-day free trial and lots of courses and classes focused on developing your career.
Udemy – Choose from 100,000 online video courses for online learning topics including business, design, development, marketing, IT & software, photography, and personal development. Some courses are free, others range from $10.99 and up.
Coursera – With over 3,900 courses, some free and others for fee, you can learn from leading universities and companies. Stream on-demand video lectures today from top instructors in subjects like business, computer science, data science, language learning, & more. Certificates and degree programs are also offered.
edX – Founded by Harvard and MIT, you'll find over 2,500 online courses across many topics delivered by top universities and businesses. Popular topics include: Computer Science, Language, Data Science, Business & Management, Engineering and Humanities. Some courses are free and others are for-fee.
ALISON – has over 1,000 high quality courses available across technology, language, science, health, humanities, business, math, marketing and lifestyle, all free to complete. You can also get a certificate upon completion.
Open Culture – Provides access to 1,500 free online courses from top universities.
Skillshare – has over hundreds of free classes and several thousand paid classes for creative and curious people, on topics including illustration, design, photography, video, freelancing, and more.
HubSpot Academy – Known for their inbound marketing expertise, you'll find free and for-fee online classes and certificates in Marketing, Sales, and Service. Popular courses include content marketing, SEO training and social media strategies.
Just Technology
Codeacademy – Learn to code for free. If you want to learn web development (HTML/CSS, JavaScript), programming and computer science (Python) or data analysis (Python, SQL), this is the spot.
Pluralsight – Featuring technology training in areas such as software development, IT ops, Information & Cyber Security, and more.
Udacity – Hands-on technical skills is the focus of this site. Topics include data science, artificial intelligence, programming, autonomous systems, cloud computer, business, career and more. These courses are more expensive than others but you get a lot for your money.
General Assembly – Provides online courses and classes in technical skills such as Data Analysis, User Experience Design, HTML, CSS & Web Design, Digital Marketing, JavaScript Development. These courses are not free. There is a free Learn To Code course.
Other Sources
Look for online training and webinars offered by your favorite businesses, authors, service providers, and coaches.
These are other sources for online classes:
Teachable – Teachable offers free classes as well as classes for fee. Categories include: Business & Marketing, Design, Food & Drink, Health & Fitness, Home & Garden, Productivity, Tech & Programming, Music, Photography, Writing, Travel & Languages.
CreativeLive – CreativeLive has over 1,500 classes taught by industry-leading experts. Each class falls under one of five categories: photo and video, art and design, music and audio, craft and maker, or money and life.
FutureLearn – FutureLearn offers free and paid classes in a variety of topics including: Business & Management, Creative Arts, Healthcare & Medicine, Law, Literature, Study Skills, Science, Engineer & Maths and more. They also offer micro credentialed courses for academic credit.
MasterClass – MasterClass offers online classes taught by over 80 world-renowned instructors such as Dr. Jane Goodall and Spike Lee for $15/month. Categories include: Culinary Arts, Music & Entertainment, Lifestyle, Film & TV, Sports & Games, Business, Politics & Society, Writing, Design, Photography, & Fashion, Science & Technology
And don't forget YouTube videos which can be great for learning how to do just about anything!
Demonstrate Your New Skills
Once you've completed your online class, look for opportunities to use the skills you've learned. Take on a project or volunteer using your new skills.
And be sure you add your new skills to your LinkedIn profile and resume.

Hannah Morgan speaks and writes about job search and career strategies. She founded CareerSherpa.net to educate professionals on how to maneuver through today's job search process. Hannah was nominated as a LinkedIn Top Voice in Job Search and Careers and is a regular contributor to US News & World Report. She has been quoted by media outlets, including Forbes, USA Today, Money Magazine, Huffington Post, as well as many other publications. She is also author of The Infographic Resume and co-author of Social Networking for Business Success.