Now is the time to start using social media for your job search. Learn the first steps you should take and what social media channels are popular with employers. Get started today by building your personal brand and managing your online visibility!
This post is regularly updated to make sure you use the best social media for your job search!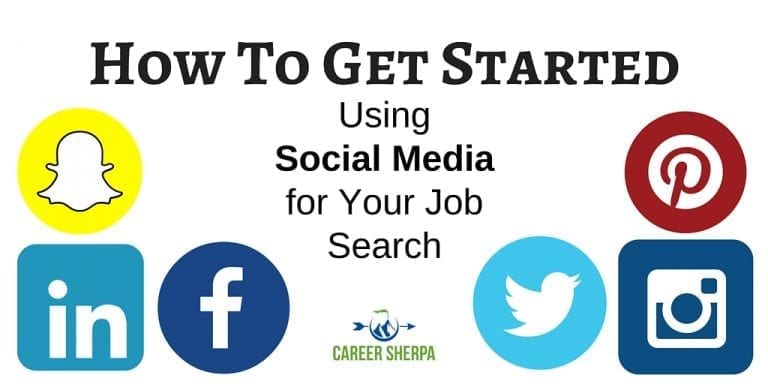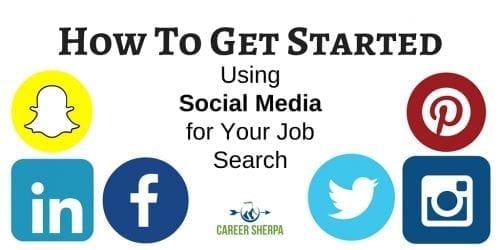 Use Social Media for Your Job Search
Social media can help you expand your reach and network. In other words, more people will learn about you. And that increases the chances of the right hiring manager or recruiter discovering your talents!
When it comes to social media, each platform has a different audience and purpose. And each platform has advantages so I've outlined some of the best ways to use each platform.
These aren't just tips to use during the job search. It takes time to build an online reputation and network. Ideally, you should start building your online brand BEFORE you need a new job. It just might result in job opportunities coming to you!
Why Use Social Media?
Why should you use social media? Because employers and recruiters are looking for talent on these platforms!
According to the most recent Jobvite Recruiter Nation report, these are the most used social media channels for recruiting:

72% use LinkedIn
60% use Facebook
38% use Twitter
37% use Instagram
36% use Glassdoor
27% use Youtube
You're Stuff Is Already Out There
Just in case you didn't know, the web is already curating information about you. To see what I mean, go to Google right now and search for your name and see what comes up. I'll wait right here….
You want the RIGHT stuff to appear on page one! How did you do? Did you see information about your home value, phone number or stuff that wasn't even you?
If you aren't seeing the best and most relevant information about yourself on the first page, then social media is a great way to build links to your name.
Master LinkedIn First
LinkedIn is the first choice for recruiters and professionals looking to network. There's no need to go wild dabbling with every social platform. Figure out how to get the most out of LinkedIn first. This is one of the more important social media platforms for your career.
Then use this 20 point checklist to make your LinkedIn profile a magnet for hiring managers and recruiters.
Now, make your LinkedIn profile feel more like an online portfolio.
Stay on your network's radar by updating your status. Here are 25 ideas on what to say.
LinkedIn regularly makes changes to their platform, so if it's been awhile since you've dug around, you should spend some time getting used to some of the newer options. For example, from your mobile device you can post Stories to LinkedIn, and you can post images in the Featured section.
And don't forget, everyone can find and connect with alumni using this feature.
Twitter Isn't Stupid
If you want to expand your social experience, please allow me to recommend Twitter (one of my favorite tools for getting news and meeting new people!).
Twitter is an open network and allows you to send a tweet to anyone on the platform (or follow what anyone is saying). This makes it ideal for growing your network as well as keeping up with the latest trends in your industry or occupation!
Build your profile and have a plan is all it takes to start using Twitter.
Get these 11 Beginner Twitter Tips
Here are 50 Twitter accounts to follow for job search tips.
You Are Already on Facebook, right?
Most people are already using Facebook. If you aren't, I am not suggesting you start. But can you at least ask yourself if Facebook could help you look for a job?
Think about the friends and connections you have on Facebook. And who do they know? If you are keeping your job search a secret from these friends, you could be missing opportunities.
Here's how to prepare your Facebook profile for job search.
Recruiters are using Facebook to learn more about candidates.
And get these 2 Secret Facebook Tips for Job Seekers
Instagram
Known as a place for sharing photos (and video), Instagram is another way to show what's important to you on a more personal level.
You may have also noticed employers are using Instagram too.
Go see how you can use Instagram for your job search.
Pinterest Can Be Your Portfolio
Consider Pinterest a spot where you can post all the articles and information about you. Share your Pinterest URL and make it easy for a recruiter or hiring manager to learn about you!
Here are some examples of Pinterest boards that brand individuals.
Snapchat Anyone?
Pitch your qualifications to a company that is active on Snapchat like this job seeker did!

Hannah Morgan speaks and writes about job search and career strategies. She founded CareerSherpa.net to educate professionals on how to maneuver through today's job search process. Hannah was nominated as a LinkedIn Top Voice in Job Search and Careers and is a regular contributor to US News & World Report. She has been quoted by media outlets, including Forbes, USA Today, Money Magazine, Huffington Post, as well as many other publications. She is also author of The Infographic Resume and co-author of Social Networking for Business Success.