These are the 50 best Twitter accounts for job search advice in 2019. If you are looking for a stream of tips to help you with every aspect of your job search, from networking to interviewing, this is it!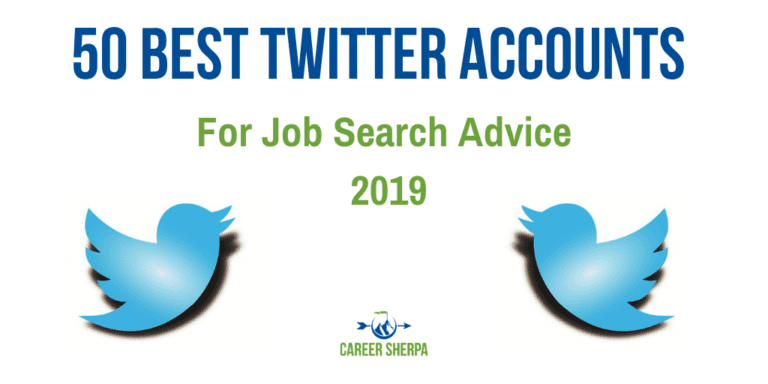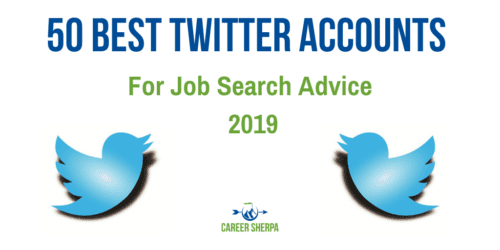 Twitter is probably still the best source of information…IF you know who to follow. And I've got you covered!
This is a list of resume writers, job search coaches, recruiters, and experts who regularly tweet job search advice you can trust! I know you can trust them because I've been following them for years! And they consistently share good insights!
Best Twitter Job Search Advice 2019
To make it easier for you to see what type of advice these accounts share on Twitter, I've organized the 50 accounts in this blog post into these 5 categories:
Job Search – all types of job search advice and tips
Resume Writers – these are accounts that focus on resume writing
LinkedIn & Personal Branding – advice for better LinkedIn profiles and use
Recruiters & Social Recruiting – so you can understand their perspective to hiring
Trends – workforce trends and technology that impact you and your work
50 Twitter Must Follow 2019 Accounts for Job Search Advice LIST
Using Twitter lists allows you to see tweets only from people on the list! This is a huge time saver and makes your Twitter experience much more enjoyable.
How To Subscribe To This Twitter List
You could go through the list and follow each person listed below, or you can subscribe to the Twitter List I've already created.
Just click on the link to my Twitter list here and it will open up in Twitter.
Click "subscribe."
That's it! Now, you will see all the tweets these people share.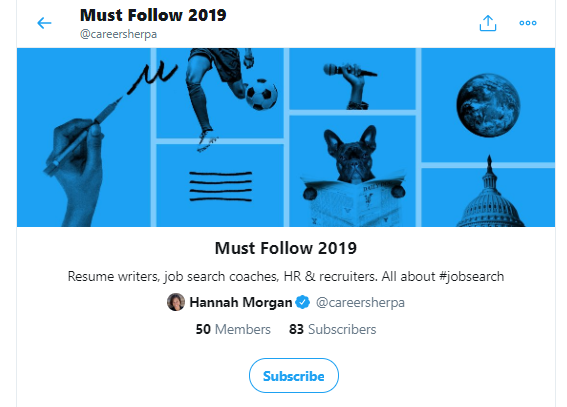 JOB SEARCH
Career Coach – Catalyst for personal & career transformation. Looking to help w/ #JobSearch #CareerChange #SmallBiz. One of THE BEST sources for job search news!
When an Interviewer Thinks You're Overqualified https://t.co/tJ6reW2Gtr by @phyllismufson via @NextAvenue #jobsearch #50+ #boomers

— Phyllis Mufson (@phyllismufson) September 1, 2019
Job-Hunt.org a Forbes Top 100 Website for Your Career, your guide to a shorter & smarter job search (don't forget the hyphen between Job and Hunt!) Susan is an expert on job search, SEO and defensive googling!
#JobSearchTips – Guessing your best keywords is risky. To have the greatest success in your #JobSearch, choose your keywords carefully. Be scientific about it! How to Choose the Best Keywords for Your #LinkedIn Profile — https://t.co/TlpajHSTzq #PersonalSEO #LinkedInSEO pic.twitter.com/jsSL2boch7

— Susan P. Joyce (@JobHuntOrg) August 29, 2019
Helping people succeed at their careers, and find meaningful jobs at the best companies. 🙌. You'll find almost everything you need!
These are the four key messages you need to convey by the end of every interview. https://t.co/TtVxtNiYs3

— The Muse (@TheMuse) September 1, 2019
Job Search Expert @thebalance. Founder @careertoolbelt. LinkedIn: Alison Doyle. Career and job search advice. Tweets are my own.
Best answers for 20 of the most common interview questions you'll be asked. https://t.co/8ERQxyEC8A

— Alison Doyle (@AlisonDoyle) August 29, 2019
Jobscan boosts your interview chances by beating resume robots. Learn how ATS work and check out their freemium service to evaluate your resume against the job posting.
These ATS formatting mistakes could cost you an interview! https://t.co/vmt6XAMc0x

— Jobscan (@JobscanCo) February 20, 2019
career expert & resume writer, speaker, CPCC & CPRW, spokesperson at @TopResume, @TopCVServices & @Top_Interview, #newmom, dog mom, eternal student
Can you ever ask *too many* questions in an interview? Check out my #AskAmanda article and video to find out: https://t.co/6cVosCErIH #interviewtips via @Top_Interview pic.twitter.com/6sxHM559Kq

— Amanda Augustine (@JobSearchAmanda) August 21, 2019
#CareerAdvice Expert devoted to helping you land the job you want,
@Amazon #1 Bestselling Author, Speaker, @Forbes columnist, love taking photos
Do you wonder what goes on behind the scenes when employers are hiring? You definitely need to read this insightful confession.#recruiting #hiring #jobsearch Confessions Of A Former Corporate Recruiter via @forbes https://t.co/8ePWibs216

— Robin Ryan (@RobinRyanCareer) August 23, 2019
Career Designer helping Baby Boomers. Author – Repurpose Your Career – A Practical Guide for the 2nd Half of Life http://amzn.to/2sMitmN. An advocate for Boomers!
The Illusion of Job Security – Career Pivot https://t.co/wmWgand9jm #boomerjobtips pic.twitter.com/zOjej1bJ4H

— Marc Miller (@CareerPivot) August 14, 2019
Hacking & re-imagining job search🌟Freelance Career Advice Writer🏆Award-Winning Career Blog &🎙️Podcast 🌟Business Insider, NBC News🌟ΦΒΣ . The Voice of Job Seekers Podcast
Opportunities are being left on your timeline because you're not using @Twitter hashtags. I explain in this article why you need to start using them to improve you're #jobsearch results through #LinkedIn and #Twitter. https://t.co/n8F3KoJ5c9

— Mark Anthony Dyson (@MarkADyson) July 9, 2019
Tangled up in your job search or career transition? C'mon over. We'll help you untangle, strategize and get pointed toward a job that you love.
Ever Heard of a Letter of Interest? It Could Score You a Job at Your Dream Company https://t.co/hMrgXz3SMf (My latest column over on @themuse). #dreamjob #jobhunt

— Jenny Foss (@jobjenny) April 17, 2019
Career Switch Coach, #Switchers Author, #TEDx, Psychologist, Career Director @Wharton EMBA, #LinkedInLearning, Radio Host @SiriusXM 132 (844.942.7866 Thur 12ET)
Clarity comes through action. If you don't yet know what you want to do, take time to participate in extra curricular activities to help inform that decision. These could include: volunteering at local organizations, joining clubs, mission trips, internships… @WhartonBizDaily pic.twitter.com/DC1enVX6Ev

— Ask Dr. Dawn (@DrDawnGraham) August 22, 2019
Sarah Johnston the Briefcase Coach – @SarahDJohnston
Hey there! I am a strategic job search coach. I help high achievers position themselves for smart opportunities and navigate the hidden job market.
I've been working on a list of national job search groups for the past year. This is a tremendous resource—- if you've ever been apart of a job search club, I'd love to know which one? https://t.co/ITuGRXvLoa

— Sarah Johnston the Briefcase Coach (@SarahDJohnston) August 30, 2019
Author of Job Interview Success for Introverts~career strategist~morning walker~decent soccer coach~blogging maniac ~LinkedIn influencer~Please no DMs. Bob knows about LinkedIn too!
Do you ever wonder why you should be using #LinkedIn for your jobsearch? Wonder no more. #jobsearch #LinkedInUnleashed https://t.co/xfKqoACPec

— Bob McIntosh (@bob_mcintosh_1) July 28, 2019
Creator of EatYourCareer.com, contributor to @USNews. Helping people discover professional nourishment. Is your career leaving you hungry?
Want to change careers, but not sure if you're ready? Here are 15 questions to ask yourself first. https://t.co/wYGGP87EJ4

— Chrissy Scivicque (@EatYourCareer) August 29, 2019
#1 Amazon Best-Selling Author of YouMap 📖 YouMap® Career Profile Creator💡 International Speaker 🎙 Proud #Haudenosaunee 💪
Challenge the #lies you tell yourself!

I meet people ALL the time that put a lid on their #potential. They have logical excuses why they have to stay #stuck. I used to do that, too.

I was a guest on Awake & On Purpose with @JenniferSpor_
Listen here: https://t.co/5nptScTzPX pic.twitter.com/6JcmoiFYuC

— Kristin Sherry (@YouMapCreator) August 21, 2019
Job Search Expert, Professional Blogger, Creative Thinker, Community Builder with a sense of humor. I like to help people.
🔧 The Best Free Job Interview Tool You're Not Even Using https://t.co/408NDDSgGP

— Jacob Share (@jacobshare) August 29, 2019
Social change strategist, owner of @TeamPrichard, publisher of @Macs_List, host of the Find Your Dream Job #CareerPodcast.
On today's "Find Your Dream Job" #careerpodcast, my guest @kowyatt shares how you can get hired for #govjobs by shifting your perspective to focus on the hiring manager's needs and challenges. Listen in for more #careeradvice. https://t.co/AewFQSF7wd pic.twitter.com/R457UCjdYi

— Mac Prichard (@Mac_Prichard) August 29, 2019
Changing lives one #career success story at a time. Train & convene career pros worldwide as CEO of @CareerTL & Resume Writing Academy. Sports nut & runner.
Did your last #resume or #LinkedIn profile make your client stand out or sound like every other "results-oriented trusted advisor"? 4 steps to #personalbranding without adjectives: https://t.co/1CPLGMc3MJ pic.twitter.com/4Ri5GF1gSO

— Marie Zimenoff (@workwithpurpose) August 14, 2019
I help people find flexible & remote work. career coach | digital career services | sr. career specialist @FlexJobs | compulsive organizer | will work for puns
Every time I see stats like this, I think of all the "this is the end of telecommuting" headlines from the last several years and then I smile. https://t.co/PEod0zU207

— Brie Weiler Reynolds (@briewreynolds) July 30, 2019
I help people use their stories to grow their career. And if you don't know what kind of work, I help with that too. Coach + Workshops. LinkedIn Top Voice 2018. Definitely follow Kerri on LinkedIn.
Job search starts with knowing your stories.

How are the places you've worked better because of you?

Hone those stories.

Practice them.

Share them.

So that when an opportunity you want comes along you know exactly what to say and do.

— Kerri Twigg (@KerriTwigg) August 16, 2019
Canadian career strategist teaches executives to navigate leadership positions with ease. #Executive #resume writer. Fierce advocate of #careerdevelopment #YYJ
What's the number one tip I offer when people ask me for #career advice? https://t.co/atIFB0RASN

— Maureen McCann (@mypromotion) July 16, 2019
Ashley Watkins – Write Step Résumés – @WriteStpResumes
I'm #CareerCoach Ashley! Want more interviews and job offers? Land the #career you ❤ at the 💰 you deserve! Check out our #resumetips, resources & blog!
People hire people they know, like and trust. Applying online is only one piece of the puzzle. The rest depends on your self-marketing strategy (resume + #LinkedIn profile + branding) and the ability to connect with the right people. #Networkinghttps://t.co/HYP94ehTNB

— Ashley Watkins – Write Step Résumés (@WriteStpResumes) July 22, 2019
Careersidekick Founder. Get practical job search tips from a recruiter.
11 #LinkedIn profile "Summary" tips for job seekers. Don't neglect your Summary section. It's one of the first places employers look! https://t.co/fdN8mniJP3 #jobsearch #jobseekers #career pic.twitter.com/yFU2ytb2F3

— Biron Clark (@BironClark) July 21, 2019
YouTern enables young talent to become highly employable by connecting them to high-impact internships, mentors and thru contemporary career advice that works!
You got this! >> #ImposterSyndrome: How to Embrace the Value of You https://t.co/dsoZlWQJoq #Infographic

— YouTern (@YouTern) July 24, 2019
Organize your job search. Manage professional relationships. Personal CRM for YOU. Created by @JasonAlba.
— JibberJobber (@JibberJobber) August 12, 2019
We're here to help you get hired, every step of the way.
What is the hidden job market?https://t.co/KedV1LjCyU pic.twitter.com/b0OwJlC8eE

— LiveCareer (@LiveCareer) August 18, 2019
Award-winning online publication focusing on advice for job seekers and career professionals.|| Award-winning Career Podcast.
5 Ways to Master Your Body Language for Job Interviews#jobsearch #jobinterviews #bodylanguagehttps://t.co/4GGlyBUrM7

— CareerMetis.com (@CareerMetis) August 23, 2019
RESUME WRITERS
5X Cert Executive Resume Writer, Forbes Top 100 Career Website, Executive Resume Writer, Branding Strategist, Career Consultant, Coffee Lover, Happy to meet you
Those long, jargon-filled sentences could be doing more harm than good. When it comes to resumes, we've seen it all! Click the link to find out what you MUST avoid if you want to land the career of you dreams.#interviewtips #resumetips #personalbrandinghttps://t.co/iyzme647BI pic.twitter.com/phw58FqA6K

— Erin Kennedy, CPRW, MCD, CERW, CMRW, CEMC (@ErinKennedyCPRW) August 30, 2019
Donna Svei, Executive Resume Writer – @DonnaSvei
Donna Svei writes resumes for Director, VP & C-level executives. She also dispenses advice on Avid Careerist.
How to Guard Your Profile Against LinkedIn Resume Assistant https://t.co/Q7BCSfj7WN

— Donna Svei, Executive Resume Writer (@DonnaSvei) August 27, 2019
C-suite Executive Resume, Personal Branding & Job Search Strategist. LinkedIn Profiles, Online Presence. Multicertified, 20+ yrs exp. Land a Great-Fit New Gig!™
10 Steps to Executive Job Search Success https://t.co/DMSqkwmTQQ #jobsearch #executivesearch #resume #resumewriting #personalbranding #personalbrand #networking #jobinterview

— Meg Guiseppi (@MegGuiseppi) August 3, 2019
Executive #Resume Writer: award-winning, globally recognized, multi-certified, published. #LinkedIn coach, author, branding advocate. 20+ yrs winning top jobs!
I Used LinkedIn to Build My Resume – and Here's What Happened https://t.co/y6N5C8aWYu pic.twitter.com/fm7yFATloo

— Laura Smith-Proulx (@ResumeExpert) July 27, 2019
#Forbes Top 100 Career Website | Executive Resume Writer | Hired #LinkedInExpert | Job Search Coach | Fmr 13-yr Recruiter | #Cornell | Runner | Straight Talker. Her website is ChameleonResumes.
Did you know that only about 20% of #executive #resumes will land an interview through job postings? Read more here: https://t.co/t1y3esAFWX #ATS #career

— Lisa Rangel (@LisaRangel) September 2, 2019
Global Career Storyteller ✦ Translating Your Value Into Words So You Can Command Top Dollar. careertrend.net // 2 Cor. 4:8
Your #Resume and You: Are You Standing in a #SocialMedia Fog? Your Resume and You: Are You Standing in a Social Media Fog? https://t.co/zmmAoX1dyY pic.twitter.com/csZwR21pEq

— JacPoindexter (@ValueIntoWords) August 12, 2019
Certified Master Resume Writer and Career Coach | careersteering.com Authentic Resume Branding | Member @Forbescoaches Call: 321-704-7209
If you are like many leaders, you've been too busy steering your career progression to worry about your executive resume. Here are 7 steps you can take to revive your executive resume & circulate it to hiring authorities & recruiters with confidence.https://t.co/Z2h3QnUGyC

— Rosa E. Vargas (@resumeservice) July 25, 2019
Debra Wheatman, certified résumé writer and career coach, is President of Careers Done Write – a leader in professional résumés and career services.
In my newest blog post, I discuss some old and truly outdated career advice that you should pay no mind to. Check it out by clicking here: https://t.co/pyzY8n668N pic.twitter.com/g9HKnnYjbt

— Debra Wheatman (@DebraWheatman) August 2, 2019
Adrienne Tom, Executive Resume Writer – @Adrienne_Tom
24X Award-Winning Executive #Resume Writer | Interview Coach | Job Search Strategist. I help executives achieve career success | Thrive Global Contributor
Waiting until September, when hiring and #recruitment are in full swing, to get your #jobsearch plan in place, means you may miss out on #jobs.

Here are some proactive activities to get yourself equipped for career prospects this upcoming season: https://t.co/f15qttdVDL pic.twitter.com/3Frs113EWa

— Adrienne Tom, Executive Resume Writer (@Adrienne_Tom) August 15, 2019
Exec Resume Writer + Career Storyteller. 3X Certified. No Worksheets/Prep. 90 Minutes of Your Time. PODCAST: https://tinyurl.com/yczv86xw
When someone has >5 years of experience I aim for a 2 pager 95% of the time. My strategy on doing this when someone has worked for 15-20 years, and doesn't want to omit early good stuff. https://t.co/tjv1V97Fcv pic.twitter.com/E7f8HhwmSV

— Virginia Franco (@VAFrancoResumes) August 28, 2019
Ana Lokotkova, Career Advisor – @cvlabs_yyc
I help hustlers tell their career stories & get hired | Resume Writer | LinkedIn Personal Branding | Interview Coach | Speaker | cvlabs.ca. Look for Ana's video posts on LinkedIn!
Age is just a number. But sometimes it comes with a label.

Read more about ageism in #jobsearch in my latest LinkedIn post 👇🏼

I'm curious: what's your take on the role of age in employment?https://t.co/VJD5TbFusC

— Ana Lokotkova, Career Advisor (@cvlabs_yyc) August 13, 2019
#ResumeWriter + #LinkedIn Expert 🌎 Helping clients worldwide DARE to do work differently, 🇨🇦🇯🇵 #JETProgram #Career Expert + Alum #RealEstate Investor.
Rewriting your resume? Start here! 📍

When we tackle the overwhelming task that is writing our rewriting our resume (or writing it for the first time) we think we should be starting with describing ourselves. But what we really should be focused on is describing HOW we help pic.twitter.com/W0y7ohOW3r

— Kamara Toffolo (@kamaratoffolo) August 13, 2019
Wendi Weiner, Esq. | The Writing Guru® – @TheWritingGuru
I build personal brands for attorneys, executives, and the C-suite to power their careers and LinkedIn footprint. ☀♨️ Seen in @cnn @forbes @huffpost @thrive
3 years ago today, I wrote "How I Used My Law Degree To Get Out Of Law" in the @HuffPost.

We all have a powerful story to share. Never be afraid to use your voice to help others. #storytelling #lawyers #lawtwitter #lawschool #lawofattraction
https://t.co/baGlwFhWLE

— Wendi Weiner, Esq. | The Writing Guru® (@TheWritingGuru) August 25, 2019
LINKEDIN & PERSONAL BRANDING
Insightful LinkedIn Coach. If you need to know something about LinkedIn, check out his articles on LinkedInsights (and follow him on LinkedIn too!)
The 'HOT 100' #linkedin hashtags AUGUST 2019 edition https://t.co/7pkul7Hl2v

— ANDY FOOTE (@andyxfoote) August 5, 2019
Linked-Express, Shelly Elsliger – @ElsligerS
Globally Recognized LinkedIn Trainer • Career Specialist • Confidence Coach • Empowering Women • #BeSociallyFearless 🔥. Shelly's very active on LinkedIn, so follow her over there too!
Check out my latest article: WHO YOU DON'T KNOW, YOU DON'T KNOW…BUT…HERE ARE SOME PEOPLE YOU SHOULD GET TO KNOW: It's all about Relationships https://t.co/QRDq4D9AeQ via @LinkedIn

— Linked-Express (@ElsligerS) August 18, 2019
Author of the #1 selling LinkedIn book The Power Formula for LinkedIn Success, #LinkedIn Trainer, Speaker, Consultant, CPA, Live Streaming Enthusiast.
As if a hard to understand feed algorithm isn't enough to confuse the average #LinkedIn user as to how content gets priority, now we have the all powerful content gatekeepers. Sounds very "Oz"ian (#wizardofoz) to me.

Thanks @andyxfootefor your research…https://t.co/zTvTQQ78pl

— Wayne Breitbarth (@waynebreitbarth) May 9, 2019
CEO-Chief Encouragement Officer. Personal branding expert. Motivational speaker. Bestselling author. Aesthete. Urbanist. Twizzler addict. Eternal optimist.
In our digital world, being yourself—your unique, human self—gives you a distinctive competitive edge. The principles of #personalbranding, paired with the tools of digital branding, help you broadcast your humanity and the traits that make you unique: https://t.co/iNcaIxDxki pic.twitter.com/coRFb9wvJ2

— WilliamArruda (@williamarruda) July 30, 2019
RECRUITER PERSPECTIVE & SOCIAL RECRUITING
I train. I speak. I tweet a lot. My Focus? HR, Recruiting and Job search strategy. | Looking for my Tech show? Go to @jimstroudshow
Jim Stroud on Recruitment Marketing and the Future of Work – Jim Stroud https://t.co/LI6Zc4liA3 pic.twitter.com/PiDa7UmgIF

— Jim Stroud (@jimstroud) August 18, 2019
Talent Acquisition Geek | JobSeeker Ally | Wordsmith |Job-Hunt.org Contributor. Ed tweets LinkedIn and Job Search tips for the day and updates on LinkedIn too!
My #LinkedIn #tip4day: be selective about who you admit to your #network because spammers and scammers use mutual connections to seem genuine and trusted.

— ed han (@ed_han) August 29, 2019
Host of Ask The Headhunter, author of Fearless Job Hunting, How to Work with Headhunters, How Can I Change Careers? and Keep Your Salary Under Wraps
Like it or not, you're going to encounter recruiter bots. Maybe you already have. https://t.co/cB4pd4T9tK pic.twitter.com/OOyq2FROd0

— Ask The Headhunter (@nickcorcodilos) August 8, 2019
Social Media Marketing tips and tactics that are working for our clients around the English speaking world. Hope they help ramp up your results! #socialselling
The 5 Biggest Mistakes #Recruiting Businesses Are Making On Social Media 💼 😱 https://t.co/j7novtnWXy pic.twitter.com/zjXzyp5RVd

— Tony Restell (@tonyrestell) August 30, 2019
TRENDS
Official Twitter feed for the Fast Company business media brand; inspiring readers to think beyond traditional boundaries & create the future of business.
How to land a job you're not qualified for https://t.co/hFWZfRSq6i

— Fast Company (@FastCompany) September 2, 2019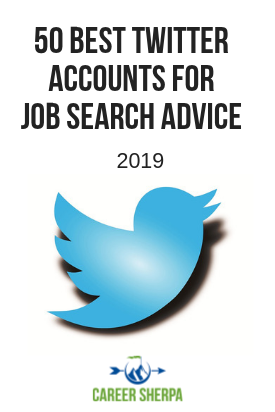 Hannah Morgan speaks and writes about job search and career strategies. She founded CareerSherpa.net to educate professionals on how to maneuver through today's job search process. Hannah was nominated as a LinkedIn Top Voice in Job Search and Careers and is a regular contributor to US News & World Report. She has been quoted by media outlets, including Forbes, USA Today, Money Magazine, Huffington Post, as well as many other publications. She is also author of The Infographic Resume and co-author of Social Networking for Business Success.