Instagram is the popular photo-sharing social media platform. But why would you want to use it for your job search?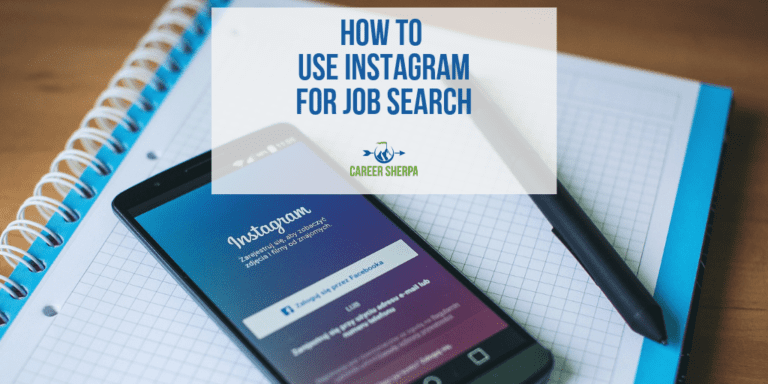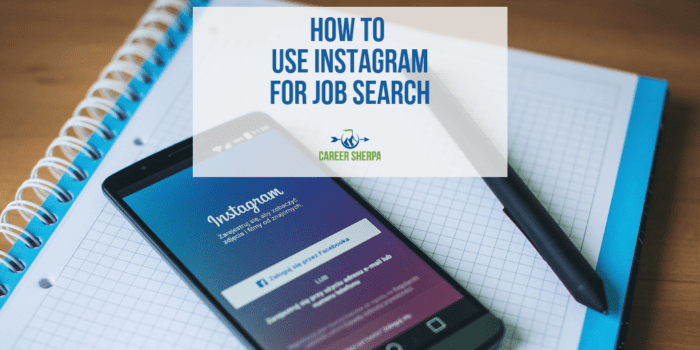 If you are already on Instagram, consider using it to build your personal brand and online visibility. And to connect with potential employers (who also are using Instagram).
Instagram is one more place online you can tell your career story and develop a valuable network. Sure LinkedIn is a recruiter's top choice in most cases, but here are some reasons why Instagram is becoming more important.
Instagram shows your life outside of work. It shows your interests and personality.
You already use Instagram to connect with friends (who could help you network into a job)
Instagram is another way to build (and spread) your personal reputation.
Companies are using Instagram to show what life is like at their company
Recruiters are using Instagram to attract candidates.
So how many recruiters are checking you out on Instagram?

Why Instagram?
Jobvite just reported that 37% of recruiters use Instagram to source candidates! What exactly do recruiters hope to accomplish on Instagram?
First, they want to attract potential candidates. Second, they want to learn more about candidates.
To attract candidates, employers post day-in-the-life photos, announce events, share news and other updates.
Here's why they are turning to Instagram rather than relying on LinkedIn. Most LinkedIn profiles read exactly like a resume. They are void of information about the personal side. In order to learn more about applicants, recruiters turn to where most people are active on social media. Right now, that's Instagram. Employers want to see if candidates are a culture fit and learn about their hobbies and interests to get a full picture of who they are.
To learn more about what employers evaluate on social media, read Social Media Used To Evaluate Job Seekers.
Your Instagram Profile
If you are actively job seeking and want to impress recruiters, then pimp your Instagram profile.
Headshot matchup
Use the same headshot on Instagram as you used on LinkedIn. This makes it easier for people to recognize you. Just an FYI, use a good quality photo of your head and neck. Look at the camera and smile.
Your Bio
You have 150 characters to convey who you are professionally and personally. Be sure you use similar wording as you used on LinkedIn (Twitter or Facebook) so the reader knows you are the same person.
You could explain what you're Instagram account is all about or you could use a version of your pitch. You can even include emojis to add visual appeal.
If you want, you can include a live link in the body of your profile with a call to action such as: View my LinkedIn profile here: [insert your LinkedIn URL]. Or if you want, you can add it to the website section instead.
Need more help deciding what to put in your bio? Check out: How To Build A Better Bio.
Your Link
Your bio allows you to link to a website. Include your personal website or if you don't have one, you can list your LinkedIn URL. The idea is to list a page that provides someone with more and better information about you.
What To Post
Be sure you have given some thought to what you will share on Instagram. Keep in mind, this can be a blend of personal and professional updates. If you are creating an image, remember the image must be square and best dimensions for an Instagram post are 1080 X 1080 pixels.
These are some ideas of what you can share as updates on Instagram that will help reinforce your personal brand and showcase your interests.
Photos of you attending an event. (Or just take a picture of the event sign).
Samples of your work (screenshot or photo)
Your resume or part of your resume (screenshot or photo)
You volunteering
Capture places you've visited
Photos from a day in your life
Show your interests, hobbies, or sports you participate in
Regrams (shared photos from other Instagram accounts)
Motivational quotes
Videos are also great for sharing on Instagram. Create a quick job tip, share your pitch or backstory, or talk about an event you are attending or volunteering with.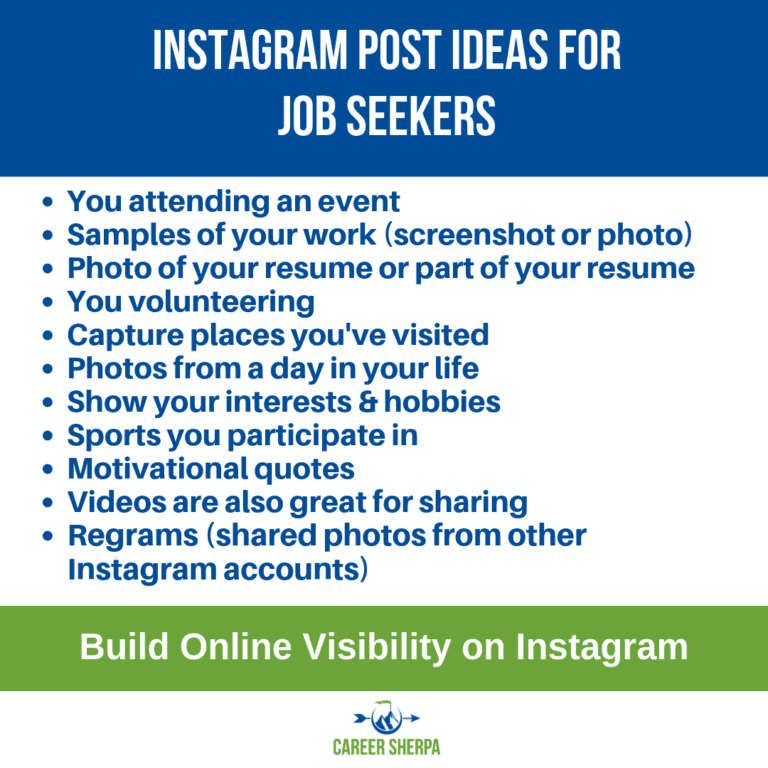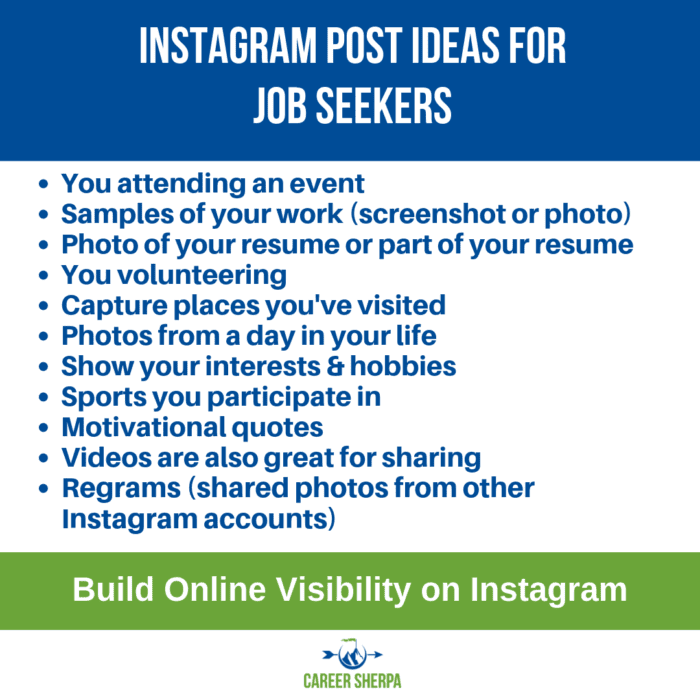 What To Say
Adding the photo is just the first step. Your next step is to write about the photo you are sharing. Describe why it's important or interesting. Ask a question or ask for feedback.
Try including emojis to emphasize a point and make your post more interesting to read.
You have approximately 2,200 characters to use in your Instagram post. But you certainly don't need to use them all.
There are additional things you should add to your post on Instagram as well.
Use Hashtags
Once you've uploaded your photo or video, explain what it's about. You can use hashtags to categorize your post. Hashtags are searchable on Instagram so make sure you are using the appropriate ones.
Tag People
Consider tagging a company you are interested in to let them know about an event you are attending or show how you are using their product or service. Companies monitor their accounts and can see when you've tagged them.
Tagging is also a good way to say thanks to people in your network or people you want to meet.
In order to tag someone, just type the @ and then type their name or Instagram handle in the text box.
Assess Your Profile page
Take a second and look at your overall Instagram profile page. What story do your photos tell? Do the images you've shared provide a solid representation of your personality and personal and professional interests?
The first impression is often a lasting impression so make sure it is the right one!
What Else Should You Do?
Follow companies and/or career accounts of companies you are interested in.
Find and follow other accounts related to your career aspirations.
See who people in your network are following by click on their "following" button.
Search relevant hashtags to find new people/brands to follow.
These are the basics to help get you started using Instagram for job search.
PS: I'm on Instagram so you can follow me there for more ideas for your job search – Follow @careersherpa

Hannah Morgan speaks and writes about job search and career strategies. She founded CareerSherpa.net to educate professionals on how to maneuver through today's job search process. Hannah was nominated as a LinkedIn Top Voice in Job Search and Careers and is a regular contributor to US News & World Report. She has been quoted by media outlets, including Forbes, USA Today, Money Magazine, Huffington Post, as well as many other publications. She is also author of The Infographic Resume and co-author of Social Networking for Business Success.