Isn't it time you get on page one?
When someone searches for your name, does it appear on the first page of search results? Is it the right you and is this the best information about you?
You better hope so!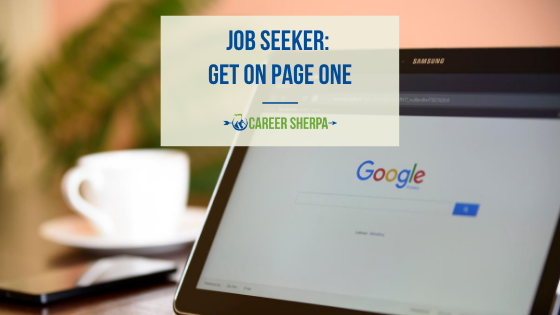 Get On Page One
The reason this is important, in case you haven't heard, is because 66% of hiring employers ARE googling you.
Their perception of you is their reality.
I write and present on the topic of reputation management a lot because it is more important than most people realize.
Do you have a Google problem?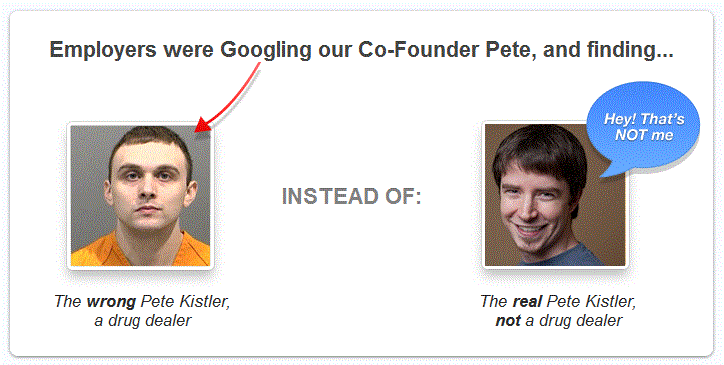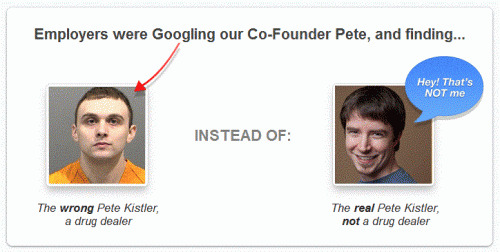 Pete Kistler, founder of BrandYourself discovered he had a google problem.
It was a classic case of mistaken identity.  He and a drug dealer shared the same name. Pete sought the help of his friend and SEO wizard, Patrick Ambron, to resolve his problem. This is how BrandYourself got its start.
My Google Problem
Maybe you don't share the name with a drug dealer.  My issue is that I have a very common name…Hannah Morgan. 
Every high school track star shares my name. Plus, a model and a heroine of a book share my name.
So my Google problem is that I am not the only "Hannah Morgan" on page one of a Google search. How can I be sure they are clicking on the right ME?!

Push The Right Stuff
With the BrandYourself tool, I was able to push the best content, about me and by me, up on page one.
Managing your online reputation is an ongoing process and the alert emails help me stay on top of where I rank. (*Small disclaimer…I used to contribute articles for BrandYourself, and I truly love what they are doing!)
How BrandYourself Works:
"BrandYourself is the only Do-It-Yourself platform that makes it easy for anyone to improve their own search results."
Submit any links you want showing up at the top of Google
Use our tools to optimize those links so they show up higher
Track your links as they begin to rise and bury unwanted results
Page One Results Rule
If your name doesn't appear on page one of Google or other search engines, what does that mean?
It means the likelihood that the person searching for information on you will most likely NOT go to page 2, 3 or 100 looking for you. 
Studies have proven that links ranked on page one (and very highly on page one) greatly increased the likelihood of being clicked.
Do You Understand SEO?
With BrandYourself's reputation management tool, you don't need to be an SEO wizard.
Their free tool walks you, very effortlessly, through the setup process and then provides suggestions to help you improve the Google ranking of your name.
The BrandYourself Promise
Our goal is to make it as easy as possible to help anyone control their own search results. That means we'll always answer the phone.
BrandYourself in the Spot Light
You may not have heard about BrandYourself, but they've been getting great press. They have also received numerous awards (from the Whitehouse and other organizations) recognizing them as a successful, innovative Start-Up.
The Bottom Line
Go google your name and see what appears on the first page of search results. Can you do better?
Your goal is to get on page one of search results.

Hannah Morgan speaks and writes about job search and career strategies. She founded CareerSherpa.net to educate professionals on how to maneuver through today's job search process. Hannah was nominated as a LinkedIn Top Voice in Job Search and Careers and is a regular contributor to US News & World Report. She has been quoted by media outlets, including Forbes, USA Today, Money Magazine, Huffington Post, as well as many other publications. She is also author of The Infographic Resume and co-author of Social Networking for Business Success.