Do you have LinkedIn Stories yet? Go to your mobile device and to see.
Since stories are new, you may not have this feature yet. LinkedIn rolls new features out over time.
Sadly, LINKED IN HAS DISCONTINUED STORIES. So you won't be able to use it.
However, the tips below will also work for Instagram/Facebook stories.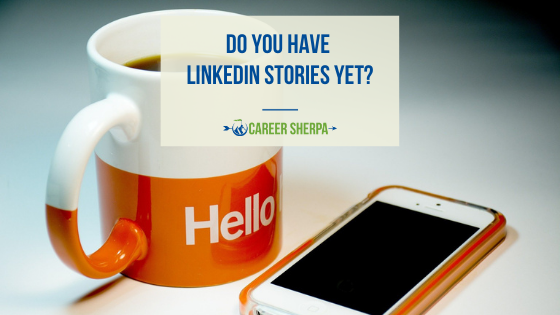 If you do have Stories, you will see them prominently featured at the top of your device's LinkedIn screen.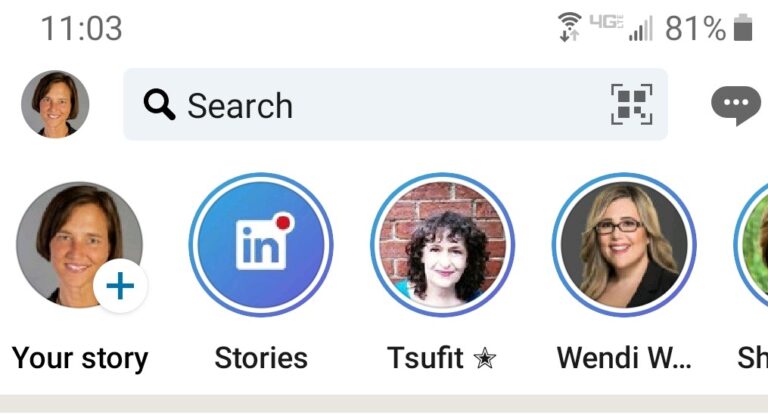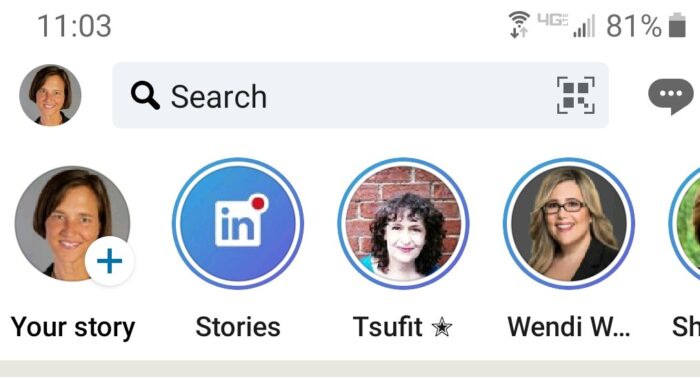 LinkedIn Stories are similar to stories on Facebook, Instagram and SnapChat. But if you haven't seen or used stories anywhere else, here's what you need to know.
Your LinkedIn Story is visible to your followers and connections for 24 hours. After that, it disappears.
Why Use LinkedIn Stories?
There are many reasons to use stories.
To increase awareness of you and your professional brand
Get a message out
Start a conversation
Give advice or get advice
Let people get to know you better
LinkedIn is a professional network, so make sure your stories are suitable for the workplace.
But you don't have to be serious or suited up all the time. Showing your outside interests, a glimpse of your home office, or a memorable weekend experience helps people connect with you on a deeper level.
You'll have to decide what you are comfortable with. And be mindful not to "overshare" meaning, don't reveal things about yourself you wouldn't reveal in a job interview or with your boss or work colleagues during an encounter in the break room.
Stories are a bit like a virtual water cooler. They give us a chance to interact on a more personal level.
What To Post
Before you jump in and post a story, think about your purpose.
Why do you want to post a story on LinkedIn?
Your reasons may be the same or similar to posting a status update – to stay top of mind, share an idea, ask for solutions, share good news… the options are as endless as you are creative. Once you've answered "why" next think about what you will share in your story.
Topics/Ideas
To get ideas on what to post about, take a look at the stories people have shared.
As I look at my Story feed, I see my connections offering:
job search advice
using LinkedIn's "question of the day"
sharing testimonials
promoting upcoming events
giving thanks to co-workers
asking about work/life balance
showing behind the scenes shots
news
and more personal stories about life working from home, causes they care about, and what happens outside of work.
In fact, many of the posts you share as updates on LinkedIn would make a good Story. To see more ideas check out this article with 25 ideas.
Now, think about what type of Story post feels most like you.
What NOT To Share
You want to highlight your knowledge, skills, abilities, value, not the fact that you are open to new opportunities.
Avoid advertising the fact that you are in job search.
While it might seem like a perfect opportunity to let your network know you are looking for a new job, that's really not what you want people to remember about you. Your network can't refer you if they don't know what your expertise is, so focus on getting that message out first.
Instead, focus on showcasing what you know, how you are investing your time, what you are learning, or other qualities that would set you apart as someone who is ready to hit the ground running.
Video – Screenshots – Photos
Don't worry, you don't have to post a video, but video a great way of letting people get to know you better. Video is used to help establish trust. You want people to feel like they know and like you!
If you do decide to use a video, you can record it from the stories feature or upload it from your mobile device.
You can upload any image from your mobile device. Think about taking a series of screen shots of your LinkedIn testimonials or capture something you've been quoted in.
You can even add text, tag people and stickers from LinkedIn's collection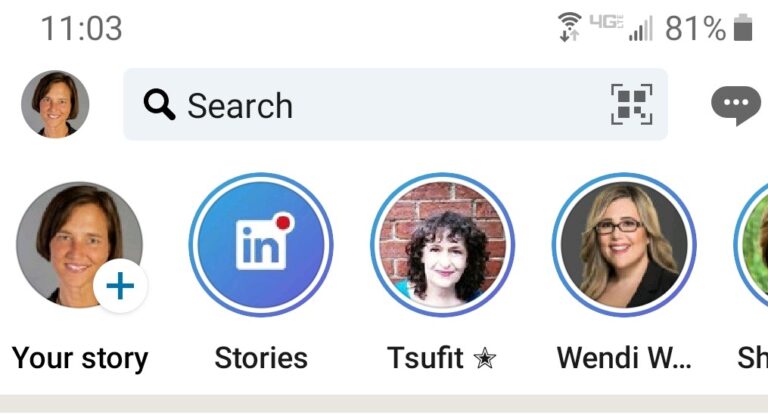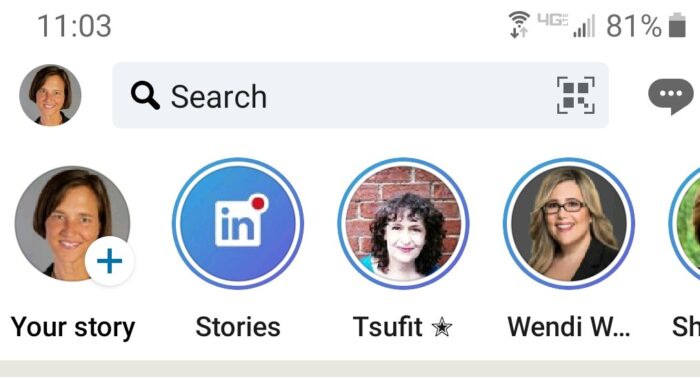 Here's how to post a story in 4 simple steps:
Open your LinkedIn app and touch the circle with your photo that says "Your Story"
Record the video or take the photo directly through the app

Or upload video (up to 20s) or image

Add a sticker, text and/or mention users with @
When finished, just click on the blue Share Story button on your screen.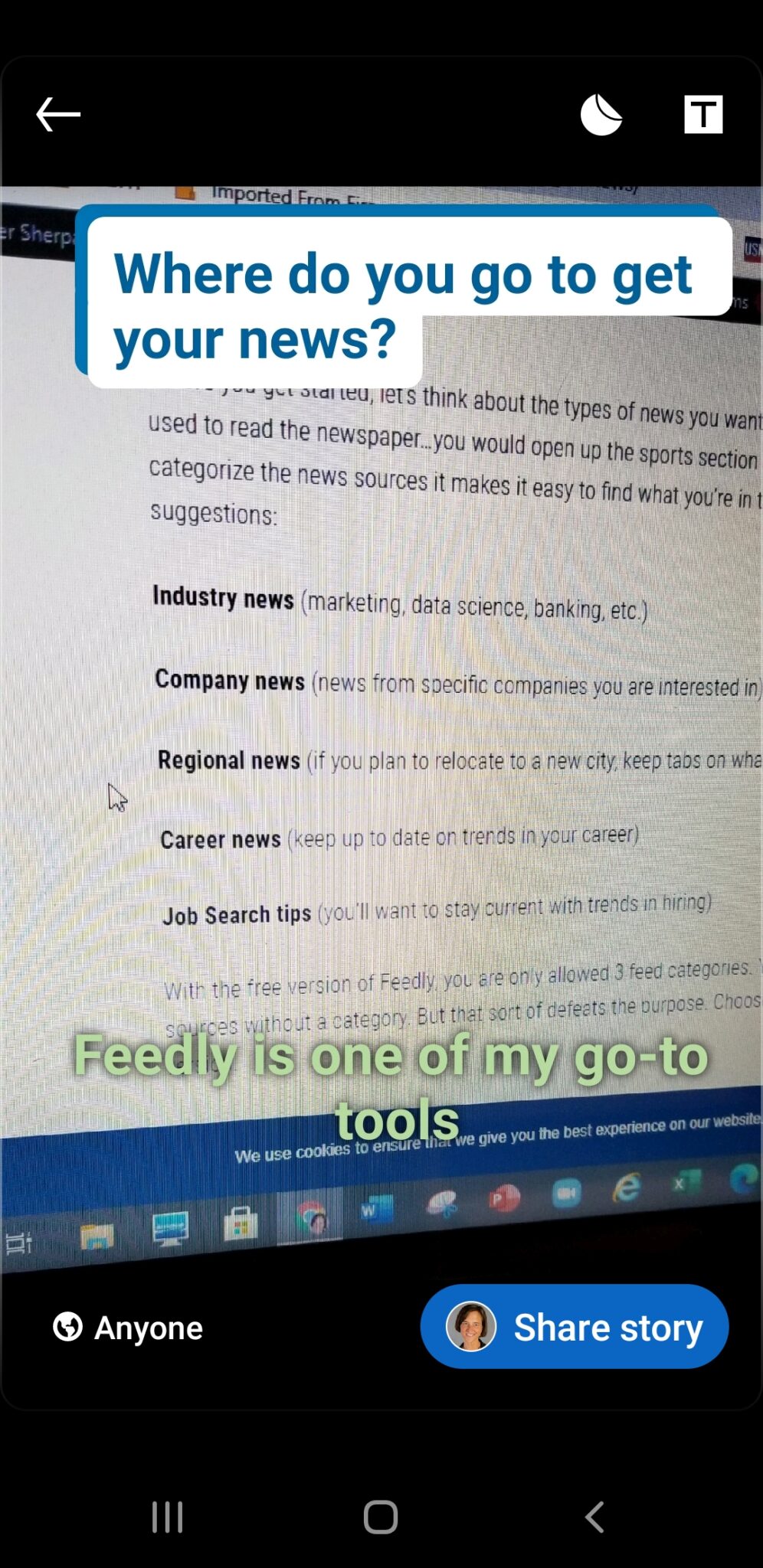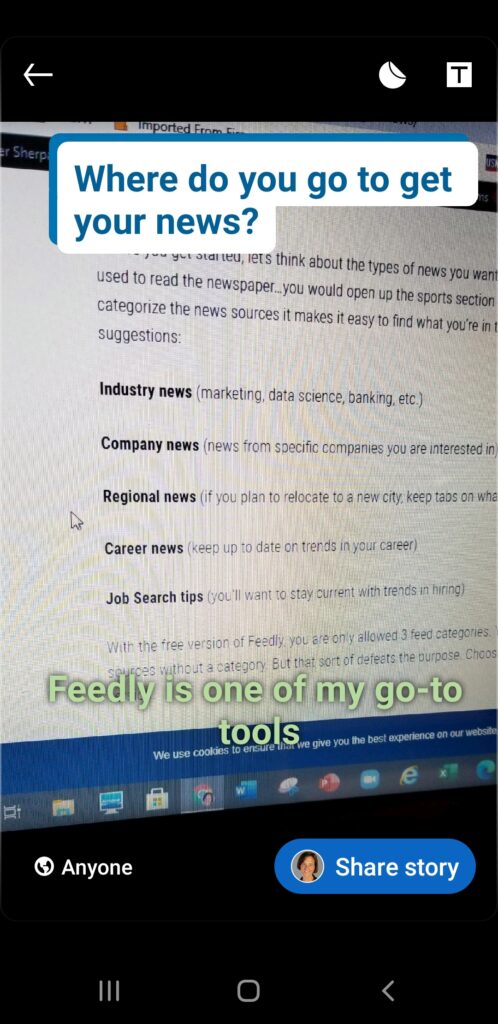 And when someone responds to your Story, it will show up in your LinkedIn message box. Be sure to respond!
Stories Aren't Just For Creators
Don't lurk! Engage. Respond with a message!
That's the magic of stories (and posts). It's a great way to take your relationship to a new level. In other words, by engaging with a connection's Story you can get to know them better. It's like have a conversation around the virtual water cooler or hanging out after work.
LinkedIn Stories FAQ
LinkedIn Help has created a list of FAQs and because I haven't included every detail about stories and there will undoubtably be updates, check out their documentation here.
You'll find answers to:
How can I post a Story?
Who can see or share my Story?
Can I view and save my own Story?
Can I edit or delete my Story after it has been posted?
How can I share my Story with someone?
Can I view my Story's insights?
What is the Question of the Day feature and how can I access it?
What are the recommended specs for uploading a Story from the camera roll?
So what are you waiting for? Give LinkedIn Stories a try!

Hannah Morgan speaks and writes about job search and career strategies. She founded CareerSherpa.net to educate professionals on how to maneuver through today's job search process. Hannah was nominated as a LinkedIn Top Voice in Job Search and Careers and is a regular contributor to US News & World Report. She has been quoted by media outlets, including Forbes, USA Today, Money Magazine, Huffington Post, as well as many other publications. She is also author of The Infographic Resume and co-author of Social Networking for Business Success.