If you use Facebook to stay in touch with your friends and family, now there are new reasons to use it for your career and job search!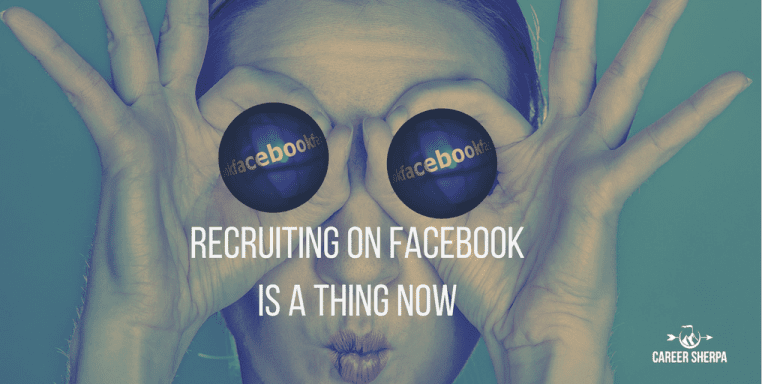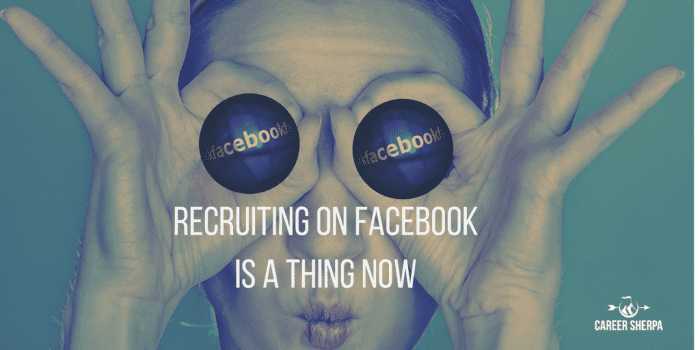 Here's some data:
44% of US Facebook users report checking Facebook several times per day (according to Statista), far greater than the 10% of US LinkedIn users who sign in about once a day (as reported by Statista).
More users logging in more frequently is exactly why recruiters have been turning to Facebook.
Recruiting On Facebook: How Recruiters Use It
Here's what recruiters have been doing on Facebook and what to look out for in the coming months. Companies have already been using Facebook to recruit.
Socially savvy companies seized the opportunity to create company career pages on Facebook in order to build a place where they could answer questions, discuss the company culture and share opportunities.
Recruiters have also discovered ways to search Facebook for candidates with hard-to-find skills and who may not be actively looking for jobs. Recruiters can search for profiles by education, geography, interests, even by past employer.
Searching Within Facebook
If you want to play around and search for people on Facebook, you can go to the search bar within Facebook and type "people who work at [insert any company you are interested in]". You might be surprised at the results.


I share more secrets on how to use Facebook for job search in this post 2 Secret Facebook Tips for Job Seekers.
Facebook Testing Job Postings
UPDATE- Facebook allows companies to share job postings. These ads appear as status updates on a company's Facebook page as well as in a separate jobs tab on the company page. Details like job title, salary or if the job is full time or part time are included in the job ad, which can also be promoted to target specific users by education, geography or other criteria allowable by Facebook's advertising settings.
Companies Posting Paid Job Ads
The same forward-thinking companies who created Facebook communities have also been using paid Facebook ads to promote posted job opportunities. Some recruiters even share job ads within groups to target a specific audience.
Watch For "Jobs" Tab On Company Pages
Facebook wants to make it easier for companies with Facebook pages to announce job opportunities. A separate jobs tab may soon appear on company Facebook pages, which may make it less costly for smaller companies to compete for talent. According to Facebook, not only will the job ad appear on the company's timeline, it will also allow interested candidates to simply click on an "Apply Now" button that populates parts of the job application with the candidate's public profile information.
If you are interested in setting up your Facebook profile for your job search (sort of like you did with your LinkedIn profile, please go read Prepare Your Facebook Profile For Job Search
But before doing so, it's crucial to understand what potential employers will see on your public Facebook profile to ensure a positive first impression.
Know Your Privacy Settings
You don't need to set up a separate Facebook profile for your job search, in fact, it is against Facebook's terms of use to do so. Instead, learn how to adjust your settings and monitor your account more closely.
Any status updates you share and set as public will show up on your public profile as well as comments you post to Facebook pages and public groups.
Other sections of your profile that are public include your
profile picture
cover photo
schools
workplaces you've listed
Go right now and see what your public profile looks like when someone you don't know views it. This only works from the desktop version of Facebook (not your phone).
Go to your Facebook profile and look for the three dots near your cover photo and select the "View As" option under "Who can see my stuff?" This allows you to select "Public" view to see how your profile is viewed by someone you don't know.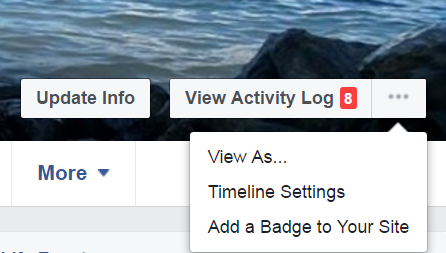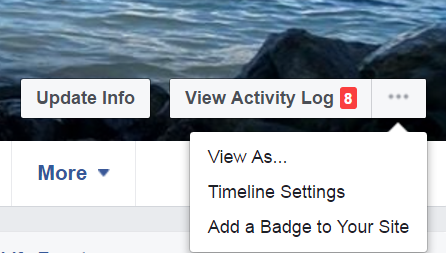 If you decide you do not want to share certain parts of your profile, go to the lock symbol at the top of your screen and select "Privacy Checkup" and Facebook will walk you through the various section settings.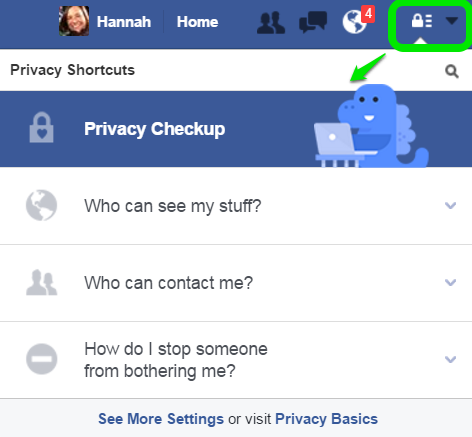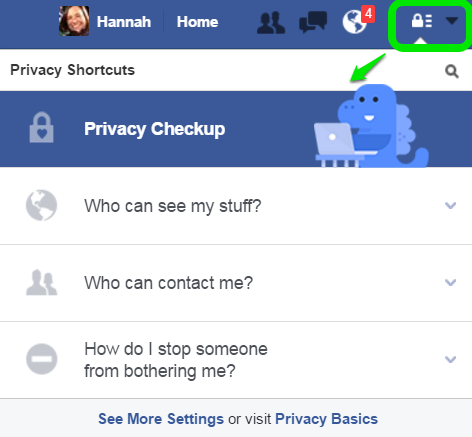 Learn How To Use Lists
If you want to share certain posts with friends, and not publicly, you can use lists to determine who sees which posts you publish.
When you add a status update, you can select who you want to see, or not see, your update. This is a bit like an email distribution list.
You may set up a list for family and another for friends. Facebook sets up several lists for you already.
"Close Friends" are friends you're more likely to share personal information with;
"Acquaintances" are people you know less well and when you want to exclude certain people from seeing your more personal posts, you can choose
"Friends except Acquaintances" in the audience selector;
and for people whom you don't want to see your regular status updates, you can create criteria under "Custom".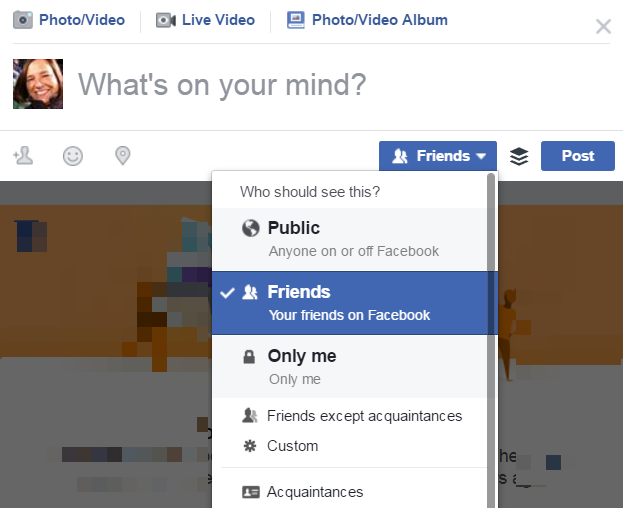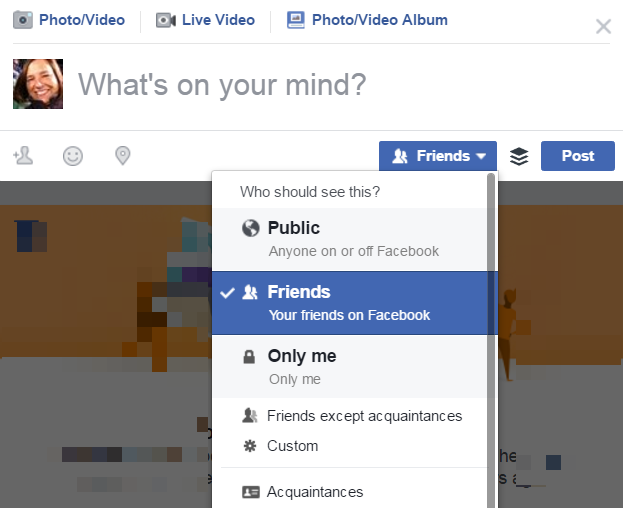 We're Better Connected Than Ever
Facebook users are more connected than ever before. According to Facebook's research, within the U.S., people are connected to each other by an average of 3.46 degrees, not six degrees of separation as previously believed. These closer ties provide all Facebook users with easier access to people who have the power and authority to extend job offers.
Modified from post originally published on US News and World Report

Hannah Morgan speaks and writes about job search and career strategies. She founded CareerSherpa.net to educate professionals on how to maneuver through today's job search process. Hannah was nominated as a LinkedIn Top Voice in Job Search and Careers and is a regular contributor to US News & World Report. She has been quoted by media outlets, including Forbes, USA Today, Money Magazine, Huffington Post, as well as many other publications. She is also author of The Infographic Resume and co-author of Social Networking for Business Success.