Are you looking for the easiest way to research and find alumni on LinkedIn?
LinkedIn has the most amazing functionality and you don't even know about it!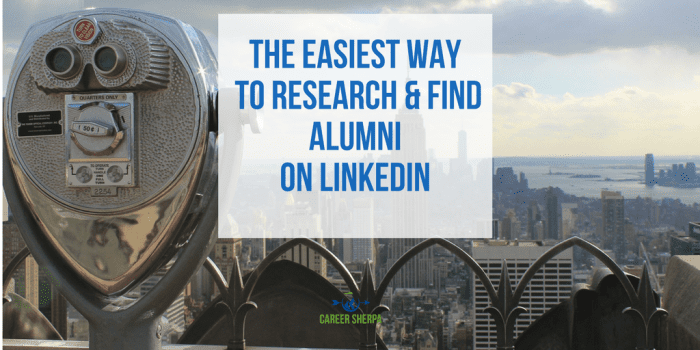 There is an Alumni page for every college and university that lets you sort and filter alumni by where they live, work and what they do.
The Alumni Search is a hidden LinkedIn feature and its invaluable for college students, career services offices, alumni offices and alumni!
Networking with alumni is a great strategy for your job search. Why? Because you share the school experience and that makes a warmer way for you to introduce yourself.
If you haven't reached out to alumni (or classmates) yet, here are several different ways you can use LinkedIn's alumni resource. But first, know how to invite someone to connect.
Where Is It?
To find alumni on LinkedIn, you have to go to your school's page. In order to do this, type the college or university name in the search bar at the top. Make sure you select the school's university page, not the employer page.
Once you are on the school's page, you will see "alumni" on the menu under the header. (And you can do this for ANY school, whether you went there or not!) Click on it!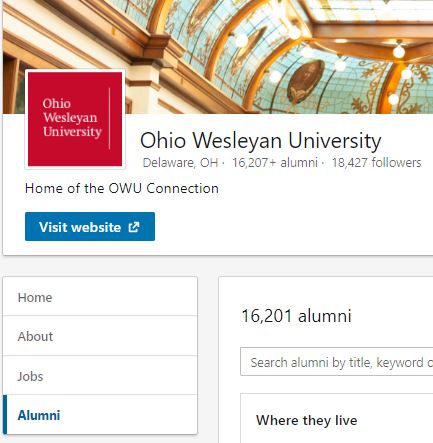 You will find alumni information including:
where they live (1)

where they work (2)
what they do (3) [Click on "Next >" to see this column of data]
You can filter the results of what you see by clicking on the bars under where they live, work or what they do. This will show only those alumni who meet the criteria. You can search by year alumni attended or graduated. Or you can search by company name, title or any other keyword in the search bar with the magnifying glass.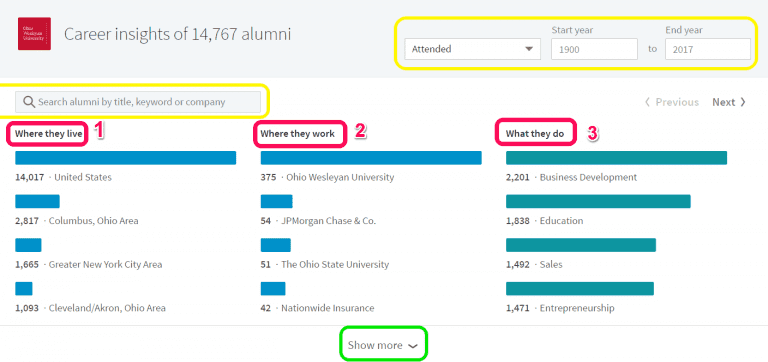 When you scroll down the page, you will see alumni who meet the criteria you filtered or searched for.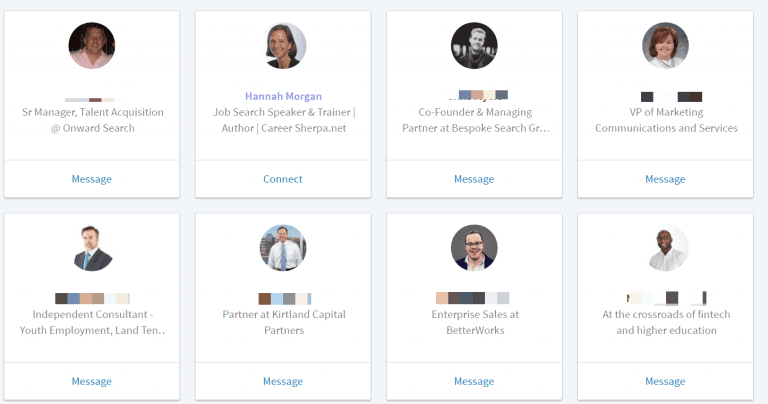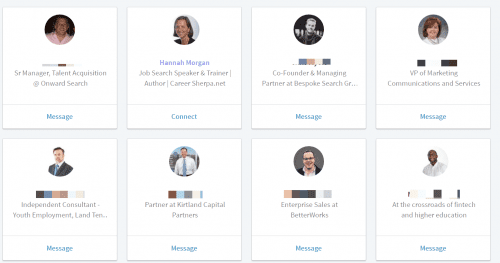 WARNING: If you are not connected to the person but do want to connect, ALWAYS go to the person's profile page before clicking on the connect button. This ensures you can add a message to your invite. And YES, you always want to send a personalized message when you invite someone to connect on LinkedIn.
Do you see how important your LinkedIn headline is? Do you want to improve yours? Get ideas here.
More Alumni Filtering Options
There are more options for searching alumni on LinkedIn. You will see:
what they studied (4)
what they are skilled at (5)
how you are connected (6)
To get to this second page, look at the top right for "< Previous Next >"


Find Alumni By Where They Work (Worked)
Are you looking for career advice or want to know how you can get your foot in the door with your dream company?
Simple. Look for the company you are interested in and click on the bar to show people who currently work for that company or did work for that company. Or you can search for the company by typing the company name in the search window. As you can see from the results below, there are 12 alumni who currently work for Google.


Scroll down below the aggregate information and you'll see the profile summary of alumni. You'll also see the option to "connect" but remember, don't click on it. Click through on the person's profile and invite from there so you can personalize the message you send.
On the next page of search results, take notice of the top skills people who work in those companies have. Hint, hint: have you listed those skills in your LinkedIn profile (if you have them)?
Search By Year Graduated (or attended)
You can enter a range of years alumni attended your school or if you want to see which classmates you graduated with are on LinkedIn, you can do that. Change the "attended" to "graduated" by clicking on the triangle/arrow. You can see there are 761 alumni on LinkedIn who graduated in 2010.


Search By Geography
Do you want to relocate to a new city? Try looking for fellow alumni in a new city to make your transition easier. Or maybe you just want to catch up with local alumni. Search for the city under the "where they live" column or if you don't see it, type the city in the search window. As you can see below, LinkedIn gave me more than what I was asking for. I do see there are 44 alumni in the Rochester New York Area.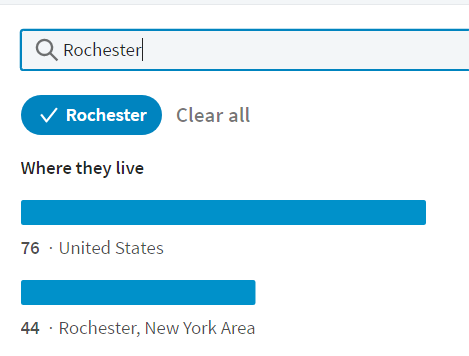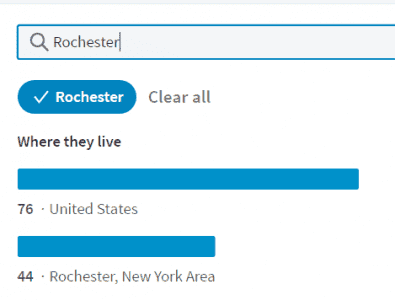 Find Skills To Add To Your Profile
It's important to include the right skills in your LinkedIn profile. This shows recruiters you have what they are looking for. To do this, find people who work at a company you are interested in, look at the Skills column and make sure you have included the same skills in your Skills & Endorsements section, Summary, Experience and even your headline.
Career Services
Do you want to find alumni on LinkedIn who can speak to your current students, show students the companies alumni work for, or evaluate popular skills by job type? You can.
LinkedIn created this guide to help career services use the alumni tool for career counseling.
More LinkedIn Information
If you are in college and looking for an internship or job, make sure you have a great LinkedIn profile. Here's a checklist for you.
If you want more help on using LinkedIn, see LinkedIn's official resources for college students.

Hannah Morgan speaks and writes about job search and career strategies. She founded CareerSherpa.net to educate professionals on how to maneuver through today's job search process. Hannah was nominated as a LinkedIn Top Voice in Job Search and Careers and is a regular contributor to US News & World Report. She has been quoted by media outlets, including Forbes, USA Today, Money Magazine, Huffington Post, as well as many other publications. She is also author of The Infographic Resume and co-author of Social Networking for Business Success.