If you are an MBA candidate, do you know what you should put in your LinkedIn headline? See what good MBA candidate LinkedIn Headlines look like and why they are so important.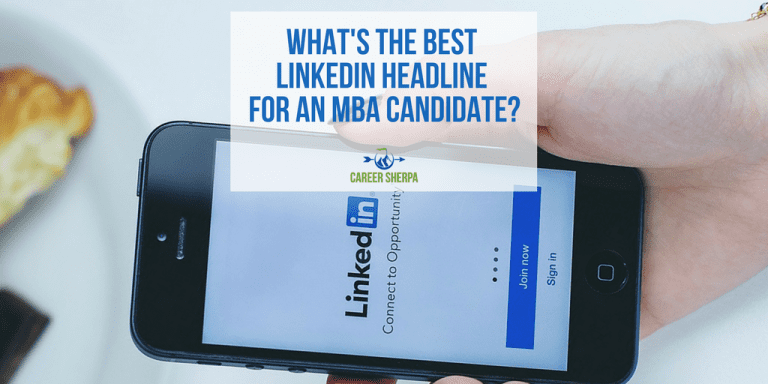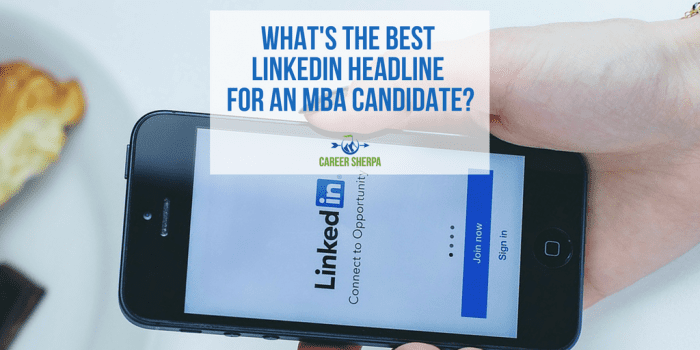 If you are like most MBAs, you invest significant time updating your resume, contacting alumni and applying to dozens if not hundreds of MBA-level jobs.
But have you given enough attention to your LinkedIn headline?
Why Your LinkedIn Headline Is Important
What a lot of MBA job seekers don't take into consideration is the importance of a solid LinkedIn profile. It's just one more piece of the job search.
Your name, photo and headline are the only parts of your profile that show up in search results.
LinkedIn's new algorithm relies heavily on your headline and this determines where your profile ranks within LinkedIn search results.
Over 90% of employers are looking at LinkedIn profiles at some point during the hiring process. (Jobvite 2017)
Company recruiters are using LinkedIn's recruiting tool to search profiles to find talent with the right qualifications.
Your headline is the first thing someone sees when they look at your profile.
It must contain the right keywords. Keywords are the skills or terms someone would search for to find candidates for the type of job you are looking for. As an MBA, does your LinkedIn headline convey how you are qualified for your next role?
Check out this article for more help: Is Your LinkedIn Profile Ready For B-School?
Let's take this one step further. Your mission is to stand out from the other MBAs, right? If your headline reads like every other MBA candidate, will that accomplish your goal? Using the same headline as your classmates or top business school MBA candidates isn't going to differentiate you.
Crowdsourcing LinkedIn Headline Tips
I asked for help from my network on LinkedIn. I wanted to see what these LinkedIn profile writers and job search pros recommended as the best LinkedIn headline for an MBA candidate.
Here is the question. (You can click on the box below to see the comments on LinkedIn)
"2018 MBA Candidate, [Name of School]" prompted this reaction from a recruiter:
"Great, you're a freshly-minted MBA from [school]–so's everyone else in your class. What do *you* bring to the table that the rest of your classmates *don't*?" – Ed Han
What To Put In Your LinkedIn Headline
These are recommendations of what should be included in an MBA candidate LinkedIn headline:
"Lead with true differentiators, keywords or achievements." – Lisa Rangel, Chameleon Resumes
"You can include MBA Candidate in your headline as long as you also indicate your core field and skills." – Julia Erickson
"Add more information like target job (keywords!) or job function (keywords!) and type of employer (keywords!)." – Susan P Joyce
"Show areas of study / expertise the student hopes to use." – Laura Smith-Proulx
"Find a niche that grabs decision makers ' attention and fulfills a need." – Debra Feldman
MBA Candidate LinkedIn Headline Examples
Here are a couple of good examples:
"Marketing, Business Development, & Advertising, Branding for Market Differentiation & Analysis. 2018 Northwestern MBA" – Laura Smith-Proulx
"2018 MBA candidate at [name of school], concentration in [name of concentration], goal: data analytics role" – Susan P Joyce
If you are looking for a formula to help create your MBA candidate LinkedIn headline, check out this article by Laura Smith-Proulx on Job-Hunt.org Fast Formula for a Powerful LinkedIn Headline
Tips and Tricks to Keep In Mind
You have 220 characters (as of April 2020). Make them count.
If you do use a pipe | or backslash / or some other character, leave a space before and after for SEO purposes.
LinkedIn weights current Job Title, past Job Title and Headlines more than any other sections in your profile.
Search LinkedIn and get ideas from MBAs who have used original, keyword-rich headlines.
Other Reasons Your MBA Job Search Isn't Working
Here are several reasons why any job search is unsuccessful.
Lack of focus (not sure what type of role or industry they are targeting or why)
Lack of a value proposition (haven't differentiated themselves and the value they will deliver)
Unclear or poor messaging/communication (outreach via email or phone is not well-crafted)
Narrow job search strategy (relying on job ads or not taking advantage of other sources of hiring)
No sense of urgency (not putting in the time or effort to get results)
Your best chance of landing a job is right now, while your in b-school. You have access to tools and resources through your career center that could go away once you graduate.
Put in the effort now. Dedicate time every day to your job search.
To learn more about improving your job search, check out 31 Tips for Your 2019 Job Search (from the pros)

Hannah Morgan speaks and writes about job search and career strategies. She founded CareerSherpa.net to educate professionals on how to maneuver through today's job search process. Hannah was nominated as a LinkedIn Top Voice in Job Search and Careers and is a regular contributor to US News & World Report. She has been quoted by media outlets, including Forbes, USA Today, Money Magazine, Huffington Post, as well as many other publications. She is also author of The Infographic Resume and co-author of Social Networking for Business Success.