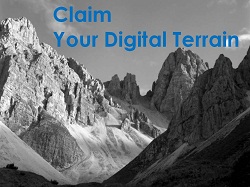 It is now no longer optional…you must have an online presence! Your career stability and your job search demand you start managing your personal reputation today. If you are overwhelmed and not sure how to get started, read on! You will find all the information you need to build a strategic and meaningful online presence that represents you appropriately and attracts employers and recruiters!
Getting Started
Here are 15 Ways to Own Your Digital Terrain
How to Get Started Using Social Media for Your Job Search walks you through a prioritized list of actions to take.
Don't miss this 4-part series on personal reputation management:
Building Your Reputation Part 1: LinkedIn
Building Your Reputation Part 2: Blogging and Commenting On Blogs
Building Your Reputation Part 3: Be a Tweeter!
Building Your Reputation Part 4: BeKnown by Facebook Friends
A Picture Paints a Thousand Words
If less words and more pictures are your thing, you can view these slideshows:
Building Career Stability Through Your Online Personal Reputation
Shiny New Things or Bells and Whistles: Tools for Building a More Complete Online Presence
Other Tools You Should Know About
Demonstrate Your Social Prowess  (This includes social profile pages, personal infographics and content aggregators)
What Makes a Good Google+ Profile?
Create a Summary of Stuff You Share Online
Are You Concerned About Your Privacy Online?
Who Are You Hiding From and Why? helps explain some of the issues on this subject and what you can do.