Don't wait to build an infographic resume. You don't need a fancy graphic design package- these templates make it easier. From online design to good old PowerPoint, there's a solution to fit your style and needs!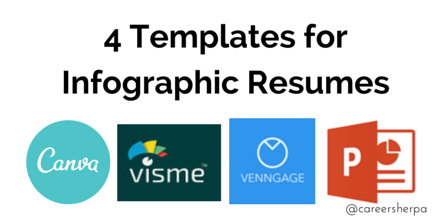 Templates for Infographic Resumes
There are four different tools I recommend checking out if you are interested in creating an infographic resume.
Before you begin using any of these templates, you'll want to have a plan or at least ideas of what you want to include.
Read this to before you get too deep into using one of these templates: Convert Your Career Into A Visual Story
Canva Infographic Templates
Canva debuted their infographic templates recently and some would work really well for your infographic resume. No design skills required, but an eye for design will help! You can see the infographic templates here.  To edit this for your own purposes, you'll need a free Canva account.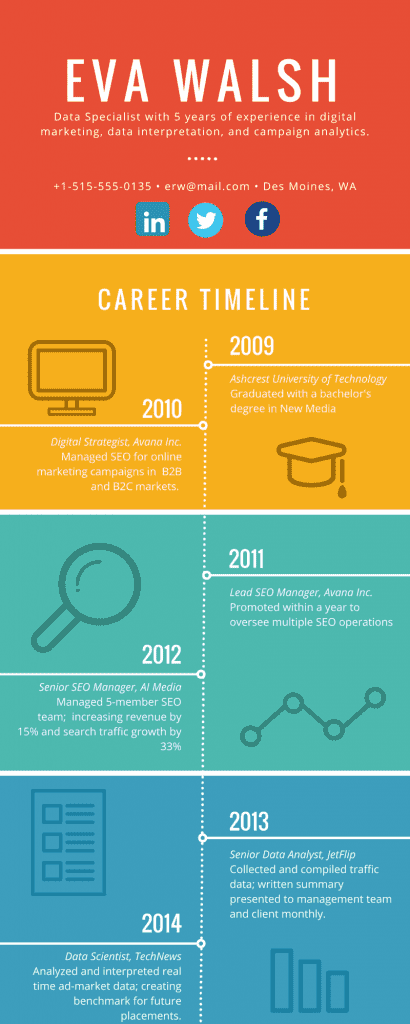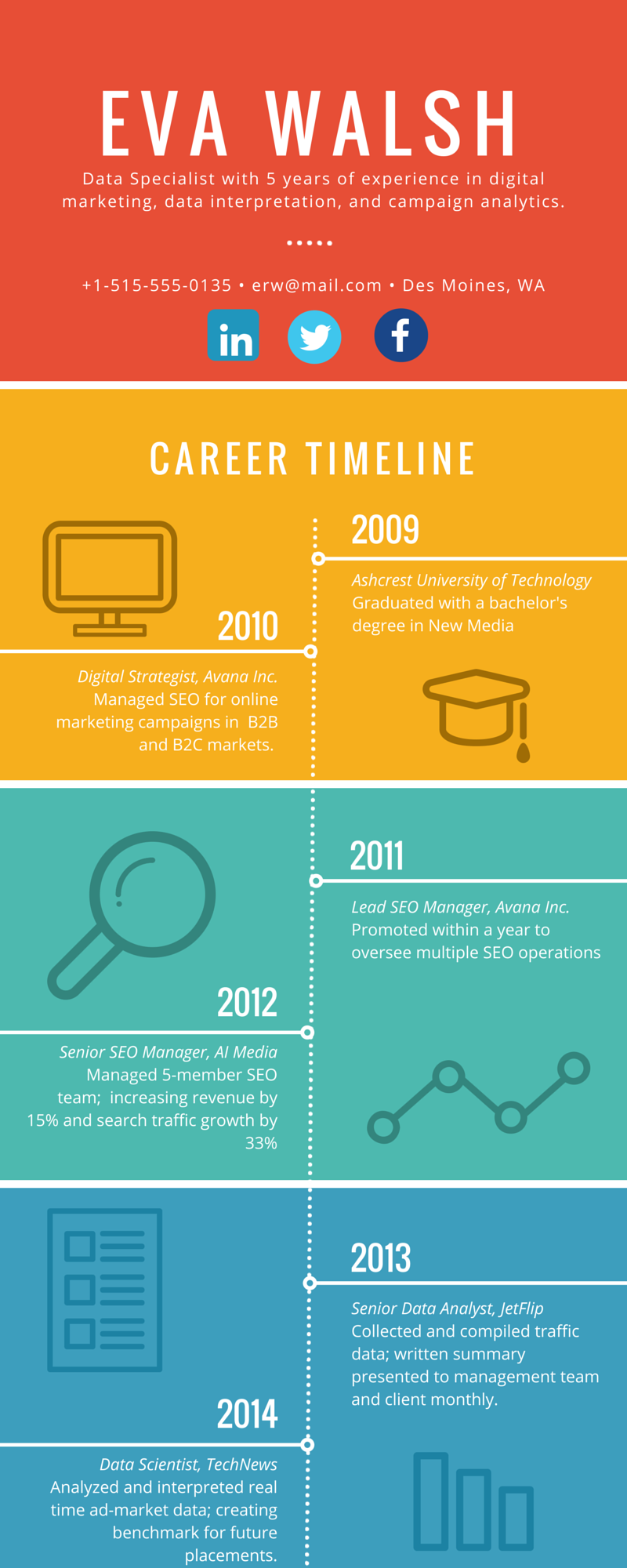 This infographic is 800 pixels wide- that's the recommended width. Click on the image to see it full size. There isn't a recommended length, but 2,000 pixels (like this) ought to do it.
Just edit your details, add icons and photos and it's your own. Download it to your computer and add it to your LinkedIn profile summary section! (Literally, this only took me 10 minutes. Imagine what you could do if you invested 30 minutes!)
There are other templates for bio infographics, however, they will cost you. Consider them design inspiration.
To get more ideas of what infographic resumes can look like, here are 10 infographic resumes to get your creative juices flowing.
Visme Infograhic Resume Template
Visme is a powerful tool. It is also a bit more time consuming to pull together your infographic resume. You're in luck, there are several templates here. (To access the free infographic resume template you will need to create a free Visme account.)


Venngage Infographic Templates
Yes, Venngage has infographic resume templates, but you need to pay to use them. I modified one of the free infographic templates to get this result… (Create your own with a free Venngage account) and you can see more templates here.
Create free infographics with Venngage.
HubSpot Infographic Template
If PowerPoint is more familiar to you, try using one of the 10 HubSpot templates. You will have to enter your email to get them, but it is worth it!

Some Reminders
How To Use Your Infographic Resume
The best times to use your infographic resume are while networking and in an interview.
Applicant tracking systems (ATS) can't read images so don't try and apply online with one.
Here is more help on how to use your infographic resume the right way!
Get more inspiration from Pinterest
Follow Career Sherpa's board Infographic and Visual Resumes on Pinterest.
Better Yet
Better yet, order your copy of "The Infographic Resume" You'll find more examples, stories and best-practices for creating and sharing infographic and visual resumes.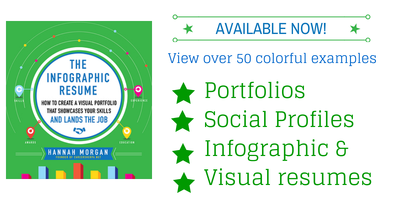 Hannah Morgan is one of this year's LinkedIn Top Voice in Job Search and Careers and a nationally recognized author and speaker on job search strategies.  She founded CareerSherpa.net to combine her career expertise with her love of writing, speaking and social media. Her mission is to educate professionals on how to maneuver through today's job search process.  Hannah is a regular contributor to US News & World Report. She has been quoted by media outlets, including Forbes, USA Today, Money Magazine, Huffington Post, MarketWatch, LifeHacker, The Muse, Business Insider, SmartBrief, Payscale as well as many other publications. She is also author of The Infographic Resume and co-author of Social Networking for Business Success.