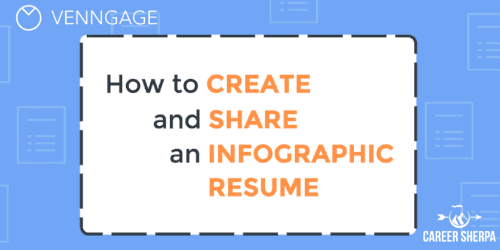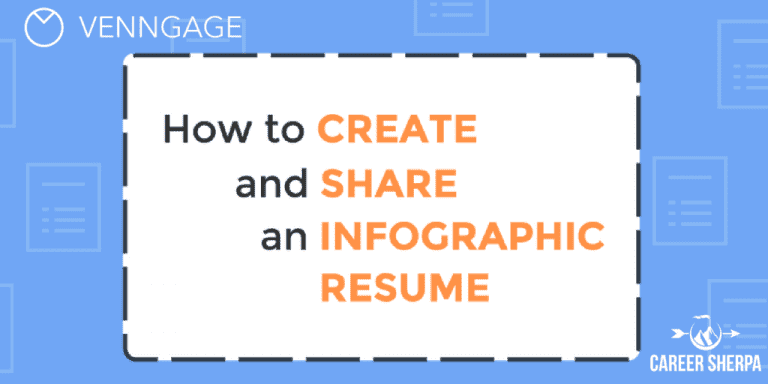 Technology has enabled job seekers to break out of the standard "apply online and wait" mold.
By applying out-of-the-box marketing strategies such as social media campaigns, personal websites and infographic resumes, you can do more to stand out and garner the attention you crave (and deserve)!
Sharing Your Infographic Resume
No, no, no! You are not going to apply for a job with your infographic resume. Applicant Tracking Systems aren't set up to accept visual content. But don't abandon the idea. Your infographic resume makes an excellent tool to share during networking meetings. It is also a way to distinguish yourself during an interview, so bring it along!
To get maximum exposure, you'll want to share it online too. Remember to name your file using your name and key words or occupation so that someone searching for your name might stumble across it. Next upload it to SlideShare. I've shown you examples of people who have done this well here 3 Inspiring Visual Resume Examples on SlideShare. The benefit of using Slideshare is that your infographic resume now lives online and you can include a link to it in an email or as an update on any social media platform you want.  Oh, and SlideShare is owned by and part of LinkedIn, making it super easy to include as embedded media in your LinkedIn Summary!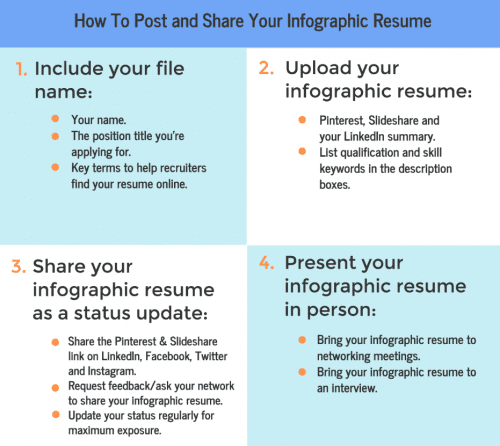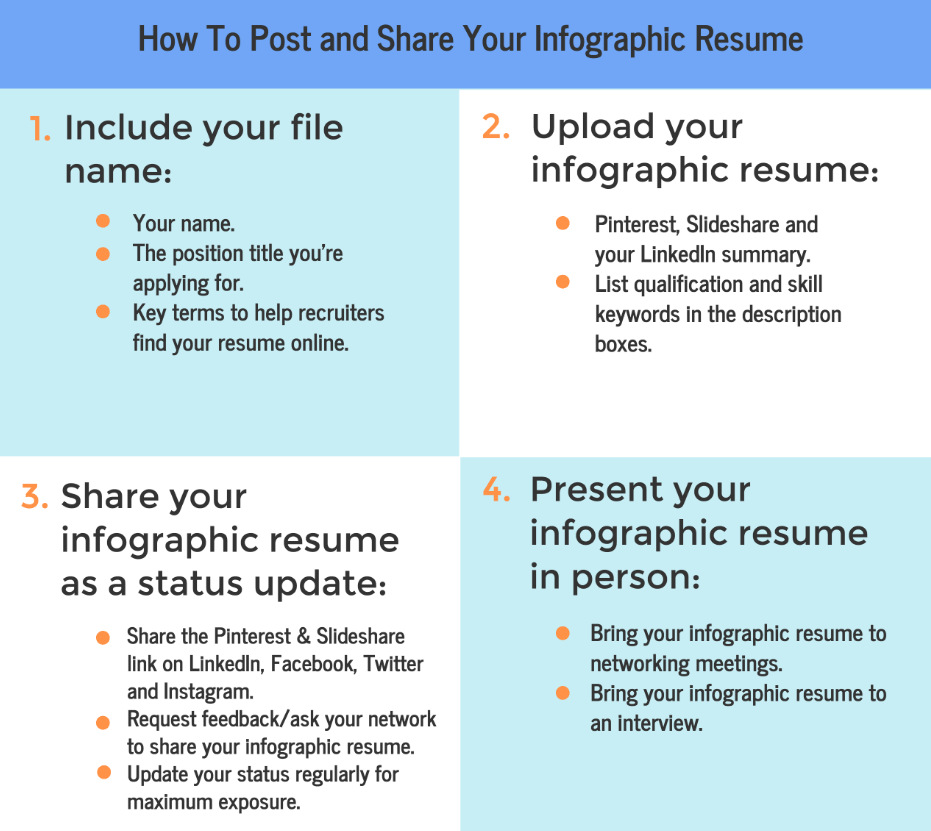 How To Create One
If you're excited about using an infographic resume, then I guess you'll want to know how to create one. Before you rush to your computer and begin trying to build yours, take time to walk through these planning steps. Get ideas and inspiration by looking an all types of infograhics, not just infographic resumes.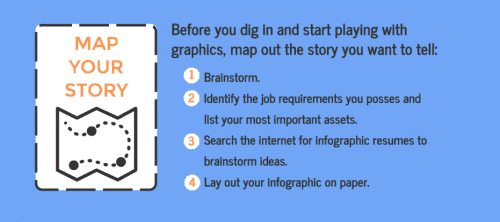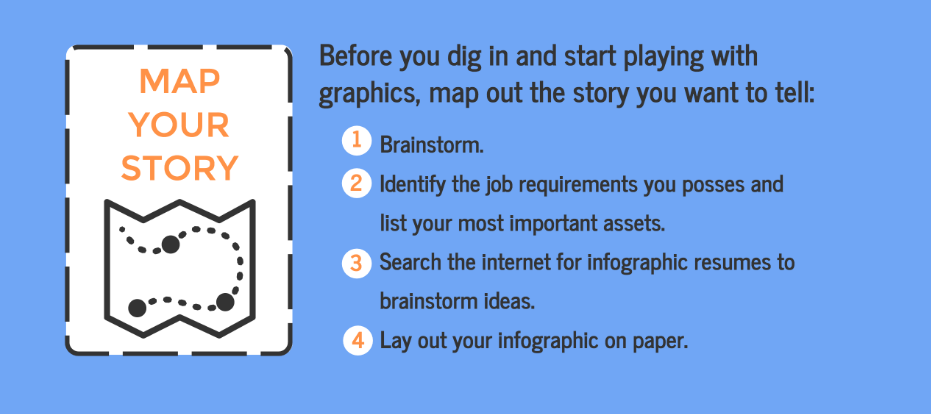 Next, choose the best design elements and keep these tips in mind.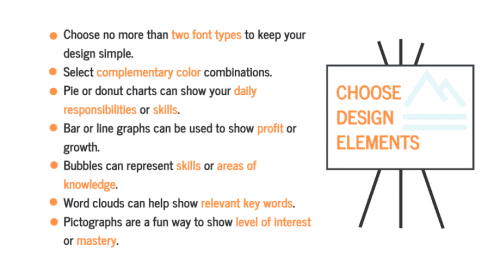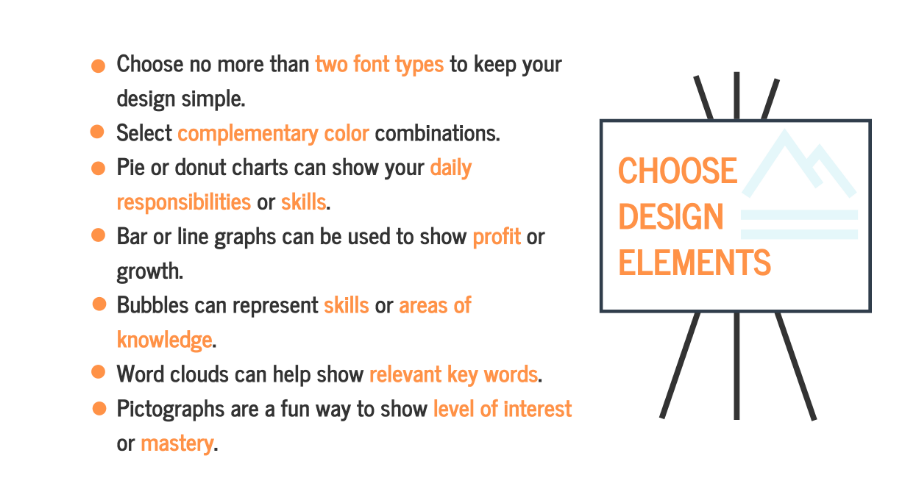 Punch up your infographic resume by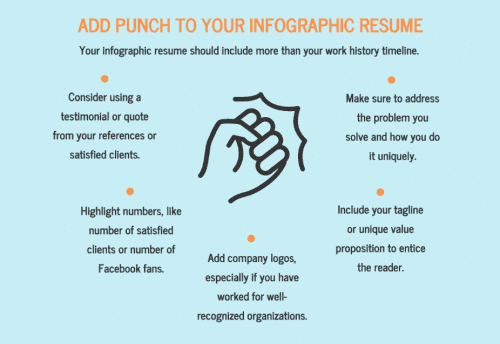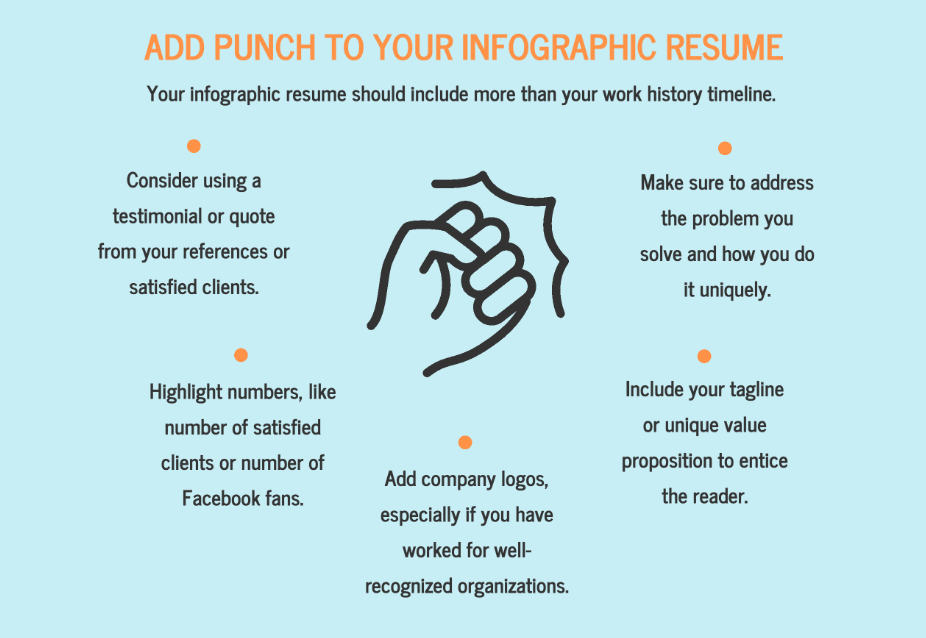 Will It Work?
There are never guarantees. But what have you got to loose? The human brain LOVES visual content.  And if you are in a creative field, an infographic resume is proof of your creativity. If you use an infographic the RIGHT way, your odds of standing out increase!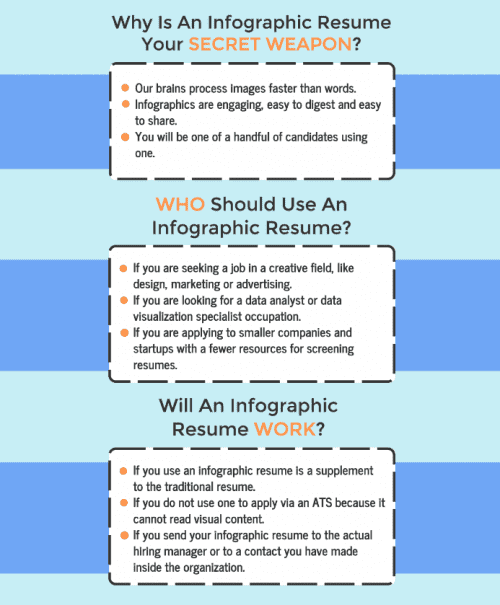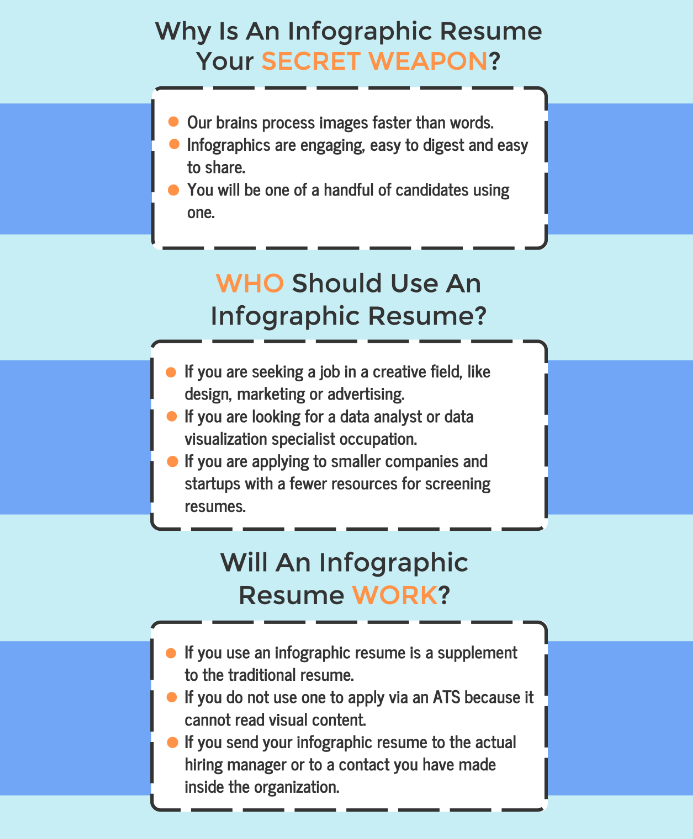 Venngage ShoutOut
Many thanks to my friends at Venngage for creating this infographic! They asked me to write a post about infographic resumes and you can see it here.
Venngage is one of several tools you can use to create infographics. They even have infographic resume templates. You can sign up and create up to 5 infographics for free. With a Free account, export options are not available. However, you can publish your infographic and share a link with others. Find out more about publishing your infographic  here.
Infographic Resume | Infographics
If you want to learn more about creating an infographic resume…you can check out my book on Amazon The Infographic Resume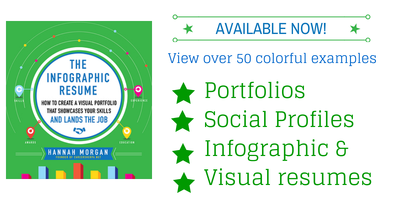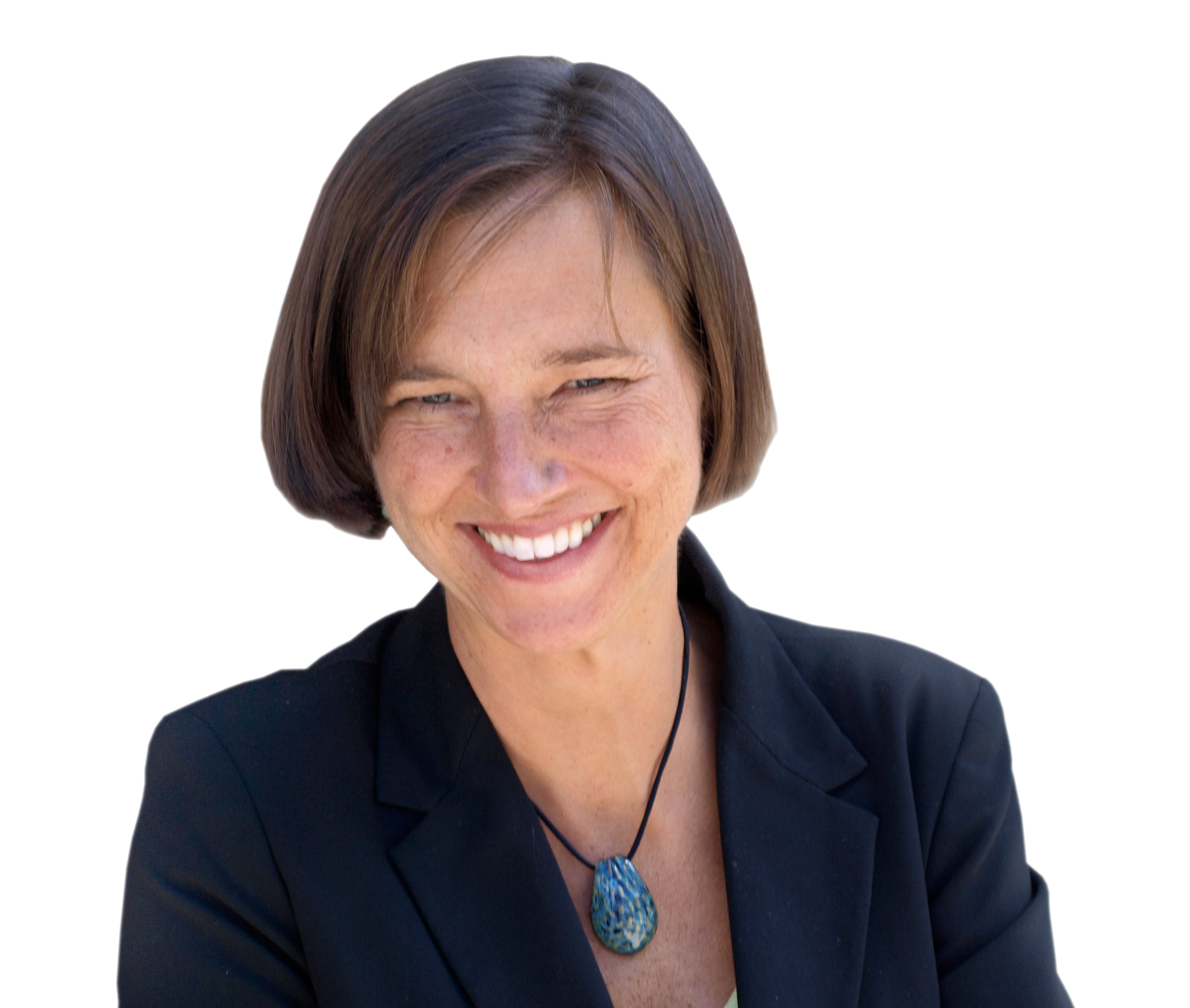 Hannah Morgan is a nationally recognized author and speaker on job search strategies.  She founded CareerSherpa.net to combine her career expertise with her love of writing, speaking and social media. Her mission is to educate professionals on how to maneuver through today's job search process.  Hannah is a regular contributor to US News & World Report. She has been quoted by media outlets, including Forbes, USA Today, Money Magazine, Huffington Post, Aol Jobs, LifeHacker, The Muse, Business Insider, SmartBrief, Payscale as well as many other publications. She is also author of The Infographic Resume and co-author of Social Networking for Business Success.