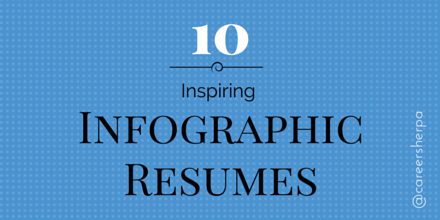 Here are ten examples of infographic resumes to inspire and get your creative juices flowing!
It's tempting, but don't use an infographic resume to apply for a job….yet.  Instead, post it in your LinkedIn profile, share it on Facebook, and use it during an informational meeting. Better yet, find a creative way to deliver it into the hands of someone you would like to hire you.
While more people are testing the infographic resume waters, your infographic resume should be used as a supplement, not a replacement.
Use an infographic resume if you want to:
Catch attention
Stand out from the pack
Simplify work experience
Try something more creative
You can read more about the benefits of SlideShare here)
Are you looking for more examples?
You can see more on my Pinterest board "Infographic And Visual Resumes" Be sure to check out Randy Krum's board too.
Looking for tools to use to create infographic resumes? Get my free downloadable cheat sheet here
Better yet, order your copy of "The Infographic Resume" You'll find more examples, stories and best practices for creating and sharing infographic and visual resumes.