It's ok to use an infographic resume! Time changes everything! Back in 2013 most hiring entities wouldn't even consider an infographic (or non-traditional) resume. But in early 2015, 68 percent of respondents said they would look at one if emailed or sent via social media.

YES! Says the majority
When 68 percent of the audience says they would look at an infographic resume, I hope that gives you permission to try it! No one who took time to answer the poll flat out said NO.
WARNING: You should NOT use an infographic resume to apply through an Applicant Tracking System (ATS).
32% responded with "it depends" and I share what they meant by that later in this post.
Ultimately, how you present your qualifications is based on what people are asking for, however, when there are no specifications/limits/restraints, why not use something eye-catching?
Did you know that 65% of the world are visual learners (source)? This means that more than half the people you know will respond better to visual content.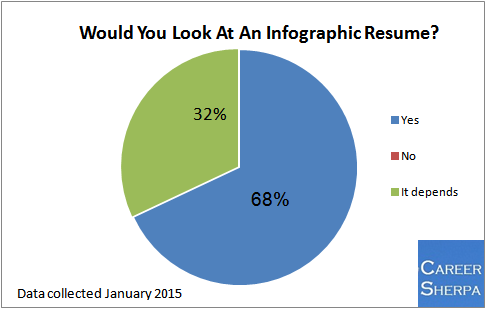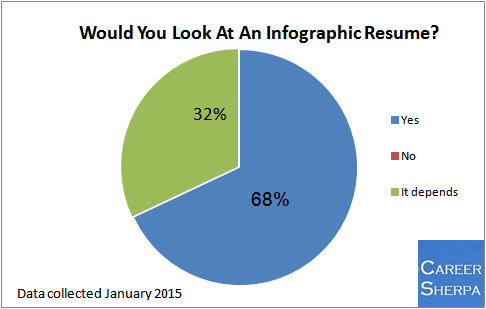 Who Would Look At Infographic Resumes?
Here is the breakdown of who is open to infographic resumes. You'll see hiring managers, in-house recruiters, 3rd party recruiters and other. My network does contain a lot of resume writers, HR consultants, and career coaches, so I suspect some of them chimed in.
Here's how the question was worded:
If a candidate sent you an infographic resume (via email or social media), would you look at it?
100% of hiring managers said yes
50% of inside recruiters/HR said yes
83% of third-party recruiters said yes
64% of other respondents said yes
I can't say this enough:  You should NOT use an infographic resume to apply through an Applicant Tracking System (ATS).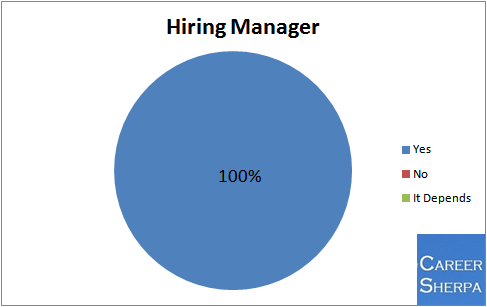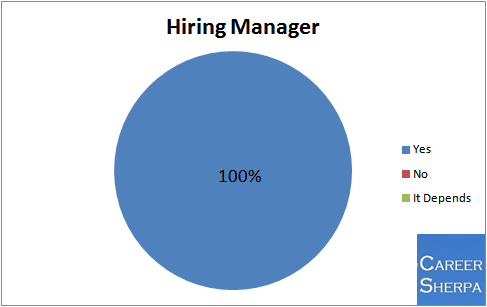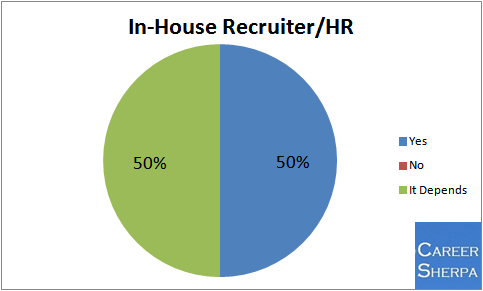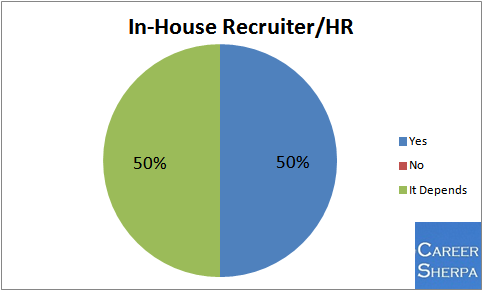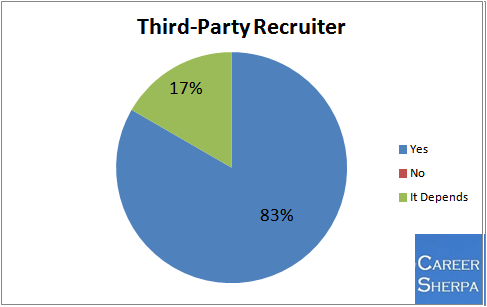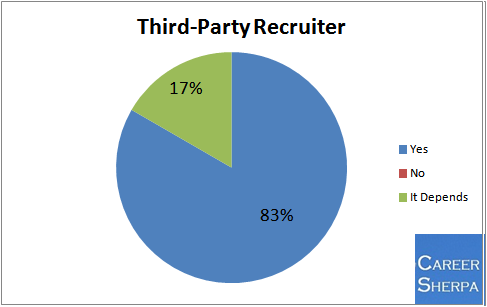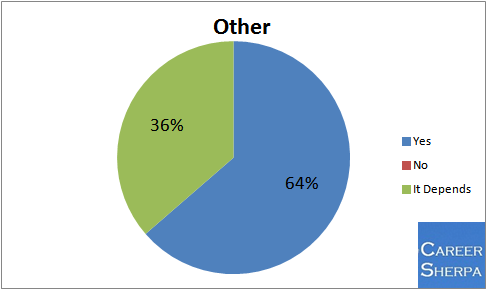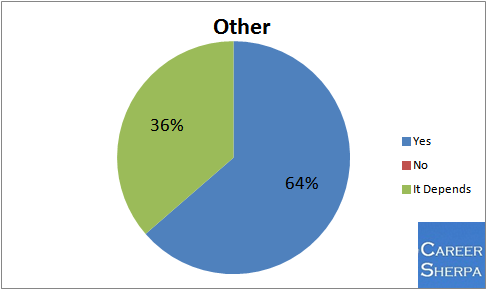 A Welcome Invitation
These are some of the comments included by those who responded.
@careersherpa Yes, why not? Normal resumes are boring.

— Steve Boese (@SteveBoese) January 21, 2015
An infographic resume can be a welcome change from the boring, same-old, same-old.
I would welcome a fresh, newer idea, which this is, as opposed to the same old resume. -Hiring Manager

Shows some creativity.  -Other

Yes! I would be thrilled with the creativity, and it would definitely be a resume that would stand out from the pack. – Hiring Manager

Yes, because normal resumes are boring. -Other 
And when the infographic is good, which means:
The trick with these is they have to be GOOD… and they still have to do a great job of the basics in conveying their work history and their accomplishments. -3rd Party recruiter

It would really need to demonstrate and prove they have the skills-not just claim it. -Career Counselor
And useful
I would need to be able to find the relevant information quickly. -3rd party recruiter

I would look at it, but absolutely 100% prefer a timeline style. -3rd party recruiter
And for the right types of roles
It can be a useful representation of skills and creativity for roles like web design. -In-house recruiter/HR
It would depend upon the corporate culture and the position the candidate is applying for. -Other
What "It Depends" Means
32 percent responded by saying they may look at an infographic resume and used the "it depends" answer. This is helpful information for you to consider. It isn't enough just to use an infographic. Think about why you would use one- what role are you looking for and how helpful or useful is the information conveyed in the infographic?  Here is what some of the explanations were:
For a graphic design position, yes. Otherwise, no.

For what type of role at what level?

I think the infographic resume can be useful for those in the social media / creative/marketing/graphic design fields, and could also be a good conversation starter if handed out at job fairs/networking events.

It would depend upon the corporate culture and the position the candidate is applying for.

The infographic needs to be used effectively. If a candidate places an infographic on the resume just because he/she believes it's the newest trend, it's a waste of space.
Who Is Saying This?
What I know is that my network contains a lot of resume writers and career coaches…but never-the-less, there is a good cross-section from the group.
8% hiring managers
24% in-house recruiter/HR
24% third-party recruiter
44% other (career coach, resume writer…)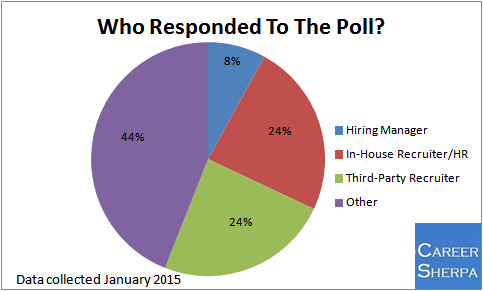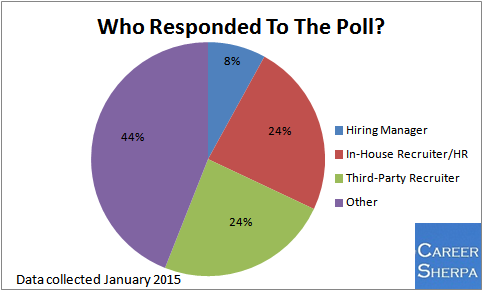 Best Ways To Use An Infographic Resume?
I really believe infographic resumes are best used right now as supplemental tools which complement and enhance your message.
Add it to your LinkedIn summary, Be sure to name the uploaded document using your name, job title and #infographic
Once you've done this, share your infographic resume as a status update on LinkedIn and everywhere else social, yes, even your personal Facebook update!
Send a personalized email to key people in your network and share your infographic with them. Be sure you mention the types of jobs you are pursuing (if in a job hunt) and list several companies you would like to work for.
Upload your infographic resume to SlideShare. Be sure to use keywords in the description and add keywords in the keyword section.
Write a long-post on LinkedIn and walk people through your career story! Be sure to include your infographic resume for visual appeal.
Do you have an infographic resume? I'd love to see it and share it! Email me or tweet it to me! Get inspiration from these visual and infographic resumes on Pinterest: Follow Career Sherpa's board Infographic and Visual Resumes on Pinterest.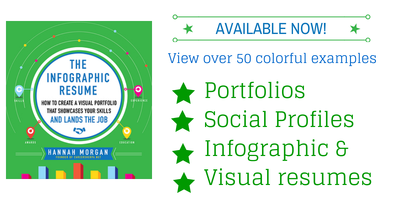 The Infographic Resume: How to Create a Visual Portfolio that Showcases Your Skills and Lands the Job

Hannah Morgan speaks and writes about job search and career strategies. She founded CareerSherpa.net to educate professionals on how to maneuver through today's job search process. Hannah was nominated as a LinkedIn Top Voice in Job Search and Careers and is a regular contributor to US News & World Report. She has been quoted by media outlets, including Forbes, USA Today, Money Magazine, Huffington Post, as well as many other publications. She is also author of The Infographic Resume and co-author of Social Networking for Business Success.