You may not have the energy to start a blog to show your expertise, but what is your excuse for not using the LinkedIn publishing platform?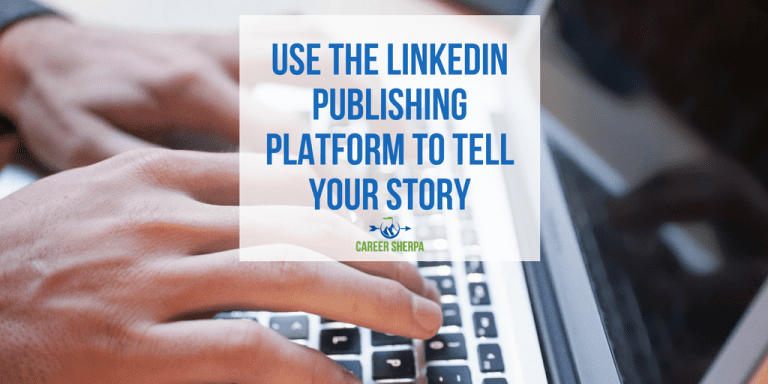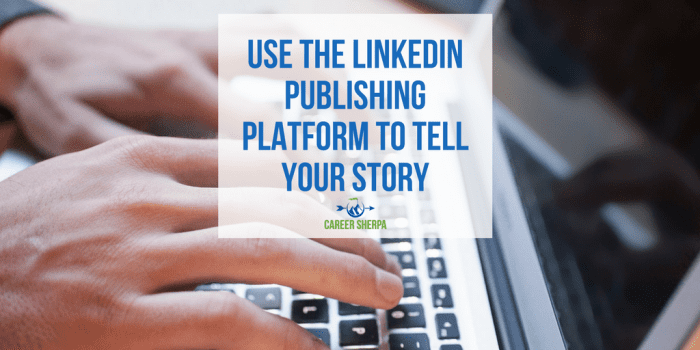 One of the best ways to gain visibility and prove your experience is to write about it. Not everyone is a great writer, but if you do have those skills, this is the perfect opportunity to flaunt them!
Below are my instructions for writing an article on LinkedIn. And here is a link to LinkedIn's official help center overview Publish Articles on LinkedIn
How To Get Started With The LinkedIn Publishing Platform


From your home page on LinkedIn, you may have noticed the prompt to "Write article."
When you click on this, it takes you to the LinkedIn publishing platform. Sometimes this is referred to as a "long post" or blog post.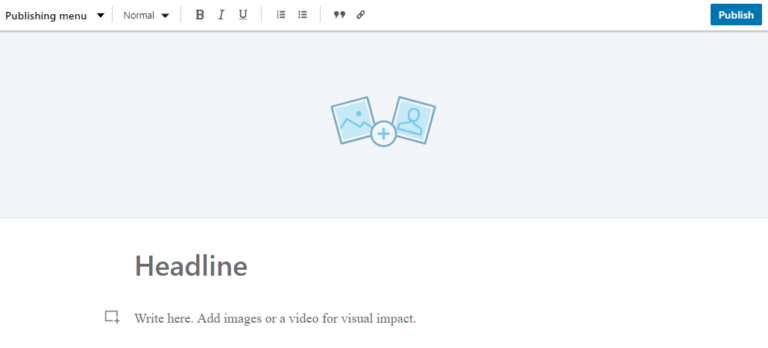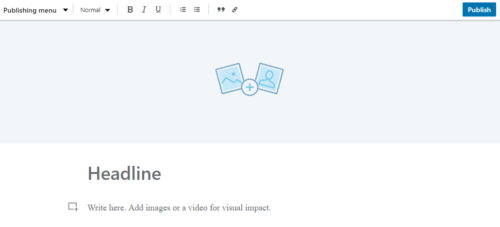 Blog Post Ideas for Job Seekers
Here are just a few ideas of things you could write about:
Make a list of your favorite resources (work or personal)
Share a productivity hack
Write a book review or list your top recommendations
Write a summary of an important industry trend
Write a review about a networking event you attended
Write about life lessons or lessons learned
Interview someone you respect
Write a how-to guide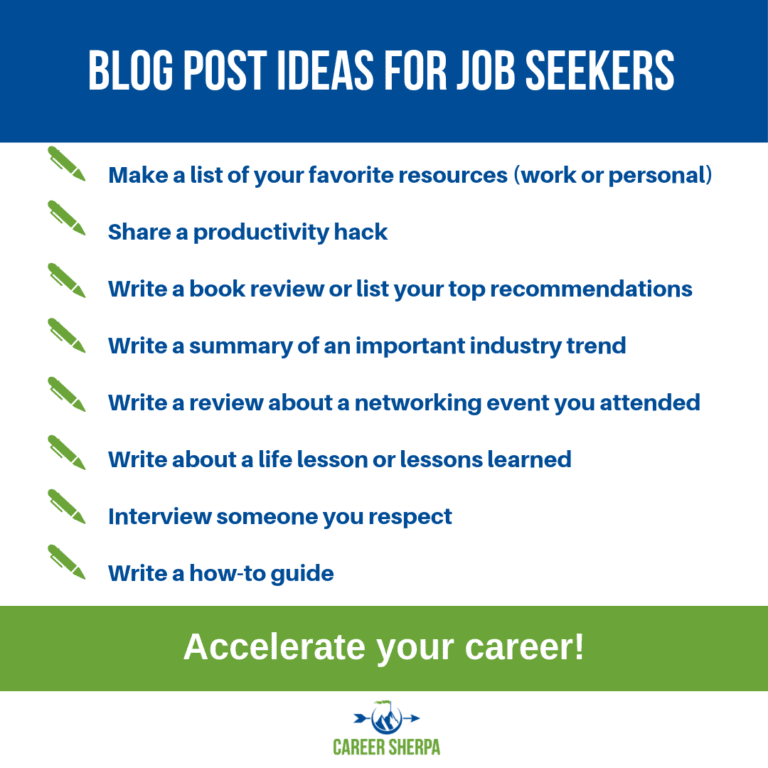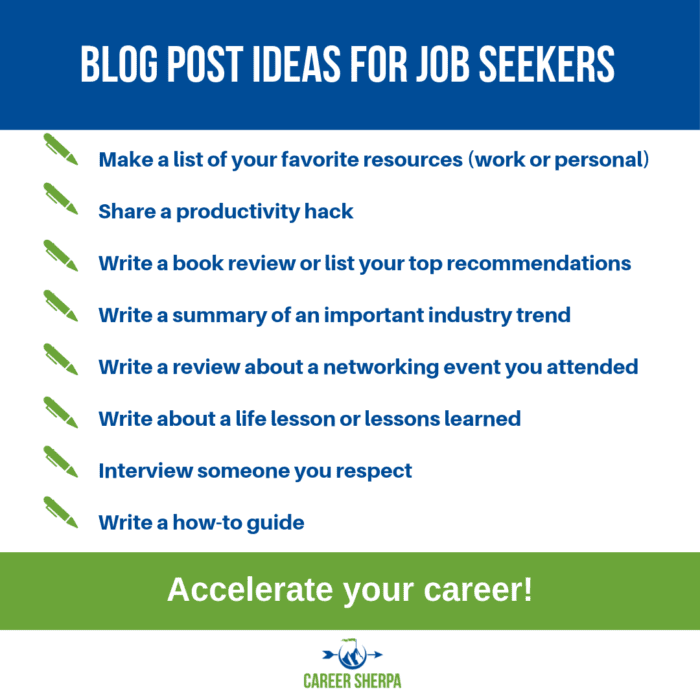 Or if you are looking for other ideas, you can see this post about blogging as a job seeker.
But before you head start writing anything yet, you should know why you are writing and who you are writing for.
Answer These Questions First
Your article is the perfect opportunity for you to answer the question, "Why should I hire you?" (your value proposition)
So make sure whatever you write about supports your answers to some of the questions below.
What do you do (job title/occupation)
Why are you qualified to do this job (certifications, previous experience, etc)
What industry experience do you have (paid or unpaid)
What types of problems are you great at solving
Who benefits from your work (who are your internal or external customers)
What makes you unique (how do you do what you do differently)
What inspires and/or motivates you
Write For Your Target Audience
Hypothetically, you could work in many different companies, but…there are probably a few companies you would really love to work for, right? That's your audience.
What do you want them to know about you?
As you write your article, imagine you are writing to someone at one of those dream companies. Consider using industry terms, keywords and language you find on their website and in their job descriptions to illustrate your expertise and that you "speak their language."
Make It Personal
You are probably worried about sounding too personal. But this is your chance to let your motivation, personality and style shine through. want this to sound professional, but you want what you write to be engaging. Write in the first person (use I, me and my).
You could even decide to use LinkedIn's publishing platform to write a series of articles. Maybe you could write about one of your accomplishments.
Include Visuals in Your Post
Articles with images tend to get better engagement, so use them in your article.
Your LinkedIn profile (and articles) become your online portfolio! In Show, Don't Tell, I wrote about the types of images you may want to start collecting.
Need help finding royalty-free, attribution-free images? I've written about the resources I use here.
Who Sees Your Article?
Once you hit the "publish" button, your network (connections and followers) will receive notification that you've published an article.
After you've hit "Publish" you'll want to "share" your article as a post (status update) on LinkedIn (and maybe Twitter too), to ensure more people in your network see your article.
You can even share your article on Twitter, Facebook, Pinterest and of course, LinkedIn. (Increasing awareness across your other networks!)
Benefits Of Articles
Your articles become online content that are searchable and shareable by others! You also demonstrate your writing skills! (And if that's important to your future role, you're articles serve as writing samples.)
And who knows, LinkedIn may even choose to feature it!
It has been my experience that very few job seekers or career activists are using the publishing platform on LinkedIn, so you have the opportunity to really stand out from the crowd!
So, are you ready to start writing articles on LinkedIn?
Daily Post Ideas For Anyone
Even once you've landed a new job, you can still use LinkedIn updates (and blogging) to expand your network, increase awareness of your skills and keep your name/content in front of those you are connected with.
Here are ideas anyone can use to write blog posts or even status updates! 25 Inspiring Ideas for What To Post On LinkedIn

Hannah Morgan speaks and writes about job search and career strategies. She founded CareerSherpa.net to educate professionals on how to maneuver through today's job search process. Hannah was nominated as a LinkedIn Top Voice in Job Search and Careers and is a regular contributor to US News & World Report. She has been quoted by media outlets, including Forbes, USA Today, Money Magazine, Huffington Post, as well as many other publications. She is also author of The Infographic Resume and co-author of Social Networking for Business Success.