Showing a picture is better than trying to explain something- at least most of the time. Here are suggestions on how to show your work.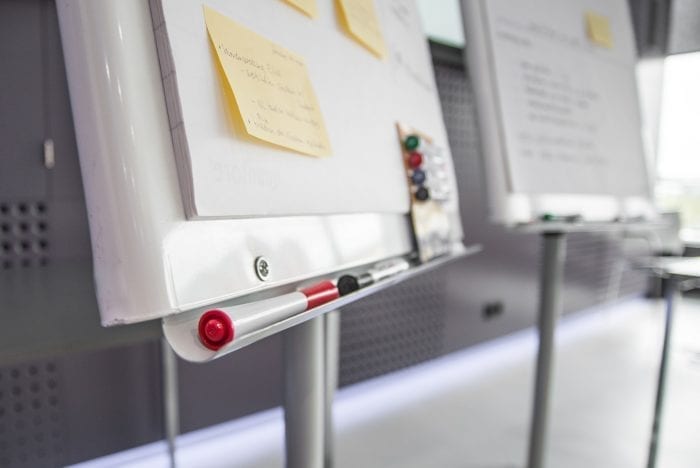 Explaining With Pictures
Have you ever tried to explain something and get that blank "I-don't-know-what-you-are-talking-about" stare in return? It's up to you to make sure people understand what you are talking about!
Example
I loved hearing a story from a job seeker who used a diagram to back up her claim that she could map out a process for improved efficiency. But this job seeker did NOT just whip out her diagram as she told the story. She gauged the interviewer's interest. When the interviewer asked follow-up questions, the document was presented. Of course, there wasn't any proprietary information on the diagram.
Make A List
What evidence do you have to support your claim? Do you say that you're a good presenter? Do you say you have strong writing skills? Do you say you've streamlined a process? Use a visual to back that up! Review your achievements and list ideas for supporting documentation! Here are some ideas:
Photos
Newsletter articles
Testimonials
Work samples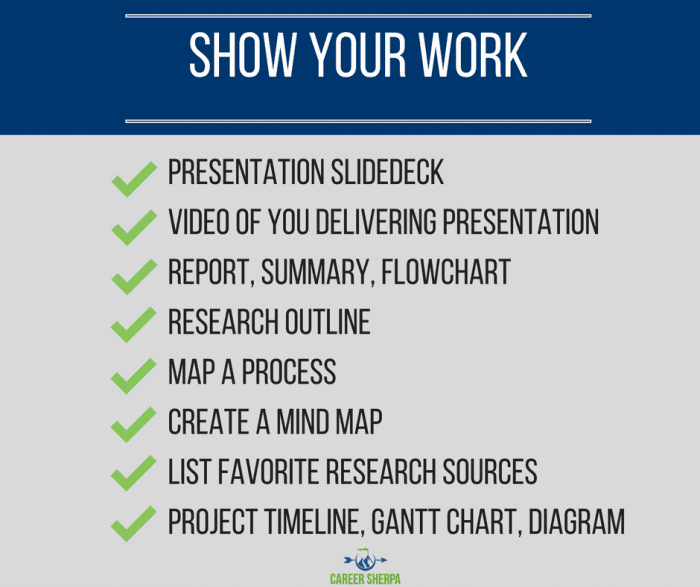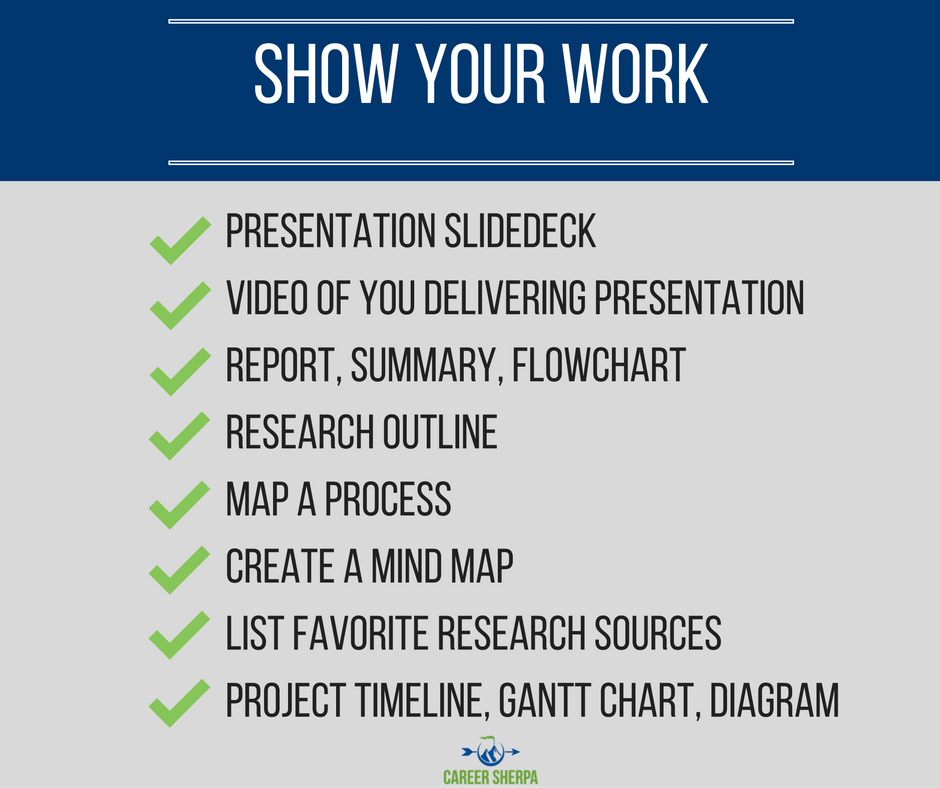 Psst, Infographics Are Trending
Infographics are a hot, rising trend! A good infographic is supposed to simplify complex information. I love a good infographic. In fact, I often share them on my Career Sherpa Pinterest page. If you don't follow me over there, go have a look!
I'm An Excellent…
You fill in the blank. If you say communicator, then I would expect proof- writing samples of published work, a list of presentations or events you've spoken at, or better yet a video. If you say you are super at project management, ditto. What kind of proof can you present?
Start Gathering Your Documentation NOW
Begin collecting testimonials, screenshots, and examples and remember to keep them on your personal device! This makes it easier to share on the go!
Don't Stop Here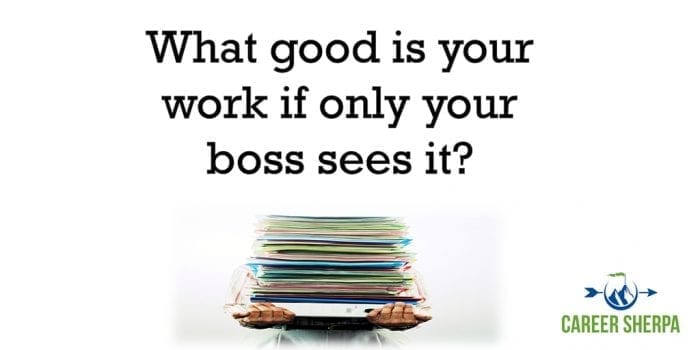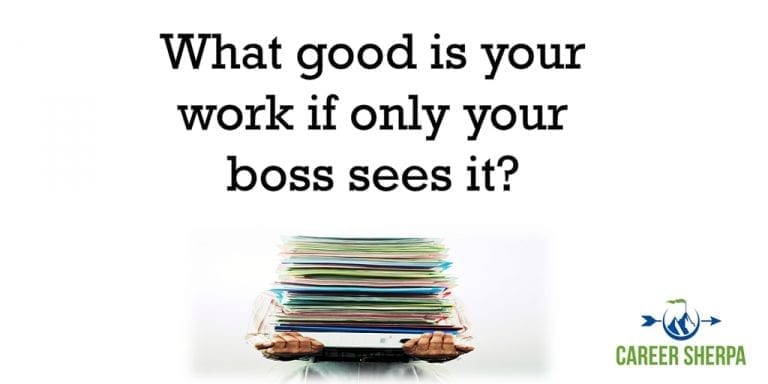 Share! Make it easy for people to see this stuff!
Post it to your LinkedIn profile or personal website!
Share it as a status update on LinkedIn too! Ask your network to take a look and provide feedback!
More Ideas
If you are looking for more specific recommendations on how to include this stuff on your Linked profile, take a look at Make Your LinkedIn profile Media Rich.
Or create a Pinterest account or About.me page. The more places you begin showing your story, the greater the chances of your being found! Remember, you are being googled!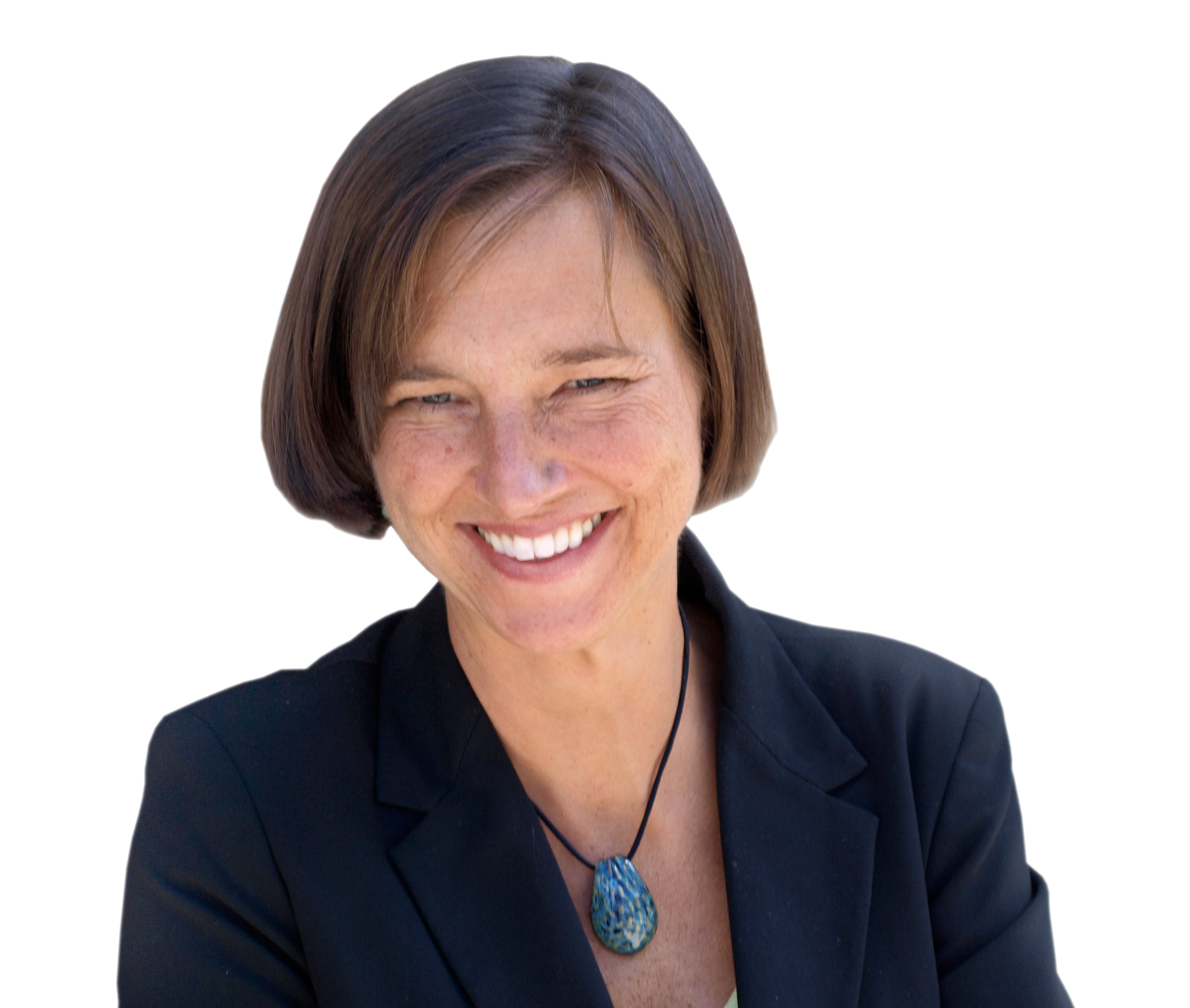 Hannah Morgan is a nationally recognized author and speaker on job search strategies.  She founded CareerSherpa.net to combine her career expertise with her love of writing, speaking and social media. Her mission is to educate professionals on how to maneuver through today's job search process.  Hannah is a regular contributor to US News & World Report. She has been quoted by media outlets, including Forbes, USA Today, Money Magazine, Huffington Post, Aol Jobs, LifeHacker, The Muse, Business Insider, SmartBrief, Payscale as well as many other publications. She is also author of The Infographic Resume and co-author of Social Networking for Business Success.