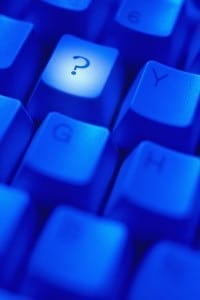 As I deliver workshops on managing your online reputation and how to use social networks to job search I hear people voice concerns about maintaining their privacy.  Is this a concern for you too?
This Got Me Thinking
The Power of Transparency on YouTern gets me thinking more and more about privacy. I hope you continue to evaluate your views and opinions on this as well.  The author, Greg Hertzke says you have three choices:
Be completely private – stay off all the networks (or hide behind aliases)
Be very calculated with what you share online (painfully obvious to detect for experienced recruiters & managers)
Just be yourself – don't be afraid to share random thoughts on Twitter (have debates on Facebook and Google+ about topics you are passionate about, and chat about what you've learned while admitting when you have screwed up on your blog)
 No One's Information is Private (any more)
I think I understand the fear and concern about having private information out on the interwebs.  But let me ask you this…have you Googled yourself lately?  Have you seen the stuff that comes up?  You didn't put it there (or did you?!). So rather than try and keep everything private, which is increasingly hard to do, can you push out (develop, share, publicize) the information you do want people to see?
Being Invisible is Not the Same as Private
Facebook has changed their privacy settings more than once and for a lot of people, this is unnerving.  I absolutely understand and agree.  BUT, with over X number of users, Facebook can and will do whatever is in their best interest.  You can chose to play there or not.  If you DO chose to, what can you do to ensure that the right information is portrayed?  Have you listed your interests? Tastes in politics or religion? What about previous employers? Do you lock it down so nothing is visible at all? What is the harm of locking it down you may ask.  I guess I would ask you this, what are you hiding?
LinkedIn has made its own number of changes and it looks like another is on the way. There was the news about sharing your photo-image without your permission.  Now it seems that LinkedIn wants to protect your profile content.  Boolean Black Belt is a blog for recruiters.  In a recent post: LinkedIn Is Making Changes to Prevent Copying Profile Text they are reporting problems copying text from profiles.  I am not sure what is going to happen, but you may expect a message from LinkedIn.
We're All Trying to Figure Social Out
You, me, LinkedIn and other social sites are trying to figure out what "feels right" and what is legally right.  The world is changing so rapidly and each individual has preferences and opinions, some shaped by their generation, some shaped by society, some shaped by morals and values.
Have you changed your thoughts on how you appear online through social networks, etc?

Hannah Morgan speaks and writes about job search and career strategies. She founded CareerSherpa.net to educate professionals on how to maneuver through today's job search process. Hannah was nominated as a LinkedIn Top Voice in Job Search and Careers and is a regular contributor to US News & World Report. She has been quoted by media outlets, including Forbes, USA Today, Money Magazine, Huffington Post, as well as many other publications. She is also author of The Infographic Resume and co-author of Social Networking for Business Success.