There is good news for job seekers in 2018…finally.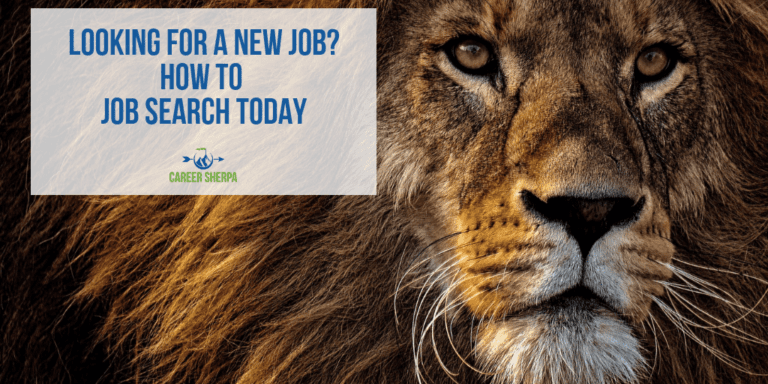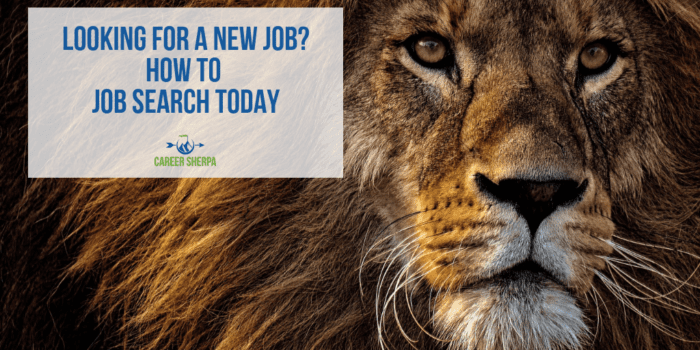 If you are looking for a new job, either actively or passively, you need to know about today's labor market and recruiting trends so you can score your next job. The job search landscape is leveling, becoming less treacherous. In fact, job seekers might finally have the upper hand! This is something we haven't seen in over 17 years!
The Labor Market At A Glance
According to the Department of Labor's Job Openings and Labor Turnover Survey (JOLT) released September 11, 2018, which reflects labor information for July 2018, these are some key stats:
There were 6.94 million jobs available
The unemployment rate is currently at 3.9% (July 2018) versus 10.0% at it's worst in October 2009
In July 2018, there was only 0.91 unemployed person per job opening. To offer you some perspective, in June 2009 there were 5.9 unemployed persons per job opening.
The Quits rate hit a 17-year high of 2.4%, 3.58 million Americans quit their jobs. Back in 2009, the Quits rate was 1.3% (This uptick in workers quitting their jobs shows employee confidence in the potential to find new jobs!)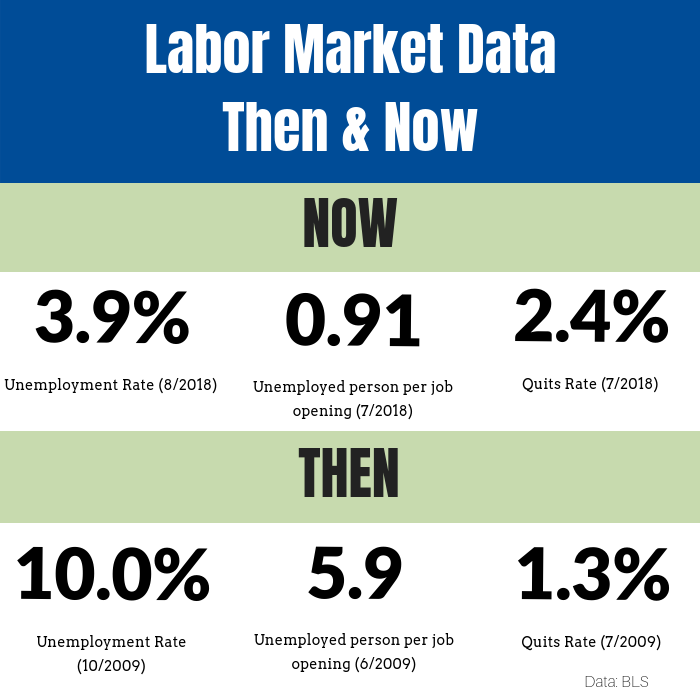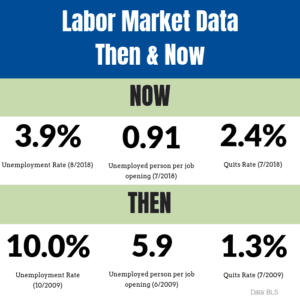 Hiring Is Difficult
Companies still say they can't find candidates with the skills they need! Can you believe it?
Maybe their Applicant Tracking Systems (ATS) are part of the problem. It's been said that 75% of applicants are never looked at.
Plus the average time jobs are open is the longest on record –  30.4 working days.
Small businesses struggle to attract employees. This could be due to the fact that small businesses generally have smaller budgets and can't pay as much a. However, pay at businesses with fewer than 50 workers rose 3.3%  annually so far in 2018, according to ADP data.
What you can do
You must learn how to format your resume and include the necessary keywords to make it through the ATS screening. Read 5 Things You Need To Know About ATS
You also have to follow directions. Don't be lazy. Before You Apply, Spend More Time Doing This
Always get referred for a job which will increase your chances of getting an interview!  Always do this
Pay Is Still Flat (Considering Inflation)
Even though average hourly earnings rose 2.9% since last year, this doesn't translate into real wage growth. It hasn't adjusted for inflation, according to the U.S. Bureau of Labor Statistics:
"Real average hourly earnings increased 0.1%, seasonally adjusted, from August 2017 to August 2018."
There is good news for some. Larger companies have been offering sign-on bonuses to attract new hires as well as offering higher salaries.
However, if you compare CEO salaries to employee salaries and you'll see the gap is widening.
The average CEO earned 312 times as much as the average worker as reported in 2017 by the Economic Policy Institute. CEO compensation rose by 17.6% percent since 2016. The typical worker's compensation remained flat, rising a mere 0.3%. From the Economic Policy Institute 2017. Just sayin.
What you can do
Research salaries and perks for your job, industry and city. Know what the going rate and trends are. Read The Best Way To Find Salary Information
You cannot, nor should not try to negotiate during the interview. Wait until you have received the job offer. That is when you will ASK, not demand, more. Keep in mind the value of health insurance. If you really want/need more vacation, then ask for it! Read 9 Tips To Negotiate A Job Offer Like A Pro
Prepare To Be Poached
In a tight labor market, the obvious solution for companies to get new talent is to steal people from other companies. Poaching happens when a company representative cold-calls, solicits and hires the other company's employee.
What you can do
To set yourself up to be poached, become more visible – online and IRL! Read 8 Ways To Stand Out and Build A Reputation of Excellence
And be sure to update your LinkedIn profile! Read Is Your LinkedIn Profile Awesome?
Social Media Matters
Your online persona is just as important as your resume, perhaps more! Just how important depends on who you ask. Companies are using social media to source and vet candidates. Be sure they find information that makes them want to call you for an interview!
70% of recruiters check out a candidates social media profiles and 66% search for candidates using search engines (CareerBuilder, 2018)
87% of recruiters find LinkedIn most effective when vetting candidates during the hiring process (Jobvite 2016)
What you can do
Become more active on social media especially LinkedIn. Engage with like-minded professionals in online forums, groups, etc. Focus on helping others by sharing what you know and what you've learned. 70-94% of recruiters will be looking at what you've posted on social media during the recruiting process. Read Build Your Brand By Sharing Content
4 Recruiting Trends
LinkedIn surveyed 9,000 talent leaders and hiring managers across the globe to produce the  2018 Global Recruiting Trends report which identified these four recruiting trends you should know about:
Diversity
Recruiters want to hire diverse candidates but are having difficulty finding them. Companies know that a diverse workforce is more productive and innovative. Maybe they aren't looking in the right places. Expect to see a greater emphasis by companies to attract diverse candidates.
New interviewing tools
To find candidates who are the best fit (for the role and the company), there are tools to help employers assess candidates. It may seem like these assessments add additional hoops to jump through and lengthen the interview process, however, the end result should be a better long-term fit for YOU and the company. These are some of the interview tools you could experience:
Online soft skills assessments
Job auditions
Casual interviews
Virtual reality (VR) during interviews
Video interviews
What you can do
If you are asked to participate in any of these, don't be surprised. Practice video interviewing. Review these tips.
Data
Data can be used to predict hiring outcomes, not just track them. LinkedIn says "data informing talent decisions isn't a new concept."  "But what is new is the volume of data available and the speed with which it can be analyzed. Data can power machines to make smarter recruiting decisions, a.k.a. Artificial Intelligence (AI)."
What you can do
Who provides employers with the data they use? You do. Be sure the information you provide on applications is truthful and up-to-date.
Artificial Intelligence
It's anticipated that companies will use Artificial Intelligence (AI) across all phases of the recruiting process- from sourcing candidates to interviewing candidates. According to YOH, there is software that interprets video interviews. "With the help of emotion recognition software like Affectiva, companies can better assess candidates' emotional intelligence and truthfulness during video interviews by analyzing facial expressions, their word choice, speech rate and vocal tones."
Another form of AI is chatbots. These are computer programs that conduct a conversation either by text or voice. Expect to interact with chatbots to answer questions about the company, it's application or your application status. FYI, the reason companies are using AI is to help them hire faster, better and more efficiently.
What you can do
Don't be surprised if you see a popup window or are walked through an automated process.
Hot Skills In Demand
According to LinkedIn's research, these are the skills employers are looking for. Now is a great time to begin acquiring or enhancing some of these. You don't need to go back to school. Online training platforms offer classes in every single one of these skills.
| | |
| --- | --- |
| The 10 most in-demand hard skills | The 4 most in-demand soft skills |
| 1.      Cloud and Distributed Computing |           1. Leadership |
| 2.      Statistical Analysis and Data Mining |           2. Communication |
| 3.      Middleware and Integration Software |           3. Collaboration |
| 4.      Web Architecture and Development Framework |           4. Time Management |
| 5.      User Interface Design |           5. Leadership |
| 6.      Software Revision Control Systems | |
| 7.      Data Presentation | |
| 8.      SEO/SEM Marketing | |
| 9.      Mobile Development | |
| 10.   Network and Information Security | |
The Rise Of New Collar Jobs
There's great news for those without a college degree. We all know that not all jobs require a college degree. Now companies are realizing this too! IBM coined the term new collar jobs to differentiate them from the blue and white collar jobs. You can learn more about what new collar jobs are here.
What Should Job Seekers Do Differently?
If you are employed and looking for a new job, this is the perfect time to take your head out of the sand and begin looking at job opportunities inside and outside your organization.
Let's say you like your current company, research opportunities, by looking at the internal job board AND talking to people in other parts of the organization, to see if you can make a move. If it's been a while since your last raise, maybe now is a good time to ask for one. Learn how here: What You Should Know About Asking For a Raise
If you are looking outside your company, start by searching Indeed. Search by skills, not job titles. You just want to get an idea of the types of jobs that are out there, what job titles are of interest and what types of companies are hiring.
Identify companies you would like to work for and see if they have online career communities you can join. You will use this list to find people to network with. Remember, referrals are the top source of new external hires! Learn more about getting referred here: How To Get Referred for a Job
Always negotiate your job offer! Consider asking for a sign-on bonus or other non-monetary compensation items such as flex-time, time off, free or discounted parking, gym membership discounts, retirement matching, mentoring programs, tuition assistance, or childcare. Learn more about negotiating here.
Network. If you haven't been keeping in touch with your network, start rekindling those relationships now! You what to get on the inside track and hear about job opportunities BEFORE they are publically posted. Networking is a Waste of Time- Or Is It?
Volunteer or take on a role with a professional association or organization related to your career. This will help you network and gain exposure with people in your field who may know of new opportunities.
The process you will go through to prepare and conduct your search won't change. Here is your roadmap:
and read the instructions here.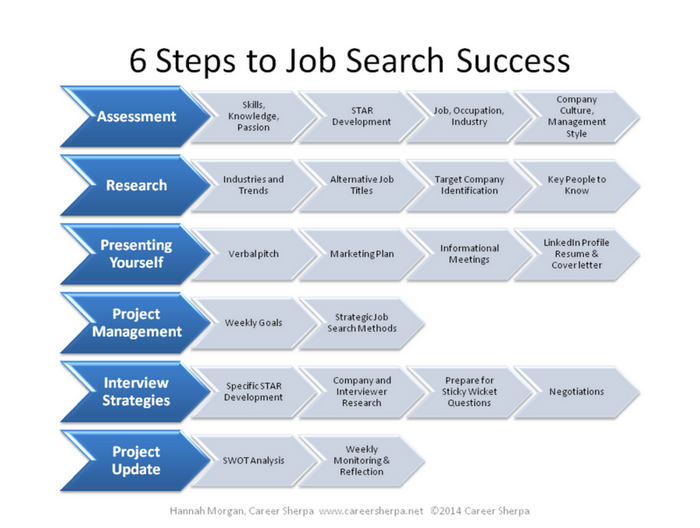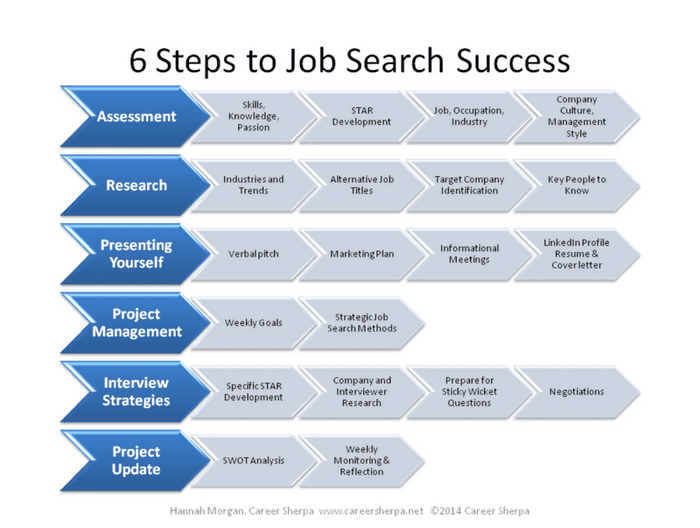 Hannah Morgan speaks and writes about job search and career strategies. She founded CareerSherpa.net to educate professionals on how to maneuver through today's job search process. Hannah was nominated as a LinkedIn Top Voice in Job Search and Careers and is a regular contributor to US News & World Report. She has been quoted by media outlets, including Forbes, USA Today, Money Magazine, Huffington Post, as well as many other publications. She is also author of The Infographic Resume and co-author of Social Networking for Business Success.