Companies are scrambling to find employees with skills in big data and it doesn't (yet) require a four-year degree. See why your future is in big data.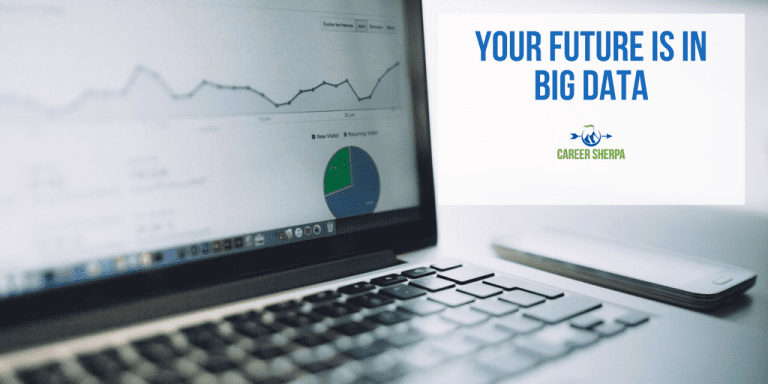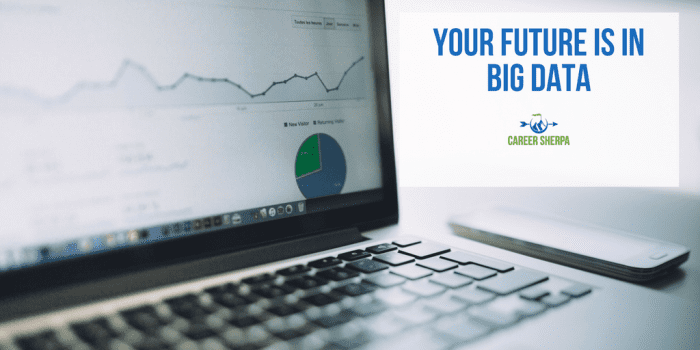 There is one skill set you can acquire that will help you secure a new job across any industry and in almost any occupation – data analytics.
With skills and knowledge in data science is such high demand, your future is bright if you know what to do with big data.
Data Science and Analytics, or DSA
Data science is the study of data. It requires an understanding of mathematics (especially statistics) and may also require familiarity with information from machine learning, how to mine data or visualizing data.
The interesting thing about DSA skills is that they fall across multiple occupations and industries. In other words, you'll find these skills used by corporate leaders, human resource managers and even front line managers. Everyone is now required to analyze vast amounts of data to make strategic and operational decisions.
Data Science Jobs Are In Demand
There is a growing need by employers to fill DSA jobs, as the number of openings continues to climb. By 2020, there will be 2.72 million postings for data science and analytics roles, according to Investing in America's Data Science and Analytics Talent by PwC and the Business-Higher Education Forum.
However, there is a shortage of qualified candidates with these skills. In a poll by Gallup for the PwC and Business-Higher Education Forum report, only 23% of college and university leaders say their graduates will have those skills.
The good news for you is, 69% of employers expect candidates with DSA skills to get preference for jobs in their organizations by 2021. Due to the scarcity of these skills, in many instances, the bar to entry has been lowered in order to meet demand.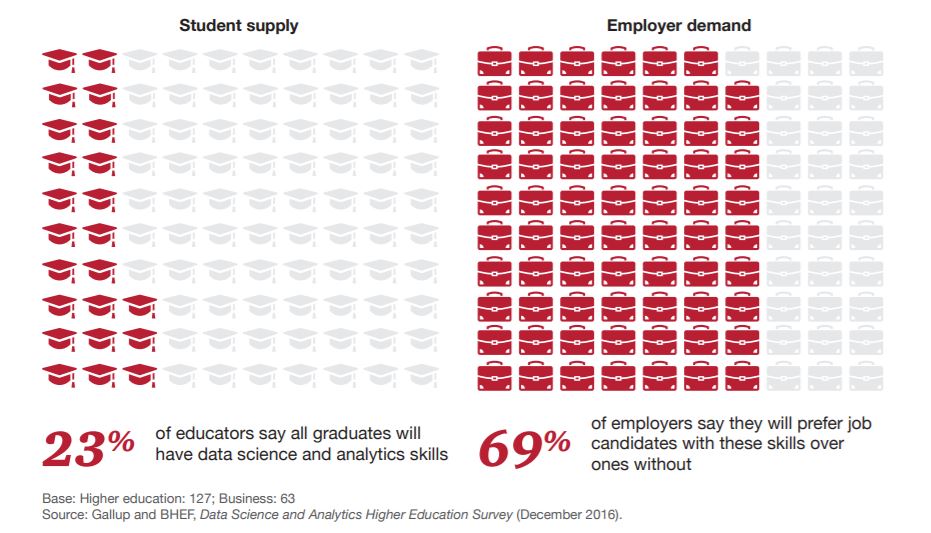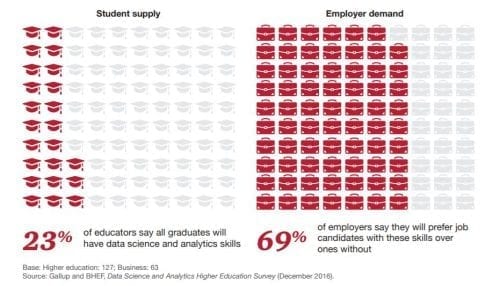 Hot Industries & Titles To Watch
DSA jobs most frequently appear in the finance and insurance; information technology; and professional, scientific and technical services industries, according to the report from PwC and the Business-Higher Education Forum.
The report cited these industries also had a need for DSA skills: health care and social assistance, retail trade and manufacturing.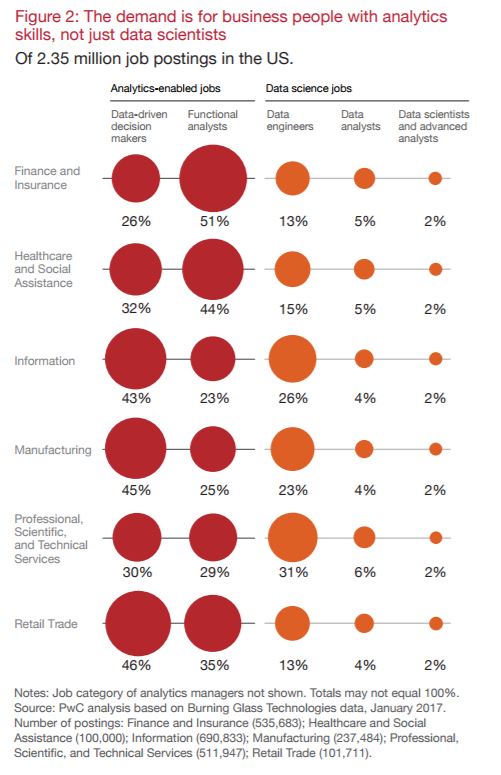 Data Analysis Skills Needed At Every Level
You'll also see titles requiring DSA skills within finance, marketing and information technology divisions.
Be on the lookout for titles such as financial analyst, business analyst or intelligence analyst. If you have a technical background, set your target on database architect or business intelligence architect. These roles will tap into your knowledge of databases and programming.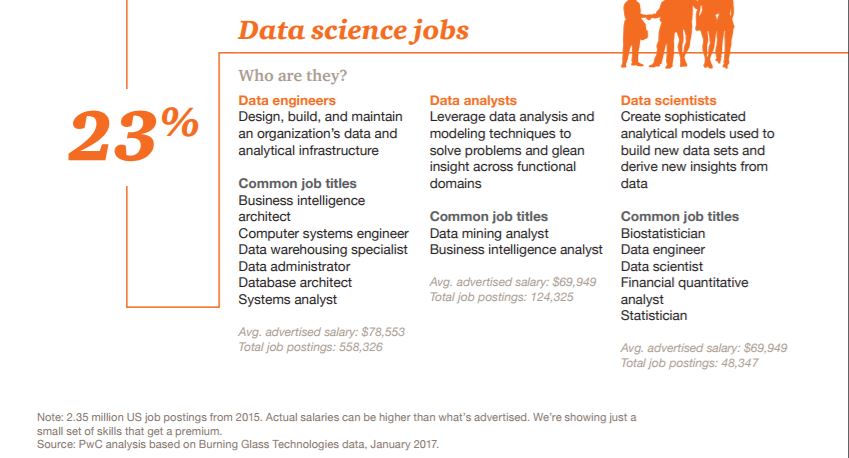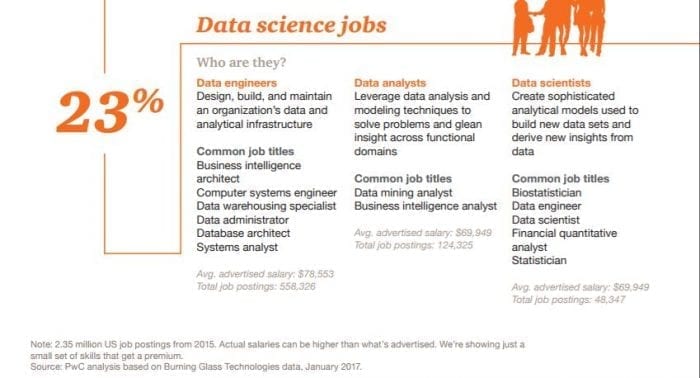 Acquiring DSA skills can help you become more valuable to employers, which translates into job stability. And every company needs these skills, which means you'll be able to transition to new industries if you decide you want a new environment or culture.
Where To Find Training and Education Opportunities
If data science and analytics interests you, you may want to begin by honing your math skills first. These skills will provide the foundation to help you understand how to analyze data.
Colleges and universities have been slow to add the requisite skills to their curricula. However, community colleges, partnering with local businesses, have begun adding certificate programs. You'll also need to learn how to use software associated with extracting and analyzing data. Software-specific training is available through a variety of mediums and software companies sometimes offer online training themselves.
PwC and IBM both offer employees training to help equip them with these hard-to-find skills. In fact, PwC has made their DSA courses publicly available on the Coursera online learning platform. Data Analysis and Presentation Skills: the PwC Approach Specialization. The entry-level courses cover data analysis and visualization skills.
The "New Collar" Jobs
Traditional white-collar and blue-collar jobs are no longer the only options. "New collar" jobs are new jobs that rapidly emerge from new technology. These jobs rely on experience or vocational training and typically don't require a four-year college degree. IBM's CEO, Ginni Rometty used the term "new collar" jobs for USA Today, where she wrote,
"As industries from manufacturing to agriculture are reshaped by data science and cloud computing, jobs are being created that demand new skills – which in turn requires new approaches to education, training and recruiting."
According to Rometty, "new collar" jobs include titles such as "cloud computing technicians" and "services delivery specialists."
Doing More To Bridge the Gap
Experts agree that the best way to bridge the skills gap is through partnerships. Companies and colleges that align can mutually benefit and determine how well this gap gets filled. IBM has designed high school programs combining community college courses to instill these skills, according to Rometty in USA Today.
Self-study is another option. Stay up to date by reading industry publications, attending industry events and attending training sessions.
The bottom line: Investing your time and energy into learning a new skill set will help you stand out and hold on to your job.
This post originally appeared on US News & World Report On Careers

Hannah Morgan speaks and writes about job search and career strategies. She founded CareerSherpa.net to educate professionals on how to maneuver through today's job search process. Hannah was nominated as a LinkedIn Top Voice in Job Search and Careers and is a regular contributor to US News & World Report. She has been quoted by media outlets, including Forbes, USA Today, Money Magazine, Huffington Post, as well as many other publications. She is also author of The Infographic Resume and co-author of Social Networking for Business Success.