If you are in the middle of a job search during the coronavirus, here are things you can do right now to help you land a job.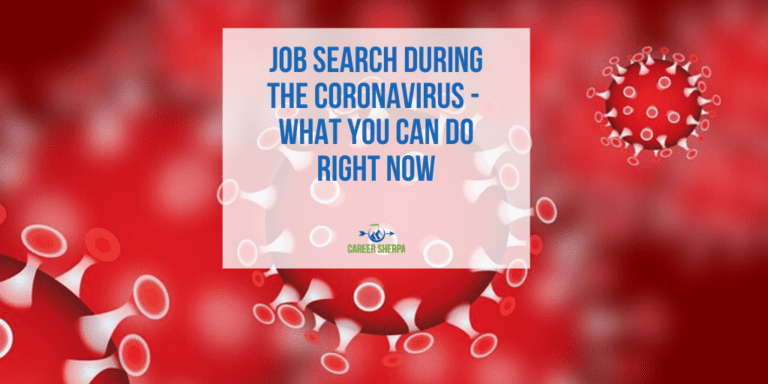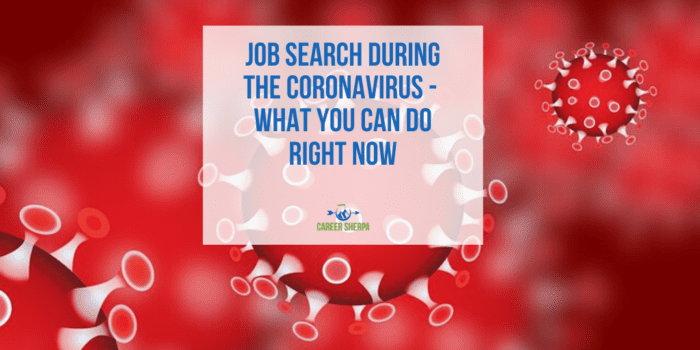 What just happened? We went from a strong job market to one that is very uncertain. It's caught everyone off-guard and scrambling for a plan.
As the Coronavirus spreads across the United States and the world, businesses have been forced to ask their employees to work remotely. Sadly, some are even laying off employees. I hope this is temporary.
But what I want you to know is that there are things you can do today, right now, that can help you land a job.
Take Care Of Yourself
You must have your personal life in order to be able to job search during the Coronavirus.
Shelter, food and money are basic needs. So is your mental well-being. If you are worried about any of these, you must have a plan for how you'll resolve your concerns.
Remote Working Resources
You'll be working from home and job search during the Coronavirus requires you have the resources to do this successfully.
A quiet or semi-private space to work
Familiarity with video conferencing tools like Zoom (free)
A Networking Plan
Here's the reason you want to spend time networking. Companies may still be hiring, but at this very moment there is a lot of uncertainty and some jobs have been put on hold.
Your networking plan starts with a list of all the people you know and those who you would like to meet. See who should be on your list.
You won't be able to meet with these people in person, but you can send them an email, text or call them on the phone and even meet them on a video call.
And now is the perfect time to get more comfortable using social networks.
You want to be top-of-mind with company-insiders when things open up and the best way to do that is to nurture or build relationships with people who will know about openings when they happen.
Networking isn't about "getting a job." Networking is about being willing to help.
Be Active On LinkedIn
Use this time to enhance your LinkedIn profile. But don't stop there.
Become more active on LinkedIn by commenting on posts and sharing articles or posts that relate to your area of expertise.
By becoming more active on LinkedIn, you will stay top of mind with your network and build new relationships. These relationships will help you in the future.
Keep An Eye On Job Postings
Don't be alarmed if you aren't seeing new jobs being posted. Check out my list of top job sites.
At this time, some companies have put a temporary hold on hiring. But within certain industries, hiring is booming (according to FastCompany).
Shipping and delivery companies
Online learning companies
Grocery stores and delivery services
Remote meeting and communication companies
Childcare
Healthcare, Hospitals
Within these industries, they need frontline workers, however, they also need business operations support or other types of employees. Look for companies in your area that fall into one of these categories and see what jobs are posted.
Given the pressing need to fill many of these jobs, your lack of industry knowledge may not be a barrier right now.
Invest In Your Professional Development
Job search during the Coronavirussome should also include developing new skills or enhancing current skills. Online learning is available from many different sources, many are even free right now.
This is the perfect time to pick up those skills you've been meaning to learn.
LinkedIn Learning (free for the first 30 days)
MOOCs (Massive Open Online Courses)

Coursera, EdX, Udemy, Alison

Tutorials from your favorite product/service
Search online to find almost any training you are looking for
Find a list of reputable online course providers here.
Immediate Jobs Are Available
If you need money immediately, there are many jobs available. These jobs may not be a long-term career solution, but they will help you bridge your financial gap.
Search LinkedIn for #coronavirushiring #hiringnow #openpositions #nowhiring
Also see this listing of companies hiring now and resources to match unemployed workers with jobs.
COVID-19 Resources – Job Postings and Candidate Lists
More Expert Resources
To provide even more advice on how to job search during the Coronavirus, check out these two articles:
COVID-19: Job Market Insights & Job Search Strategies From Experts
by Austin Belcak | CultivatedCulture
Coronavirus: The Expert's Practical Guide to Job Searching During Self Containment
by Sarah Johnston | Briefcase Coach
Live Panel Of Job Search Experts
How COVID-19 Is Impacting the Job Market Panel
This panel was hosted by Austin Belcak and features Dan Schawbel and Sarah Johnston (and me).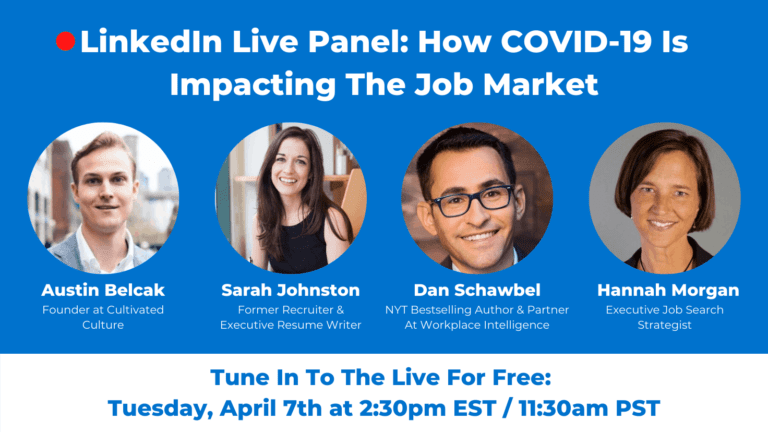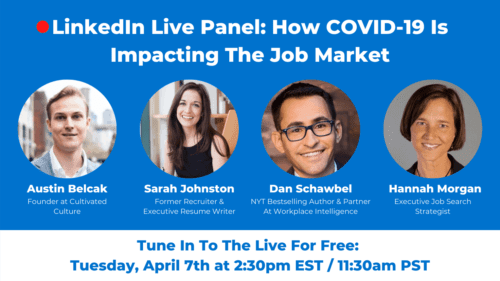 Watch our conversation below.
Navigating Job Search In A Crisis
See this panel host by Virginia Franco, Virginia Franco Resumes, Ed Han, Recruiter and Andy Foote, LinkedIn Strategist.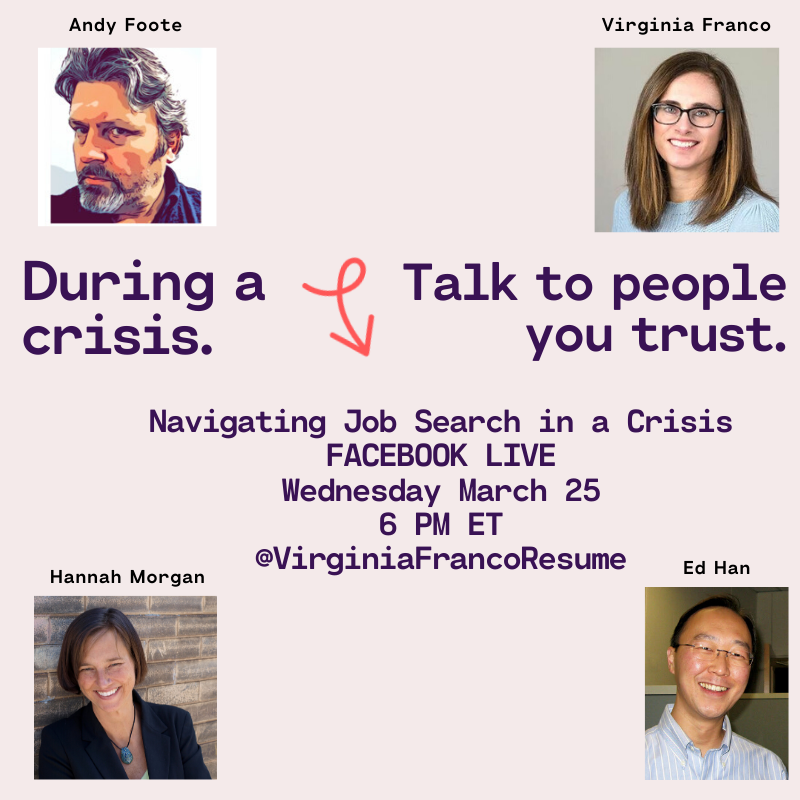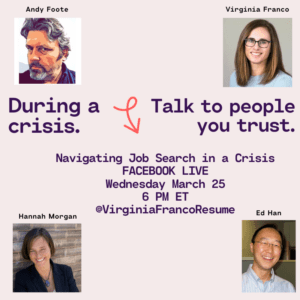 Changes in job search and/or hiring activities?
Advice on how to job search right now
If you've been laid off, or fear being laid off, what should the next steps be?
And Join Me Mondays at Noon ET
Every Monday at Noon I'll be live on Facebook talking about job search trends and things to watch for during COVID-19.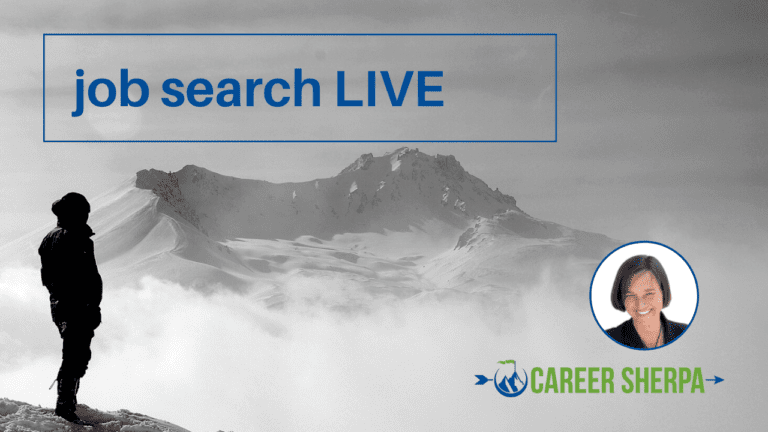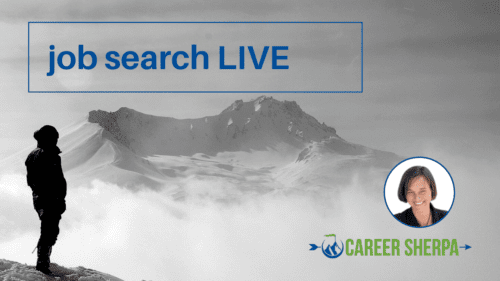 Hannah Morgan speaks and writes about job search and career strategies. She founded CareerSherpa.net to educate professionals on how to maneuver through today's job search process. Hannah was nominated as a LinkedIn Top Voice in Job Search and Careers and is a regular contributor to US News & World Report. She has been quoted by media outlets, including Forbes, USA Today, Money Magazine, Huffington Post, as well as many other publications. She is also author of The Infographic Resume and co-author of Social Networking for Business Success.