Are you new to Zoom meetings or video conference calls? Here's a checklist of what you need to know to make sure you're doing it right! Plus an infographic to share!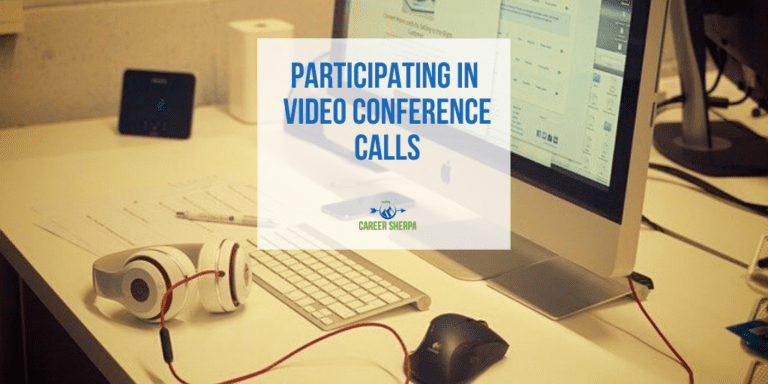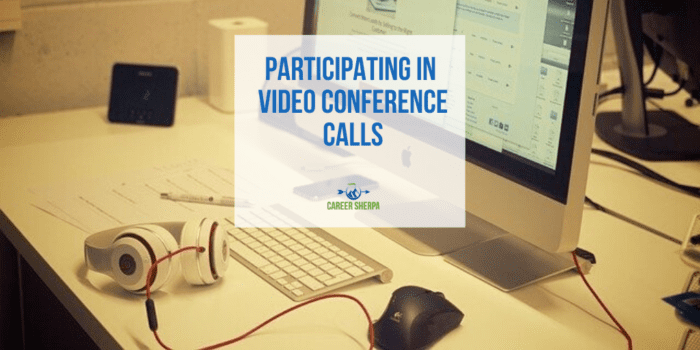 While there are a lot of tips for hosting video conference calls, there isn't much information to help participants. That's why I created this list and the infographic.
The advice below is quite similar if you are participating in a video interview. You can learn more about video interviewing here.
If you haven't had much (or any) experience with video meetings, don't worry. They are just like regular meetings, except you are meeting through your computer.
The following 18 tips and best practices will help you participate in video conference calls without looking like a noob.
Video Conferencing Technology
Zoom is the most popular tool, but there are others like Google Hangouts, GoToMeeting, Microsoft Teams or Cisco Webex Meetings. They all work basically the same way. These tips are designed to be universal.
Getting Started with Your Virtual Meeting
The host will send an invitation with a link to the meeting and hopefully an agenda. Then, about five minutes before the meeting starts, click on the link to log in.
It's usually best to log in from your computer or laptop, even though some of these tools do have apps for your smartphone. It's a little more difficult to navigate some of the settings and features on your phone.
And if you have any concerns about the technology, be sure to practice with someone before the virtual meeting. You don't want to waste time during the meeting figuring out how to do the basics.
Before You Participate
1) Test the video conferencing in advance
If you are using the video conferencing platform for the first time, make sure you are familiar with common functions like mute, show video and chat. Also, allow extra time before the meeting starts to download any software.
2) Check your video and audio before the meeting starts
Log into the meeting early so you can test the video and audio settings before your call begins.
3) Use a clean, work-appropriate background
You may not have a home office, so choose a location like your kitchen or living room. Just make sure that any personal items visible are appropriate.
4) Select a quiet location
Dogs barking in the background or family members chatting in the kitchen will be heard by everyone on the call. Find a quiet space and let others know you will be on a conference call so they can keep the noise level down.
5) Set your camera at eye level
Elevate your laptop or video camera so it is at eye-level, not on your lap. Think of it this way, if you were in your office, you wouldn't be looking down at your laptop. People don't want to look up your nose either.
6) Dress for the occasion
Wear what you would normally wear to the meeting or event if you were participating in-person.
7) Mute yourself when not talking
To avoid hearing you shuffle papers, type on your keyboard or any other noises the mic might pick up, mute yourself if you aren't talking.
8) Have good lighting
Turn on the lights in the room if there isn't enough light. And don't sit with your back to the window. Too much light coming from behind makes you appear as a silhouette and your face can't be seen. It's best to have a ring light or light coming from in front of you.
9) Use earbuds or headset with mic for better audio
Instead of turning up the volume or shouting into your laptop, use earbuds or a headset. The sound quality of your voice will be better.
10) Connect directly to the internet
If you have an inconsistent or weak wifi signal, plug directly into your router for a more stable connection.
Advanced tips:
With Zoom, you can use a virtual background (from your computer settings only). It works best if you have a greenscreen backdrop.
Zoom also lets you "Touch up my appearance" in the video settings option.
During
11) Arrive on time or just a couple of minutes early
Don't log in too early and don't be late. Give yourself a buffer of time in case you run into technical difficulties.
12) Don't leave before the end of the meeting
Unless you have notified the host/manager/organizer, it is not polite to leave the meeting early.
13) Look into the camera when speaking
Yes, turn on your camera. And when you speak, look directly into the camera. Some people put a post-it note or googly eyes by the camera to remind them.
14) Do not eat during the meeting
Eating during any meeting is less than professional. Hold off on eating until the meeting is over. If you must take a sip of water, limit how often you do this. It can be very distracting.
15) Focus on the meeting
Eliminate and avoid distractions from texts on your phone or alerts on your computer. You want to show you are paying attention to the meeting. If you need to remember to ask important questions, consider putting it on a post-it note on your computer screen as a reminder.
16) Use the chat feature for topic discussion only
The chat feature is a great way to interact. But stay focused on the discussion or topic of the meeting.
After
17) Be sure to log out of the meeting
Always use the "end meeting" or log out feature to ensure your camera and video are off before moving on to other activities.
18) Followup on any action items
Make sure you followup on action items from the meeting. It's easy to forget.
INFOGRAPHIC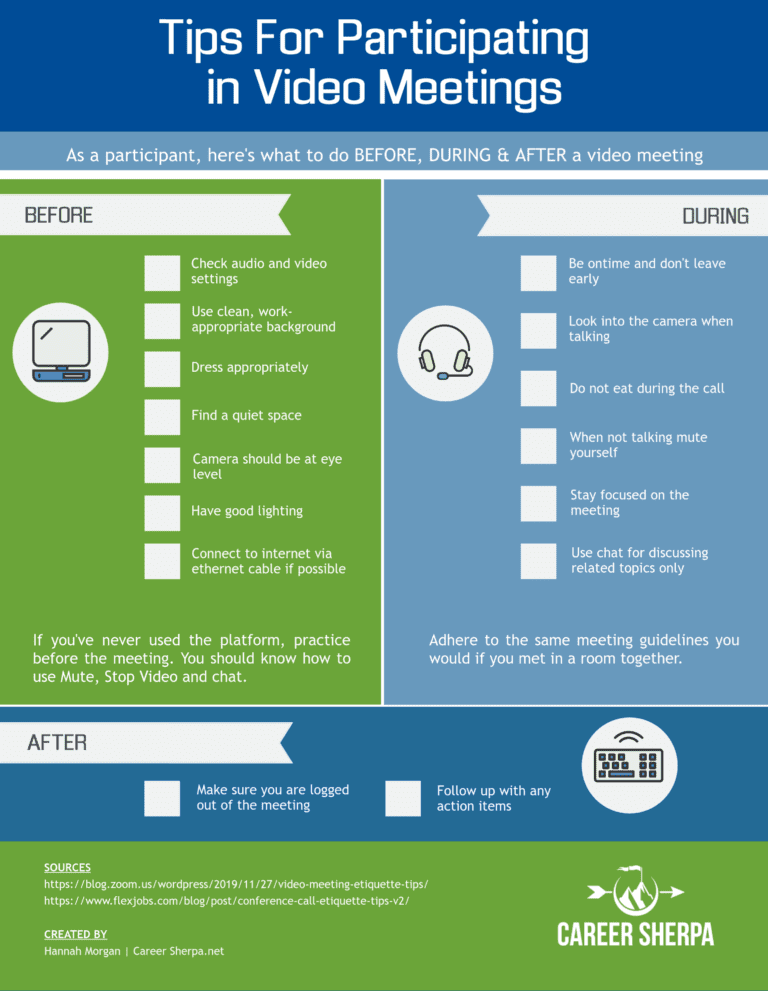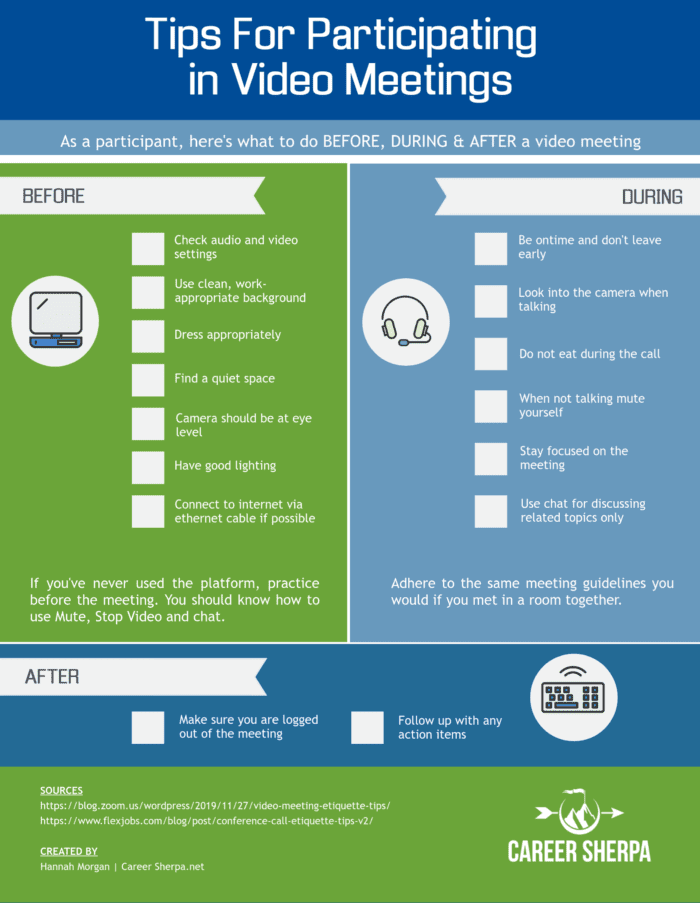 Hosting Video Conference Calls
If you are the host of the video call, make sure you set expectations and that everyone is comfortable with the technology. Here are the basic reminders:
Send an agenda before the meeting along with meeting link
Send a reminder 1 hour before the meeting
Log in 10-15 minutes early
Introduce yourselves at the first meeting
Manage the meeting
Make the meeting interactive
Know how to use the software and tools
If you are looking for advanced tips for conducting online training or video conference calls, check out Kassie LaBorie's site. She is a virtual training expert and author.
Prevent Zoombombing
Sadly, hackers are taking advantage of open meetings on Zoom, called Zoombombing. To prevent this from happening on your video call, Zoom said:
"We have been deeply upset to hear about the incidents involving this type of attack. For those hosting large, public group meetings, we strongly encourage hosts to change their settings so that only the host can share their screen. For those hosting private meetings, password protections are on by default and we recommend that users keep those protections on to prevent uninvited users from joining."
For more security tips for hosts and users, see Zoom's recent article: How to Keep the Party Crashers from Crashing Your Zoom Event.
These are the articles referenced in the infographic.

Hannah Morgan speaks and writes about job search and career strategies. She founded CareerSherpa.net to educate professionals on how to maneuver through today's job search process. Hannah was nominated as a LinkedIn Top Voice in Job Search and Careers and is a regular contributor to US News & World Report. She has been quoted by media outlets, including Forbes, USA Today, Money Magazine, Huffington Post, as well as many other publications. She is also author of The Infographic Resume and co-author of Social Networking for Business Success.