These COVID-19 influenced resources include job posting and candidate lists and serve as a way to help make finding a job easier and faster.
COVID-19 has created a need for a new way to help job seekers partner up with opportunities and vice versa. [This list is updated regularly.]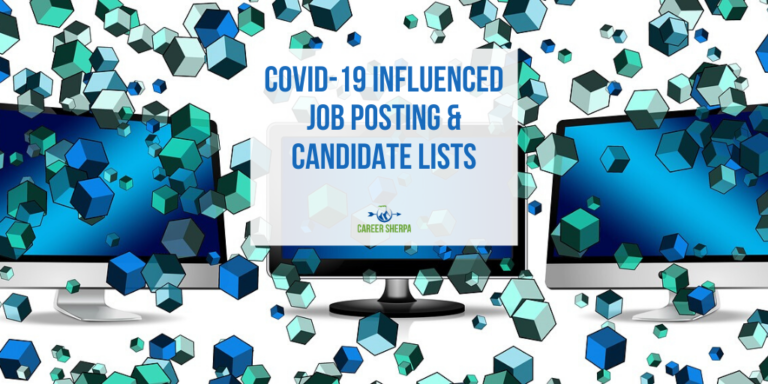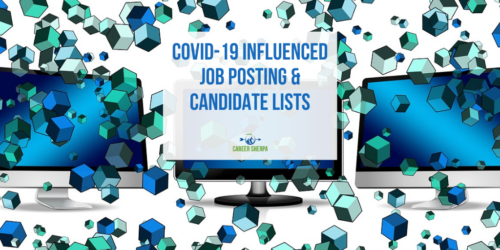 Millions of people have found themselves unemployed due to no fault of their own.
This has resulted in initiatives to help pair unemployed talent with available opportunities. And ways to provide information about which companies are reportedly under a hiring freeze.
The good news is, there are lists of companies with current openings looking to hire immediately or soon.
As you look at these 8 free resources, note that they are all a little different. And The Ultimate list by Jobscan is aggregating from other sources. (Noted below).
Here are some tips when using these COVID-19 influenced resources:
Before adding your information, first verify there are relevant jobs/companies/geographies posted.
Don't just post your information and think that's enough. You must still network and apply for jobs.
Always use the two-step (find a job, find an insider) See how Drafted works.
Just because a list says there is a hiring freeze, doesn't mean that's true for every job. Find out by asking insiders.
A special shoutout to my recruiting friend Ed Han for sharing this Crunchbase article where I learned about some of these resources. Additional resources added thanks to Lezlie Garr.
Drafted Layoff Network
Drafted | Free | For job seekers, employers and referrals.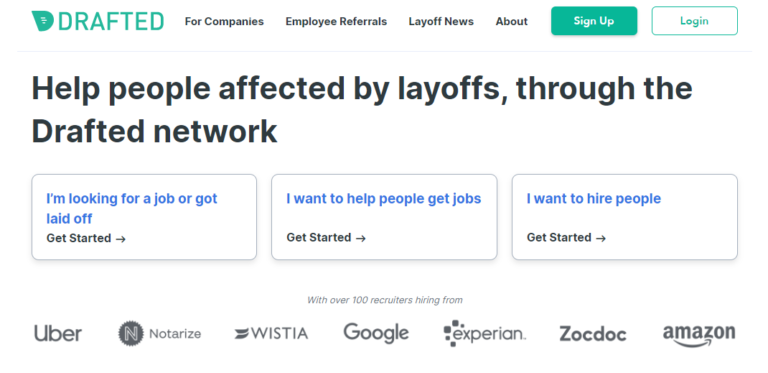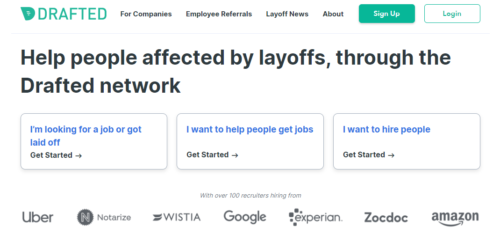 Drafted retooled its hiring technology to create a free platform for laid off workers to get connected with hiring recruiters. "The Boston-based startup says it has more than 5,000 recruiters on its mailing list and 500 recruiters "actively hiring" on its platform from companies such as Amazon, Uber and various growth startups."
Job seekers might also be interested in Signal by Drafted that helps connect you with people in companies to get referred.
Here's how Drafted works for job seekers:
Create a profile
Get someone to nominate you
Get priority access to companies that are hiring in your extended network
Layoffers
Layoffers | Free | For job seekers and employers


This tracks layoff events and posts job opportunities with "thousands of recruiters and candidates joining the site." There's also a database of job seekers. You'll also find a community discussion board.
Currently there are 1056 job seekers and over 10,000 jobs.
Jobscan.co's Ultimate List Of Companies Still Hiring
The Ultimate List | Free | For job seekers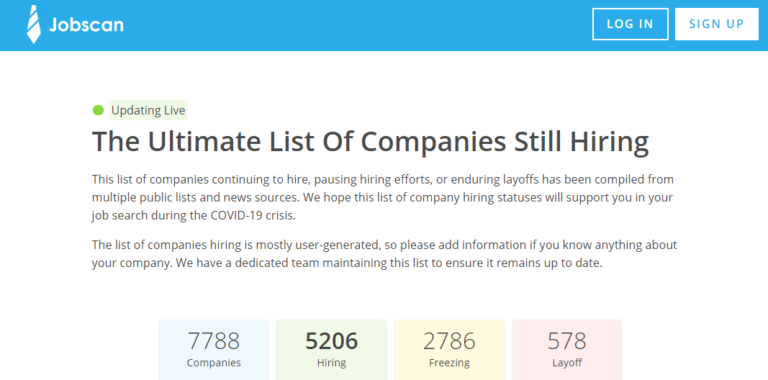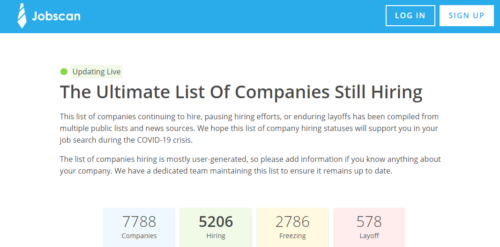 This list includes companies continuing to hire, pausing hiring efforts, or enduring layoffs is compiled from multiple public lists and news sources. We hope this list of company hiring statuses will support you in your job search during the COVID-19 crisis.
The base data for this table comes from the following sources: Blind, Candor, layoffs.fyi, StartupHireMe, and various news outlets. Additional data is crowdsourced. Jobscan is unable to verify all information submitted.
8,035 jobs currently posted.
Torch Capital Talent Connect
Torch Capital Talent Connect | Free | For job seekers and employers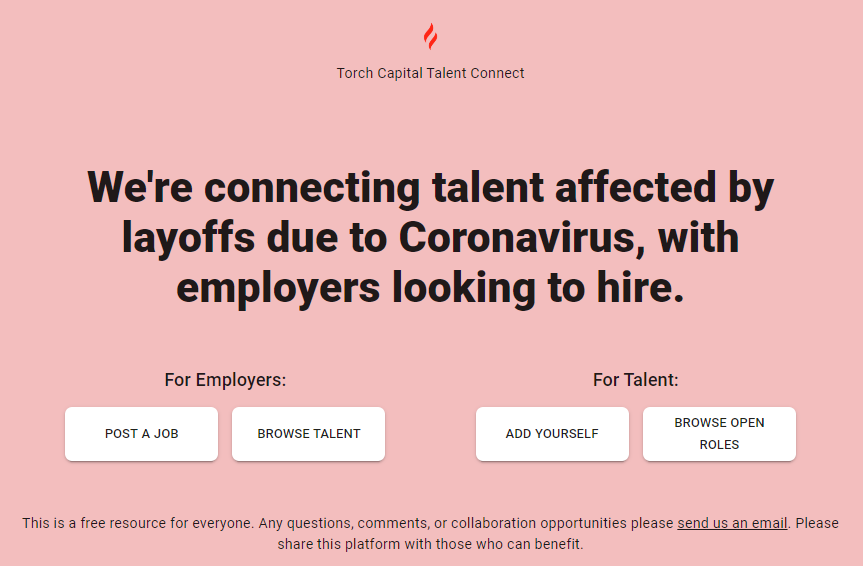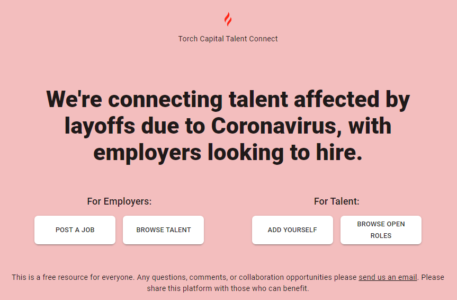 You can view open jobs at a variety of companies across the US. Some are startups, some are larger. There's also a list where you can add your information as a job seeker.
This started as a way to help the startups Torch had invested in by sharing their laid off talent with other employers. It has grown since then.
Currently 774 jobs and 859 job seekers listed.
Candor
Candor | Free | For job seekers and employers




There are 2 lists. 1 to report layoffs, hiring freezes and hiring and one for laid off employees to post their resumes. Both 100% user-generated.
David Chouinard, Cofounder of Candor, and his team started this initiative. Candor has created a community of technical people to help negotiate better salaries through sharing information.
And if you've been laid off — add your resume to the Layoff Hiring List.
Current jobs posted 7143 and a growing number of job seekers.
LinkedIn
LinkedIn Who's Hiring | Free | Job seekers
And don't forget the constantly updated list by Andrew Seaman and other editors of LinkedIn.
Indeed
Indeed | Free for job seekers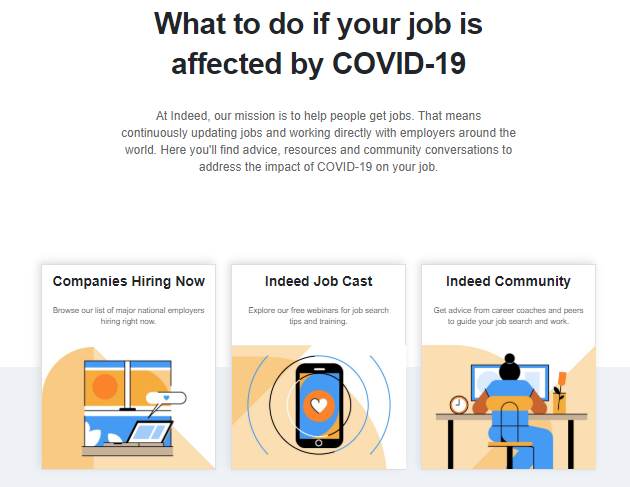 There is a dedicated Coronavirus Job Resources page that includes a list of national companies hiring right now. This list is updated weekly and shows major national companies who have recently added jobs on Indeed.
Glassdoor
Glassdoor | Free for job seekers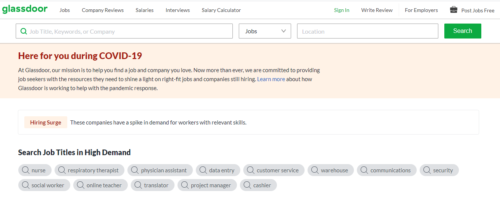 This resource provides companies with hiring surges, job titles in high demand and even remote job postings that are all active right now. Scroll down the page and you will see categories of jobs/industries with immediate need for talent (distribution, healthcare, delivery, etc.)
There are many organizations and individuals putting together COVID-19 influenced resources to help people during these difficult times.

Hannah Morgan speaks and writes about job search and career strategies. She founded CareerSherpa.net to educate professionals on how to maneuver through today's job search process. Hannah was nominated as a LinkedIn Top Voice in Job Search and Careers and is a regular contributor to US News & World Report. She has been quoted by media outlets, including Forbes, USA Today, Money Magazine, Huffington Post, as well as many other publications. She is also author of The Infographic Resume and co-author of Social Networking for Business Success.