The holidays are nearing and they will look different this year! You can still take advantage of the fact that people will be in the holiday spirit. Please, for your own good, continue to work your holiday job search during a pandemic!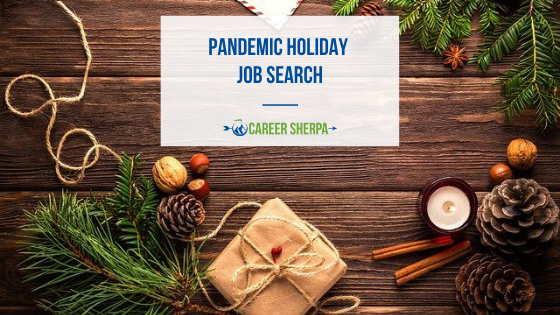 I'm pretty sure all you really want this holiday season is a new job. Well, don't give up! It will happen. Just try some of these ideas and keep your pandemic job search active.
These are truly unusual times. The COVID-19 pandemic has made it very challenging (and almost impossible) to meet in person.
In normal times, we would be attending dinners, holiday events and even meeting up in bars or restaurants. That's just not happening right now. But it doesn't mean people aren't celebrating or gathering. It just looks different.
Hiring Does Happen In December
There is this belief job seekers have that hiring doesn't happen during the holidays. That's not completely true.
Some companies are trying to hire before the budget year ends. Other companies might be waiting for the new year and a new budget to begin. Either way, companies are actively looking for candidates right now that could start in January. That means recruiters are contacting and screening candidates throughout the next 30 days.
In fact, I had a friend tell me she landed one of the best jobs ever because she was active in her job search throughout the holiday month. (She was one of the few candidates vying for the job who was responsive.)
Pandemic Holiday Networking Events
Networking events have gone virtual this year. From holiday parties to festive gatherings, you'll find events listed on a community calendar, the organization's website and social media pages.
Professional associations
Chamber of Commerce
Job seeking groups
Neighborhood gatherings
Volunteer organizations and opportunities
College/University Alumni parties
Read your local newspaper, search for groups on Facebook, check your school's alumni page and keep your eyes open. Here are 25+ places to network.
There's a benefit to virtual events… you don't get as nervous "entering the room" as you would if you attended in person!
Pandemic Outreach
The holidays are the perfect excuse to reach out to people and wish them well.
Maybe this is the year to take some extra time and add a note with your holiday greeting cards to update people on what's new in your life (and do include that you are in search of a new opportunity). Stay positive and be specific.
And don't forget to touch base with past colleagues who may have a less busy schedule during the holidays. Ask if they would like to meet for a virtual coffee to catch up.
Strategically Reach Out To The Right People
Take a different job search strategy for the next 30 days. Instead of obsessing over job postings, focus on strategically developing relationships. This is something you can control and feel positive about.
Here's what I recommend.
Make a list of people you really need to meet. This would include decision-makers/hiring managers within companies you are interested in working for.
Expand your list to include anyone who works for those companies that you know or is a second-degree connection.
Ask for introductions or reach out cold to these folks with an email asking for a few minutes of their time. Do you want to see some sample email messages? Read this Networking Email Templates for Job Seekers During A Pandemic
Take Control of Your Holiday Job Search
There may not be as many jobs posted in December so re-allocate your time. These are just some of the things you can do to keep your pandemic holiday job search moving forward.
Update your marketing plan by adding more target companies.
Invest time learning a new skill related to your work.
Engage with people on social media (LinkedIn, Facebook, Twitter, Instagram).
Manage Your Time
Scheduling your time is going to make you feel more productive. You don't need to keep the same pace (5-6 hours a day). Spend time doing things that re-energize you or bring you joy!
For the next 30 days, try blocking out hours of your day and assign activities to each block of time.
This article will help Structure Your Week During Job Search
Job Hunting During The Pandemic Holidays Isn't Impossible
If you truly want that new job, you are going to have to work harder than ever before. Excuses won't help you land a job. Actions will.
Yes, people are getting hired right this very minute (and have been since March!) It can happen for you too if you keep at it.
And yes, companies are still recruiting in December for jobs they want to fill in January! Be proactive and find potential opportunities before they are posted.
But most importantly, take care of yourself! Build time into your day, every day, for your mental, physical and spiritual well-being!

Hannah Morgan speaks and writes about job search and career strategies. She founded CareerSherpa.net to educate professionals on how to maneuver through today's job search process. Hannah was nominated as a LinkedIn Top Voice in Job Search and Careers and is a regular contributor to US News & World Report. She has been quoted by media outlets, including Forbes, USA Today, Money Magazine, Huffington Post, as well as many other publications. She is also author of The Infographic Resume and co-author of Social Networking for Business Success.