Getting a response to a networking email can be difficult, especially during a pandemic. These three networking email templates make it easier for you to craft your message and get a response.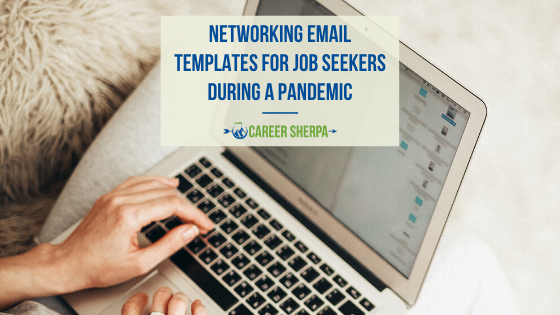 The best time to network is BEFORE a job is posted. You're more likely to get a response to your request because employees aren't involved in the hiring process yet. This is even true during a pandemic.
You'll find three networking email templates:
Request for Informational Meeting
Ask A Contact to Make an Introduction
Reaching Out To Someone You Know When There's An Opening At their Company
The Purpose of Networking
Your primary purpose in networking is to get AIR (advice, information or recommendations) from someone who works inside a company or has expertise in an industry or role you are interested in. Secondarily, you are building a relationship with someone who may keep you in mind when they hear about job opportunities in the future.
Read more about why networking isn't a waste of time and how to do it right.
Here's an example of how NOT to ask for a favor from someone.
Networking During A Pandemic
Now is a perfect time to network with people. Keep in mind, the majority of the workforce is still working – and most of them are working remotely.
If people are working remotely, they most likely have more flexibility in their schedule to talk with people. And because they don't need to worry about their boss or co-worker listening in.
The Coronavirus also is a great excuse to reach out to people you haven't talked with to see how they are doing. If you discover they are out of work, then you can share your resources and perhaps team up as accountability partners.
Don't assume that people are too busy, overwhelmed, unemployed, or don't want to talk with you. You may find exactly the opposite.
Types of People You'll Network With
Here's a list of 10 types of people you should network with during your job search. And what you'll notice is that these are ALL people you know!
Always, always, always focus networking on the people you know before reaching out to strangers!
You know someone who works for a company you might like to work for
You know someone who knows someone who works for a company you are interested in
You don't know the person but they work for a target company (do not contact them until you find someone or something in common!)
Basic Networking Email Rules
Don't ask for too much too soon
Make it easy for someone to respond or take action
Be clear in stating the information you want. Never ask for a job
Write short paragraphs to make your message skimmable
Use a clear and concise subject line
Email is more widely used that LinkedIn InMails or messages
What To Include In Your Email
Here's what your networking email message should include:
Be personable and/or friendly and ask how they are doing
Remind your contact how you know each other
State what you are asking for (advice, information, recommendations)
Concisely remind them of your background
Thank your contact in advance for their cooperation
Always use a signature block in your email
Networking Email Template #1: Request for Informational Meeting
Reaching out to people you know and asking for a quick conversation is the best way to refine your networking skills AND get the word out that you are looking for a new role.
Hello [Name],
I hope you are doing well and staying safe [all is well in with you during these unusual times].
I'm reaching out because I [was recently laid off due to coronavirus-related cutbacks at Z company / am looking for my next opportunity / (or state your reason)] and I hope you might be able to help.
I'm looking for a position in [the industry they work in / as a job they have or had] and [I know you have experience in this area (or the reason you are asking for an informational meeting)].
Would you be available to talk briefly over the phone or video? I'd appreciate just 15 minutes of your time.
Your insight and advice in these areas would be extremely valuable: [your experiences working in X role / your perspective on valuable skills and training in X role / what it's like to work at Z company / how to break into the industry].
Thank you in advance for any help you can provide. I look forward to catching up.
Name
Email signature block (phone number, occupation or tagline, LinkedIn URL, email address)
Networking Email Template 2: Asking A Contact to Make an Introduction
Keep in mind, you want to make it easy for someone to facilitate and introduction. In fact, you want to make your message to your contact easy to forward along.
Hi [Name],
How are you doing during these unusual times? I hope all is well.
I'm reaching out today with a request. Unfortunately, [I was recently laid off due to the Coronavirus/I find myself searching for a new opportunity].
I noticed that you are connected to [Name] on LinkedIn, and I was hoping that you'd be willing to introduce us.
I'd love to connect with [Name] and ask a few questions about [the industry / their company] and [his/her] experience. Would you be willing to introduce us through email? I'd really appreciate that.
After X years with Z company, I am looking for a new job [in X industry as a Y position]. My experience includes [2-3 work related skills, processes or procedures, or projects] and I am interested to learn how these might fit with Z company.
Thank you in advance for your help! Please let me know if you have any questions and if there's anything that I can do to help you.
Name
Email signature block (phone number, occupation or tagline, LinkedIn URL, email address)
Networking Email Template 3: Opening At Company Where You Know Someone
Here's a template to help make it easier to ask (and get) a referral when you know someone inside a company with an opening.
Hello [name of connection]:
I wanted to reach out and ask for your help. There's a job for a [job title] with your company and I'm very interested in applying for it.
You may remember, [state how you know each other].
I have been watching [company] and am excited about [something interesting the company is working on]. Additionally, [company]'s focus on [volunteer projects the company supports] aligns well with the volunteer work I've been doing at [volunteer organization] (or state another reason you match the company).
Based on what I read, I believe I would be a great fit for the role.
• [#1 qualification you meet]
• [#2 qualification you meet]
• [#3 qualification you meet]
Any insight or help you can offer is greatly appreciated. Please advise on how I should best proceed.
If you need more information I'm happy to have a conversation if that would be easier. Thank you in advance for your help and support!
Name
Email signature block (phone number, occupation or tagline, LinkedIn URL, email address)
Adapt As Necessary
Each situation is unique, so please be sure to modify these networking email templates to suit your needs.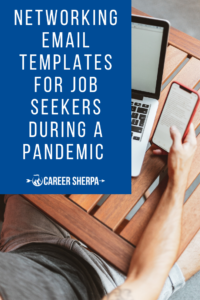 Hannah Morgan is one of this year's LinkedIn Top Voice in Job Search and Careers and a nationally recognized author and speaker on job search strategies.  She founded CareerSherpa.net to combine her career expertise with her love of writing, speaking and social media. Her mission is to educate professionals on how to maneuver through today's job search process.  Hannah is a regular contributor to US News & World Report. She has been quoted by media outlets, including Forbes, USA Today, Money Magazine, Huffington Post, MarketWatch, LifeHacker, The Muse, Business Insider, SmartBrief, Payscale as well as many other publications. She is also author of The Infographic Resume and co-author of Social Networking for Business Success.