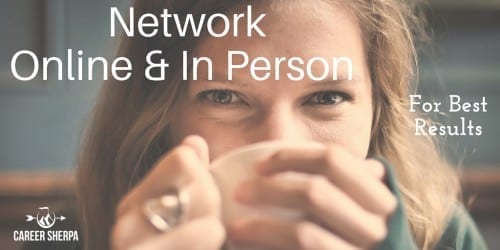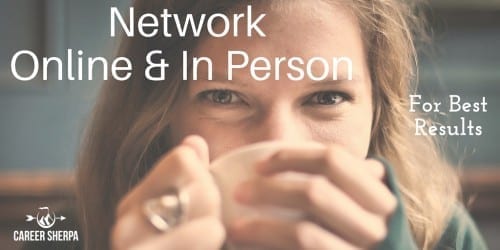 It isn't enough to have a LinkedIn profile and spend your days applying for jobs online. You are going to have to network online and in person!
Network Online and In Person to Build Trust and Credibility
The hiring process isn't what you think it is. People hire people. In other words, hiring managers and recruiters rely on referrals to mitigate the risk associated with hiring a new employee. This has been proven again and again, in surveys from Jobvite and CareerXroads and other sources, a referred candidate is more likely to be hired.
Start Connecting On LinkedIn
LinkedIn is THE social network for professional networking. But you probably are using other social networks too, so don't discount those. Facebook and Twitter are powerful tools for connecting with people.
Have A Great Profile
If you are going to connect with people, you better make sure your LinkedIn profile is robust and something worthy of looking at.  Spruce us your LinkedIn profile with these 20 tips and then, embed samples of work. Heck you may even want to start blogging about what you know on LinkedIn, also known as LinkedIn Publisher or a Long-Form Post.
Learn How To Find Alumni
No matter when you graduated, connecting with alumni is a pretty safe way of building your network. Do you know about the "Find Alumni" feature on LinkedIn? Here's a summary on how to use it – Find Alumni on LinkedIn
Always Personalize Your Invitation To Connect
ALWAYS! Don't use your mobile device unless you know about the three-dot hack! And only invite someone to connect when you are on their profile.
Take The Conversation Further
If you've connected on-line, reach out and ask for a phone conversation or in-person meeting to strengthen the relationship. You can do this! What will you talk about? Here are some ideas on what you can ask during informational meetings.
Many people will be flattered you are asking about their career and success tips. A few won't, but just ignore those folks. They probably don't understand networking and may not be worth your time.
Always Give Something and Say Thank You
Networking is about building mutually beneficial relationships. You absolutely have something to give. Think about it! And always say thank you! It goes a long way!
Take Networking Online to IRL
This is a presentation I delivered to help students understand how relationships can be formed online and taken to in-person networking.

Hannah Morgan speaks and writes about job search and career strategies. She founded CareerSherpa.net to educate professionals on how to maneuver through today's job search process. Hannah was nominated as a LinkedIn Top Voice in Job Search and Careers and is a regular contributor to US News & World Report. She has been quoted by media outlets, including Forbes, USA Today, Money Magazine, Huffington Post, as well as many other publications. She is also author of The Infographic Resume and co-author of Social Networking for Business Success.