The recruiting process is an enigma for job seekers! Wouldn't you love to know what human resource professionals are really thinking as they review candidates? Now you can. Get the inside scoop on the 9 things that really matter to HR.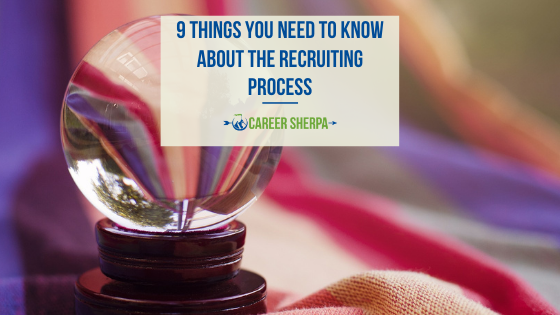 Human resource professionals have a set of rules, written and unwritten, and the more you know about these rules, the better you can compete and land your next role.
Well, maybe they aren't rules per se, but they do have preferences.
What's undeniable is that there's a gap between a job seeker's perception of the recruiting process and what human resource professionals look for.
These gaps are clearly highlighted in the "Active Job Seeker Dilemma" survey, which polled 4,347 job seekers as well as 129 HR professionals. The survey was conducted by Future Workplace, a research firm and Beyond, The Career Network, a job portal for job seekers and employers. (This survey is now behind a membership wall)
The Recruiting Process: What You Need To Know
Stop obsessing over your resume and focus on these things instead. You'll benefit greatly if you understand the process, how employers think and what they are looking for during the hiring and recruiting process.
Summary of The Recruiting Process
This can and does vary by company and even sometimes within a company, but just so you clearly understand the process, here's the process (read more about the details of each step reading this by SmartRecruiters):
15 Steps of the Hiring Process
Identify the hiring need
Devise A Recruitment Plan
Write a job description
Advertise the Position
Recruit the Position
Review Applications
Phone Interview/Initial Screening
Interviews
Applicant Assessment
Background Check
Decision
Reference Check
Job offer
Hiring (offer accepted)
Onboarding
Learn & Showcase Technical Skills
Job seekers have confessed in previous studies that their top weaknesses were technical, computer or specialized skills. If this is your weak spot too, do something about it, because employers rank these as top skills they are looking for. Take an online course to develop the skills you lack or need. Most job seekers have never invested in online training, but it is one way to improve your confidence and candidacy.
New Grads: Show Internships, Not GPA
If you are a recent graduate, you may believe your grades are the greatest indicator of your potential. But to employers, experience wins attention. So instead of focusing on your academic achievements, be sure to highlight your internships, projects, activities and volunteer work.
Expect to Take A Test
At some point during the interview process, you'll likely be asked to complete an exercise, assessment or test of some sort. It is just another way to evaluate you and what you know. More employers have begun to administer some exercise or challenge to job candidates, so don't let this surprise you.
Master the Phone Interview
Your first interview will be a phone interview. It was the top method employers use for conducting first interviews. But sadly, job seekers don't feel as comfortable with phone interviews as they do with in-person interviews. And video interviews make job seekers even more uncomfortable.
Expect To Meet People During the Interview
It is unlikely you'll be hired based on one interview. More than half of the employers surveyed said the interview process involves meeting two to three people, and some employers will have you meet with as many as five people during the interview process. These may be all at once, during a panel interview or they may be spread out over different times.
Practice Patience During the Interview Process
One to three weeks: That's how long it is going to take you to go through the interview process and get an offer, according to more than half the surveyed HR professionals. And, in some companies, it could take five to nine weeks. One thing is for sure. You'll need to practice patience. Even more important is to ask the interviewer what the next steps in the process are and what their timeframe is. Then followup if you don't hear from them.
Highlight These 4 Skills
Creativity, collaboration, persuasion, and emotional intelligence are the top soft skills employers are looking for according to LinkedIn. Unfortunately, job seekers miss the mark. Job seekers often struggle with how to convey these soft skills on their resume. But STAR stories and listing accomplishments can go a long way to help you clarify the right skills. did list communication skills as a top skillset, they missed the mark in the other top skills they reported, which were leadership and teamwork.
Stand Out By Showing Your Work
You've learned as much as you can about the company, but what else can you do to win over the employer? HR professionals say to bring a portfolio of your work. Yet only 19% of job seekers used this approach to stand out in their search.
Find Someone to Refer You
You are missing out on job opportunities by not identifying someone inside the company to refer you for a job. While job boards are the primary focus of your job search, the majority of employers cited employee referrals as the best source for finding candidates. Yet few job seekers leverage referrals as their top source for finding a job.
This post originally appeared on US News & World Report

Hannah Morgan speaks and writes about job search and career strategies. She founded CareerSherpa.net to educate professionals on how to maneuver through today's job search process. Hannah was nominated as a LinkedIn Top Voice in Job Search and Careers and is a regular contributor to US News & World Report. She has been quoted by media outlets, including Forbes, USA Today, Money Magazine, Huffington Post, as well as many other publications. She is also author of The Infographic Resume and co-author of Social Networking for Business Success.