Why is it that recent college graduates are having such a difficult time securing a decent job after they graduate?
There was an article in Time, which I recommend you read "The Real Reason New College Grads Can't Get Hired." There are some interesting theories based on several different surveys.
Soft skills make a difference
New graduates think they are ready, but hiring managers don't feel the same way
Internships make a difference
Lea McLeod also wrote about this in "The Five Reasons Grads Are Failing In the Job Search"
They treat the job search as "transaction processing" rather than a strategic marketing project.
They have a short term mindset.
They don't understand the self-promotion and marketing business.
Their self-awareness tanks are nearly empty.
They don't understand the employer perspective.
Assess and Demonstrate Your Soft Skills
In this Aol article, findings from a recent CareerBuilder study report that 16% of employers believe soft skills are more important than technical skills.  How would you rate your mastery and demonstration of these soft skills (listed in order of importance by employers)?
Strong work ethic
Dependable
Positive attitude
Self-motivated
Team-oriented
Organized, can manage multiple priorities
Works well under pressure
Effective communicator
Flexible
Confident
Are you sure about your answers? Because, the following Chegg study found otherwise. Here is the full report.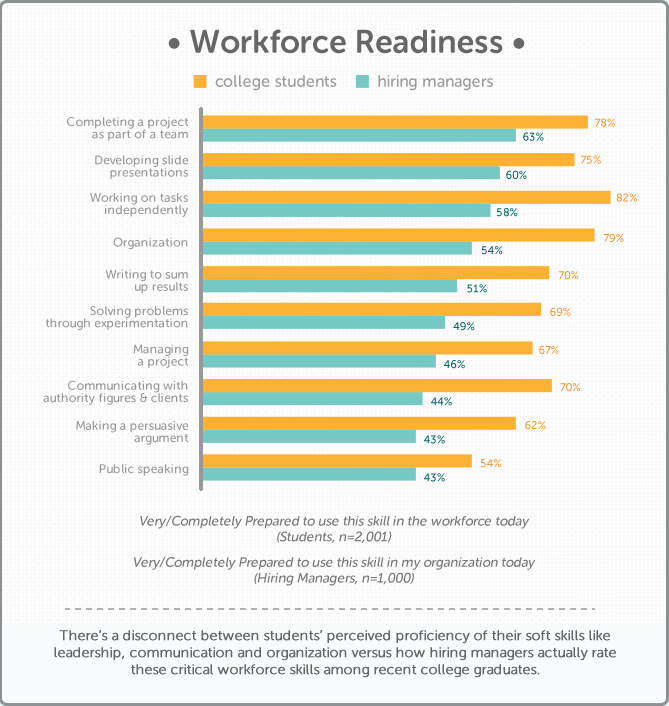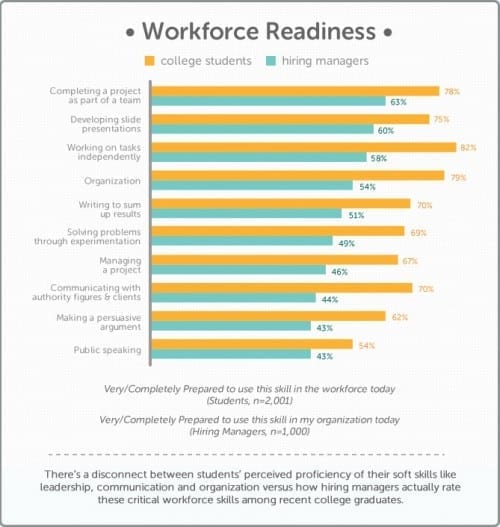 You don't know what you don't know! And there have been many earlier studies that prove this as well.
Last year, the Career Advisory Board, affiliated with Devry University, released a skills gap study. Employers ranked the skills they thought were most important for entry level workers and new college graduated rated what they thought were most important. This graph says a lot.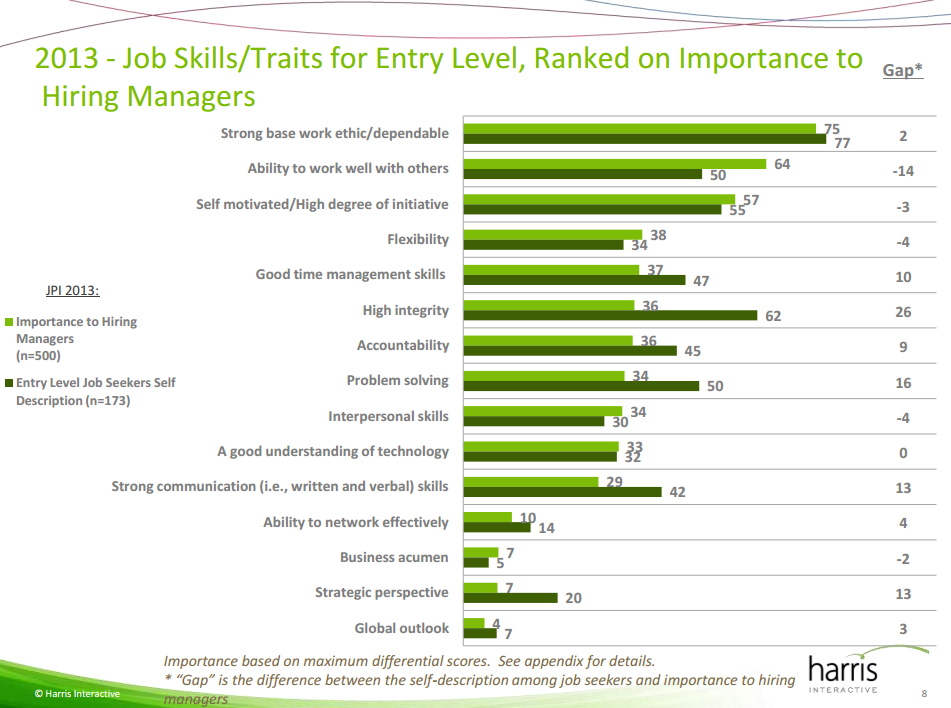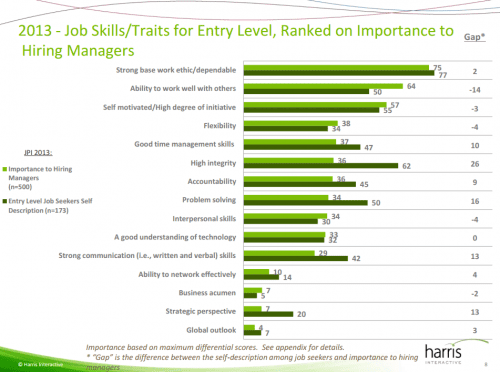 Job seekers were asked to describe themselves in terms of the same skills/traits the managers evaluated, as a basis for comparison.
Internships Would Have Been Nice, But…
82% of employers think the recent graduates they hire should have completed a formal internship before graduating from college. Only 8% of students surveyed had one related to their field of interest. (According to Bridge That Gap: Analyzing the Student Skill Index study by Chegg)
How Much Do You Know About Job Search?
Job search is different today. You'll need a full arsenal of tools to stand out! And look at the information below…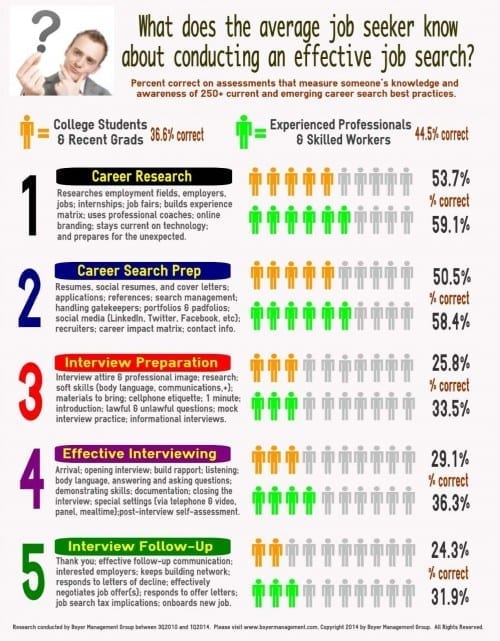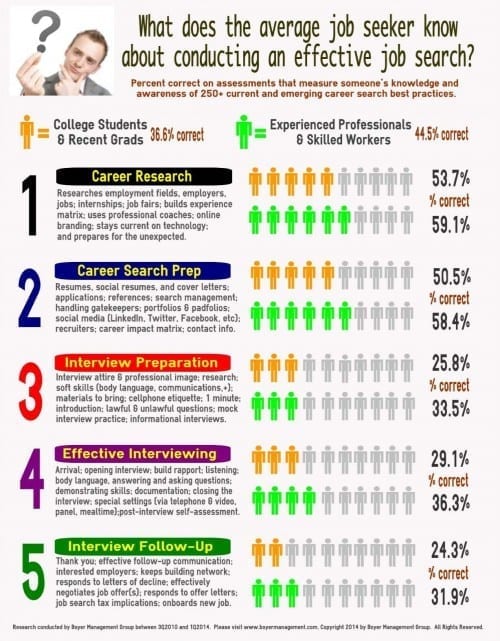 Will Your Job Meet Your Expectations?
According to Accenture's study, probably not. The data is grim, but real.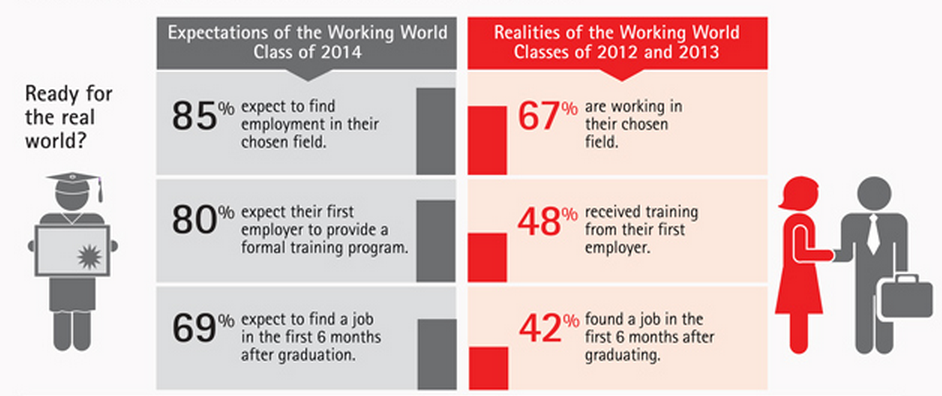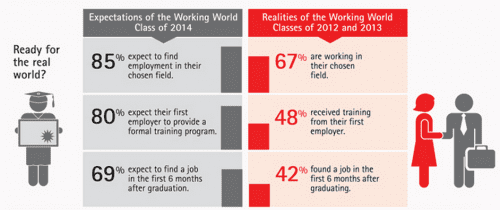 Hannah Morgan speaks and writes about job search and career strategies. She founded CareerSherpa.net to educate professionals on how to maneuver through today's job search process. Hannah was nominated as a LinkedIn Top Voice in Job Search and Careers and is a regular contributor to US News & World Report. She has been quoted by media outlets, including Forbes, USA Today, Money Magazine, Huffington Post, as well as many other publications. She is also author of The Infographic Resume and co-author of Social Networking for Business Success.