If you are looking for a way to differentiate your social networking abilities or just a different way to showcase YOU, then consider these five tools.   I am not suggesting they will work for everyone or should be used by everyone, nor do they replace the standard resume (yet).
The other really nice thing about these tools is that you don't need a lot of technical experience to set them up.  They come with different layout options (easy to select) and walk you through the process of setting it up.  You can also track stats on number of views, etc.
One-Stop Social Overviews
For creatives, people interested in social media, PR, communications, marketing, development, photography, art- these tools offer another way to showcase your work. For small business owners, consultants, independents, giggers- showcase what problems you have solved for others! Testimonials, white papers, videos, subject matter expertise, articles, etc- linking and sharing these within an online portfolio help build credibility.
For people serious about managing their careers and online reputation, you can link these online portfolios to your LinkedIn profile and your email signature so that others can learn more about who you are and what you do.
Just building a page and doing nothing with it won't serve you well.  You'll most likely say, "See, this isn't working".  You have to have a plan for how you will draw attention and promote your ownership of digital terrain.
Flavors.me
Flavors. me allows you to share links to your social networks, websites, blogs, videos, etc. There are really creative ways to show links- the example below is pretty standard, but gives those who are more conservative something to emulate.  Here's a link to the Flavors.me community so you can get an idea of how other people are using it. This is free.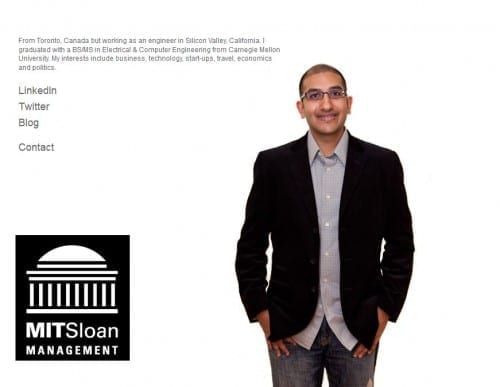 About.me
About.me is also free and can serve as a single destination to learn what you are all about.  Similar to the service above, you can search the About.me Directory and see who and how others are using this.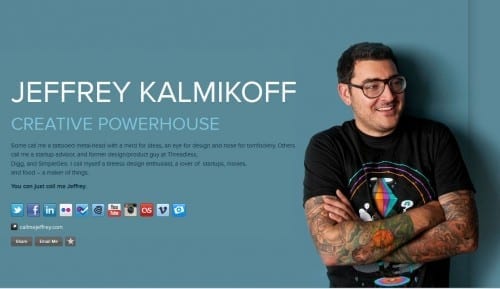 Twylah
Twylah tool pulls together content you are sharing. It could be great to showcase how you are a thought leader (oh, and by the way, know how to use social tools!). Free. What makes this different from the other tools is that the content is right there- there's no need to click to see. Think about adding a link to this from LinkedIn (from your websites) or adding a link to your resume or even in your email signature.  Here are profiles from Twylah's Featured page.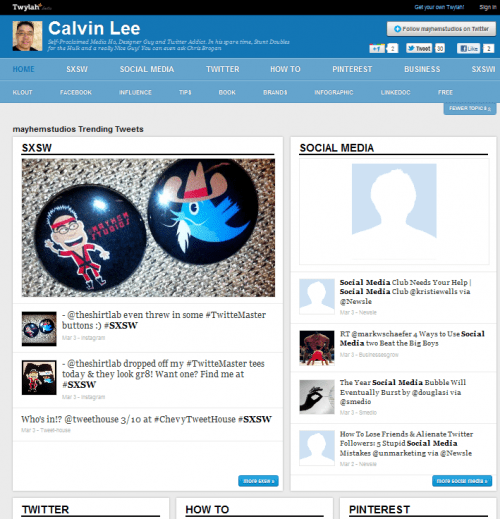 Infographic Resumes
No, you aren't going to want to submit this online necessarily, but it could be a great way to have a conversation with someone (networking) to visualize your background.  This could be great for someone changing careers if set up properly!
Re.vu
Re.vu lets you design a dynamic, interactive, and visual resume that they say is significantly more effective at representing the whole person than a common resume alone. It is free.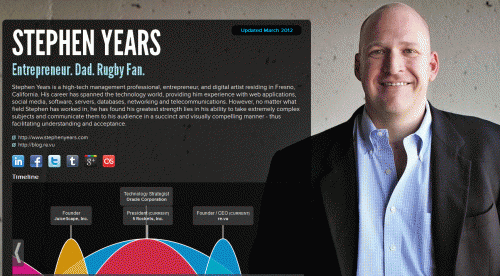 Visualize.me
Visualize.me is a free tool that can convert your resume into online visual display (not available for printing yet).  Hmmm, interesting, fun and memorable! But not everyone will relate well to it, so use with discretion!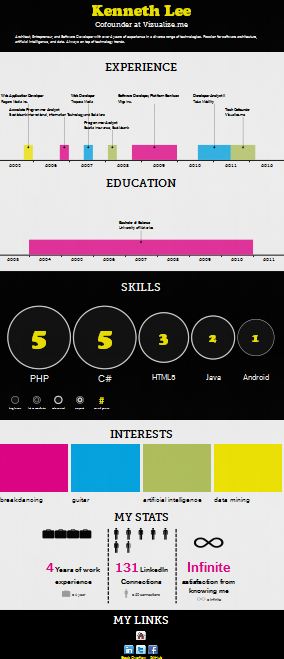 So are you confused about how you can use these or when?  Or are you someone who has been happy with your results using any of these?  Chime in with a comment!