You can never have enough online visibility! VisualCV is one more place on the web someone can learn about you!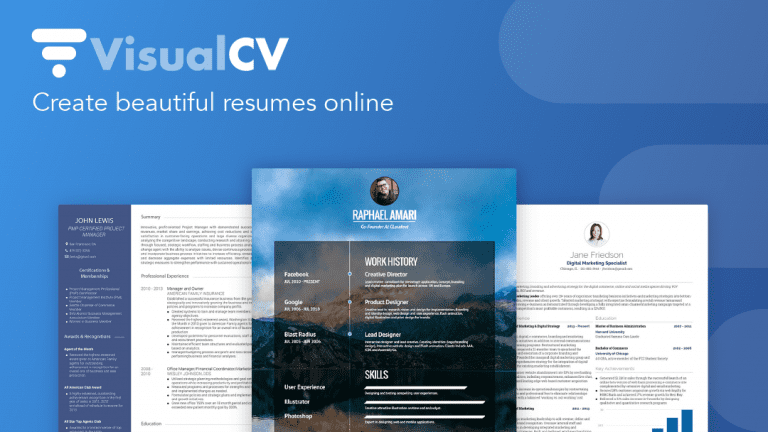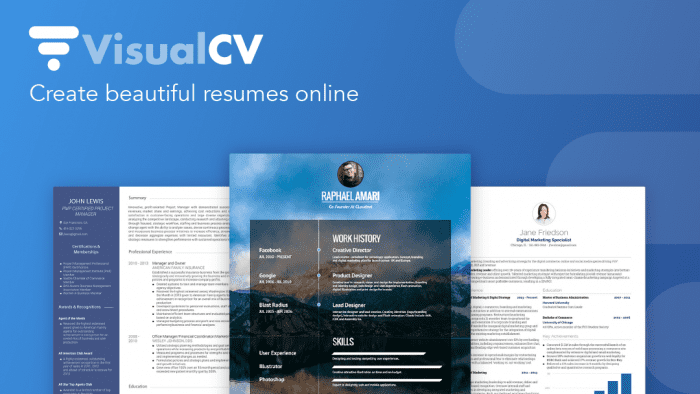 VisualCV is making it easier for you to update and share your resume!
But quickly, in case you haven't heard of it, VisualCV is a freemium service that allows you to create an online resume. With a free account, you can choose from many templates. For a small monthly fee, you have more template options to choose from.
Updated Features
Create multiple versions of your resume (and easily share the right one)
Use your mobile device to update, edit or share your VisualCV
You can learn more about the updates to VisualCV by reading the announcement here.
Key Features
It's not only your online resume, it's your online portfolio (accepts multi-media uploads)
You can track resume views and downloads
Your resume is now available in multiple formats: web, mobile, and PDF.
Spread the word and share the link to your VisualCV (in your social media profiles, email signature or as a link)
I had the opportunity to ask James Clift, CEO of VisualCV, some questions about VisualCV and this is what he had to say.
What do you see as the main differentiator between
VisualCV

and LinkedIn?

First off, I don't see LinkedIn as a competitor. LinkedIn is a valuable tool for professional networking. With LinkedIn you're essentially sending employers to a landing page that is not customized for the position, filled with ads and distracting content, and even links to more people competing for that job.

That being said, here are the main differences between VisualCV and LinkedIn.

Difference 1: Resume version control

VisualCV is for when people need a professional, customized profile that shows off their unique skills. Whether it's landing a new job, closing a new consulting client, or building their public speaking reputation – VisualCV lets you create the right profile for the job.  The most obvious differentiator is version control – in seconds a user can create a different version of their VisualCV with a unique design, tailored to the career goal they're trying to reach.

LinkedIn is one ubiquitous profile – peppered with ads, news, and distractions.

Our user group is diverse – from CEO's, executives, doctors, lawyers and business influencers to recent high school graduates. We want to be with you every step of your career with the right profile to help you get what you want.

Difference 2: Multi-media and design 

LinkedIn's design is lacking. Along with more attractive and effective designs, we do a really good job at supporting various forms of multi-media uploads (videos, images, presentations, and PDF's).

Difference 3: Privacy 

You control your VisualCV.

Users are in full control of their privacy and can choose either a public or private profile (or both).

We'll never sell your data to third parties and do not run ads or post jobs on the platform. We only service one customer – the individual professional.
Do you recommend people use their
VisualCV

to apply for jobs?

As with any tool, it's about how you use it. For jobs where you're not going through the traditional application process, sending over your online VisualCV is a good move that will help you differentiate from other job seekers.

If you're applying the traditional way, we recommend creating a "toned-down" version of your VisualCV, exporting it to PDF to upload into the applicant tracking system, and linking to your online VisualCV from that PDF.
And if applying via email, should someone insert a link to their
VisualCV or send a PDF

?

I would recommend both – attach a PDF resume to that email along with a link. My strategy is always to play within the rules, but to stretch them when you can.
What happens to the multi-media files that are embedded?
Though they'll still display in a PDF, we recommend creating a separate "toned-down" version strictly for PDF exports for traditional applications. Link to your online VisualCV from that PDF.
Is a Word version available when employers specifically ask for one?
PDF is the only export format currently available, but that is changing very soon! We're also working on some secret sauce that will make VisualCV's the best format for applying to applicant tracking software. UPDATE: You can export your VisualCV to Google Doc which you can then download in almost any file format you want! 
Will creating a
VisualCV

help improve a job seeker's online search results?

Definitely. A unique public VisualCV will help you own your Google results. It's important to have your Google results match your resume when an employer searches your name – and they will search your name.
Besides design layout, what do you recommend
VisualCV

users to inject their personality into their

VisualCV

?

Work samples, work samples, and more work samples. Show, don't tell.

If you're a designer – show off your best designs. An engineer – your best 3D models. A professor – your top published papers. If you're a marketing professional or salesperson – video could be a valuable addition. If you were quoted in the New York Times – add a link to the story. Your VisualCV should be your professional highlight reel, and it's much easier to show that off with visual content than words. The more proof you have, the better.
Is an icon/link still available to include in an email signature?
It is indeed! Another personal marketing method we highly recommend.
What's the difference between the free versus the paid plan?
The free account allows for 2 versions of 1 free resume design.
Besides kick-ass designs and advanced analytics, the Professional Plan includes unlimited resume versions and unlimited multi-media uploads.
We also offer a resume review service for Pro users, as well as (for a limited time) our team will actually build your first VisualCV!
Do you have any success stories from users who have secured a job by using their
VisualCV

?

Tons! Here are a few: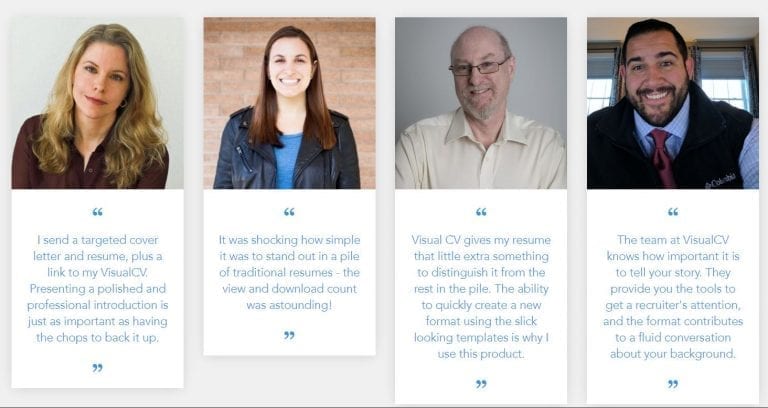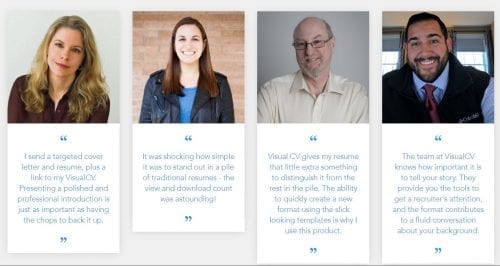 I'm In.
I created mine many years ago and have recently updated it. You can see it by clicking here

Hannah Morgan speaks and writes about job search and career strategies. She founded CareerSherpa.net to educate professionals on how to maneuver through today's job search process. Hannah was nominated as a LinkedIn Top Voice in Job Search and Careers and is a regular contributor to US News & World Report. She has been quoted by media outlets, including Forbes, USA Today, Money Magazine, Huffington Post, as well as many other publications. She is also author of The Infographic Resume and co-author of Social Networking for Business Success.