Have you heard? Visual marketing is hot! Businesses use pictures, images and video to promote themselves and their products and services. You can too!
If you have been ignoring the power of visual content, maybe now is the time to start. Don't you want to increase the number of people viewing, sharing and engaging with what you share or write?!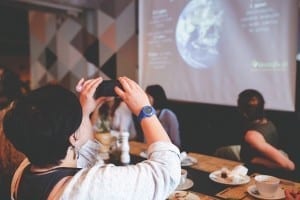 In speaking with job seekers, business owners and companies, I hear things like, "we wouldn't benefit from using visuals" or "my business isn't visual." But what you will see if you look on social media, there are all types of companies creating and sharing visuals.
LinkedIn says "simply having a profile photo results in up to 21x more profile views and 9x more connection requests!"
Don't stop there. Transform your LinkedIn profile into a visually stunning portfolio! Read Make Your LinkedIn Profile Media Rich
Why Is This Happening?
We are using mobile devices, we are overwhelmed by information and we are busy! Pictures instantly tell a story. So make it easy for people to feel emotionally connected to you!
Types of Visual Content To Create and Use
These are the three different types of visuals you can use either within blog posts, or as status updates on social networks or within marketing campaigns and newsletters.
Pictures
Featuring you, fellow employees, key clients, events, volunteering, etc.
Images/Graphics
Create memes, testimonials, quotes, infograhics, etc.
Video
Record How to, customer testimonials or a day-in-the-life videos. You can try hosting a talk show using livestreaming video tools. (Facebook Live, Google Hangouts, etc.)
Best Tools To Use
Creating visual content is easier than you think! Free Tools For A Better Online Presence lists 8 free tools you can use to create and share visuals.
Sources for Photos
Take your own photos or use Morguefile, Death To Stock, Unsplash, or Pixabay.  (Other sources of photos may require you provide attribution). This is one reason I like to use these four sources; no attribution necessary.
Photo Editing/Graphics/Micro-Content
Whether you want to add text to a photo or create your own image from scratch, I recommend these tools.
Pablo by Buffer
Infographics
There are numerous free tools to help you create infographics.  Visme, Venngage and even Microsoft PowerPoint can be used to create infographics as well.
To learn more about creating infographic resumes, I wrote this post and shared 4 infographic templates!
Social Sharing
You may already use images in blog posts and newsletters. But what about sharing them as status updates or posting your images on SlideShare for greater reach?!
Pinterest is an easy way to get started. It is being used as a visual scrapbook. Consider it your career portfolio.
Follow Career Sherpa's board Pinterest: Pin, Pin on Pinterest.
Instagram, Tumblr, and SnapChat are also simple to use.