Are you ready to use video for personal branding?
Videos are the cornerstone of marketing in today's digital world. And your job search is all about marketing! So it's time to develop some new marketing skills using video!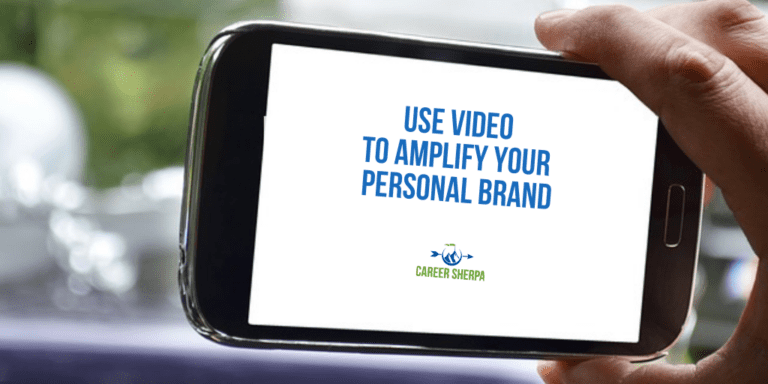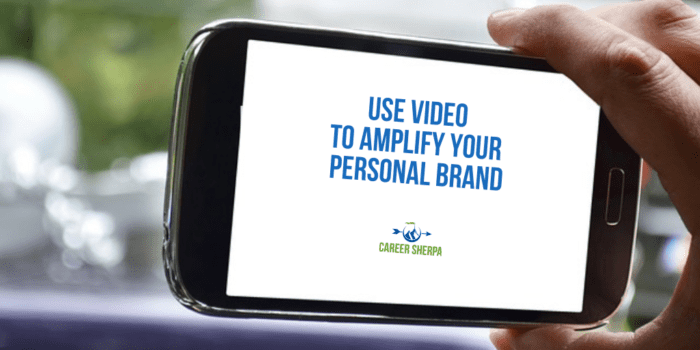 Whether you are actively job seeking or just trying to amplify your personal brand, using video and learning how to create videos will benefit your career.
Why Is Video So Popular?
Videos give people a better sense of who you are and reinforce your brand. Video puts a face and voice with a name and helps establish trust. This is why video for personal branding works. It helps people know you.
Here's what's happening.
We use mobile devices all the time which provides us with instant access to information. But as wonderful as instant access is, it also overwhelms us with news, entertainment and work correspondence. Now, add to our obsession with multi-tasking and our short attention spans. When all these factors combine it results in our increased fondness for video.
Thanks to the low cost and fairly simple technology, almost anyone can make videos, including you.
Adding video to your digital portfolio can improve your reach online and perhaps attract the attention of recruiters and hiring managers without having to clear the hurdle of an impersonal application.
Below you will find tips and tools to get you started using video for personal branding!
Video Topics
While you could film yourself delivering your pitch, or record a video resume, that may not be interesting enough to engage viewers.
A better strategy is to highlight your industry knowledge or subject matter expertise. Remember, you want to establish yourself as an expert.
The topic and style of your video should fit with your personal brand and address the needs of your industry. For inspiration, watch videos on Facebook and Instagram and adapt to your message and style.
Here's a list of topics to create videos for personal branding:
Introduce yourself
Discuss an industry trend
Record a how-to video
Share job-related tips and hacks
Interview someone
Ask a question
Preview events you will be attending
Record live updates during an event
Show your day at work
Film yourself during volunteer projects
Compile photos and videos that showcase your professional life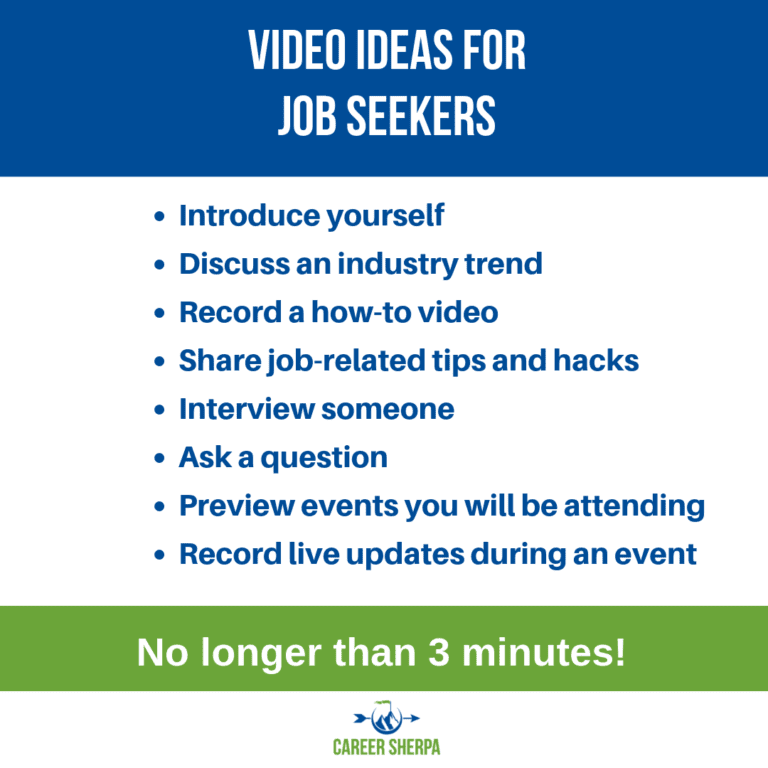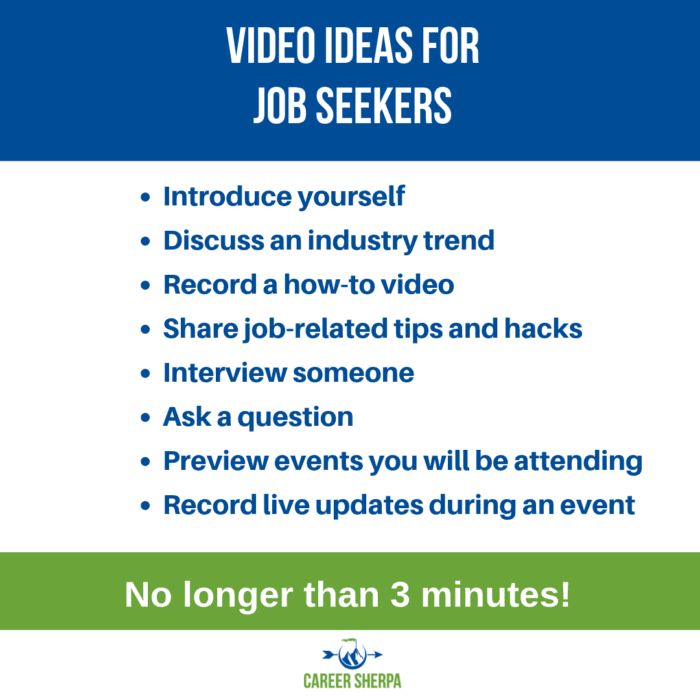 Video Editing Tools
If you already have an idea of what you want to produce, that's half the battle. The next steps involve creating the actual video and perhaps adding music or audio.
There are a lot of free video editing software and apps. Some work on your desktop while others only work on your mobile device. Some work on both.
If you are looking for a list of free apps or software, check out this list by Buffer
The benefit of using software or an app to create and edit your video is that they allow you to choose the best dimensions to fit the social networking platform you share it on.
If you want to share a video on Facebook, LinkedIn or Twitter, it's best to use a horizontal video format. But if you want to share a video on Instagram, you'll need to use a square format and you will need to share it to Instagram from your mobile device or phone (unless you have another paid tool).
Your video can be as simple as stringing together photos in a video. I like to use Wave.video to do this. It costs a little to have this tool, but it's super simple.
[made with wave.video]
As a writer, I like to have my articles automatically converted into video with Lumen 5. It pulls key concepts from the article and puts them into video slots. I can edit all the video content. It even has a library of free photos you can use. Here's an example:
[Note the Lumen 5 promo at the end of the video. That happens because I used the free version.]
Adding Transcription To Your Video
If you plan on adding audio, it is recommended you transcribe the video. This means you see the words appearing at the bottom of the video. Data suggests that most people watch a video with the volume off, so if you are talking, people won't hear you.
The fastest (and easiest way) to this is to use a transcription service such as Rev Transcription Services. For as little as $1/minute you'll receive a transcription of your video which you upload with your video.
Share Video On Social Media
To give your video (and personal brand) even more exposure, share it on social media!
Sharing your video on different social platforms helps expand your reach and gives your personal network a glimpse of your professional life.
For a full list of preferred video dimensions, check out this post by Sprout Social.
Here are some examples of video.
LINKEDIN
INSTAGRAM
View this post on Instagram
Stories, Native Video and Live Video
The Stories status update on Facebook and Instagram offers a way to share a photo or video with your friends or followers that will be available for 24 hours. Sharing Stories can be a good way to share updates if you don't mind that they'll expire.
LinkedIn launched native video. This simply means that you record your video directly within LinkedIn's mobile app. (It isn't a video you've saved to Youtube and link to) You would start the video by using the video camera in the status update box. The video can be saved to your mobile device and you can upload it. The benefit of native LinkedIn video is that it gets more views.
Live video is a different beast altogether. LinkedIn and Facebook both offer Live video where people can interact with your video in real-time either by adding comments or adding reactions to your video. These are great if you want to engage with people watching you live! Try using live video for personal branding.
Best Practices for Video
You aren't expected to create videos using professional cameras; cellphone recordings are common. You should, however, follow these tips to ensure higher quality.
Camera: Plan to use your phone's rear camera. Most phones have larger apertures and offer higher resolution from this lens. Keep the camera steady by using a tripod.
Length: Keep your video short! Most marketing videos are under three minutes. Some platforms limit how long your video can be.
Background: Avoid a cluttered or distracting background. If you're shooting in an office environment, make sure confidential materials and other brand logos are tucked away. You don't want to inadvertently endorse another brand.
Body language: Try to be as natural as possible by smiling, using subtle hand gestures and looking into the camera.
Lighting: Natural lighting is usually adequate, but if it's too dark, change your location or add lights. Watch for shadows on your face that will distract the viewer. Be sure you are not sitting in front of a window, which makes your face dark and not easy to see.
Call to action: Tell the viewers how to contact you or what else to do after they've watched the video. At the end, share your website, social media username, LinkedIn URL or email address to make it easy to reach you.
These are just some of the many ways to use video for personal branding.
CareerBrandVideos – Customized Videos for Job Search and Career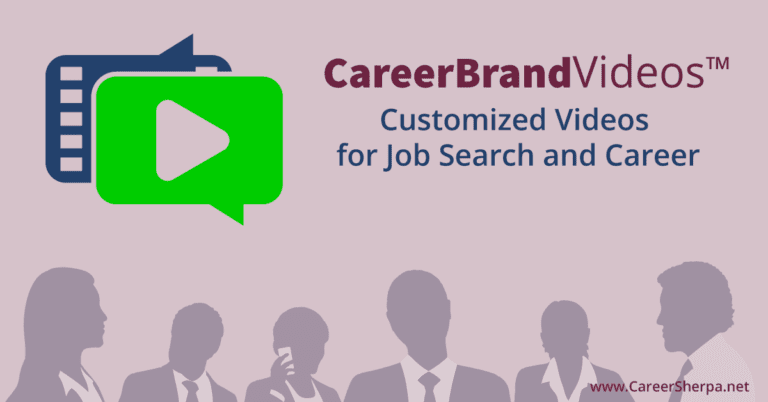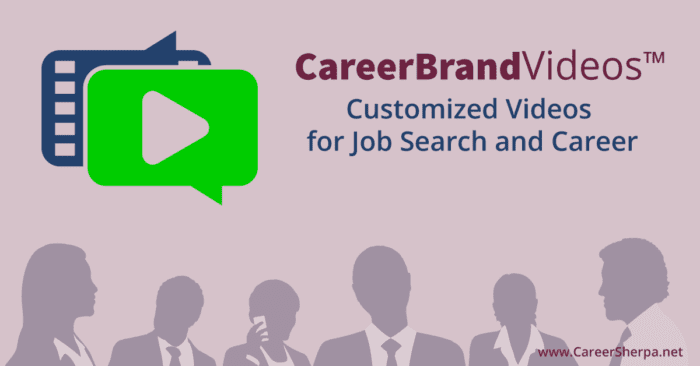 Learn more about this innovative service to create affordable personal branded videos. Here.

Hannah Morgan speaks and writes about job search and career strategies. She founded CareerSherpa.net to educate professionals on how to maneuver through today's job search process. Hannah was nominated as a LinkedIn Top Voice in Job Search and Careers and is a regular contributor to US News & World Report. She has been quoted by media outlets, including Forbes, USA Today, Money Magazine, Huffington Post, as well as many other publications. She is also author of The Infographic Resume and co-author of Social Networking for Business Success.