These are the top articles from 2019 written to help your job search.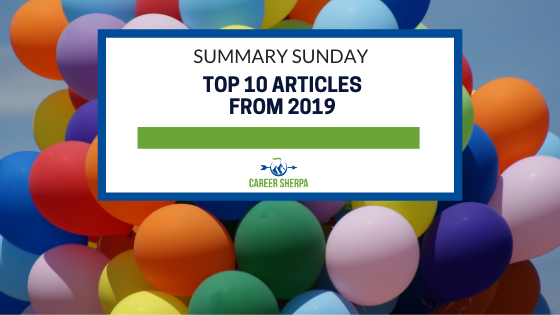 Instead of the usual Summary Sunday content, I'm highlighting my top articles from 2019.
In the list below, you'll find job search tips, LinkedIn advice, understanding ATS and more to help get your job search rolling.
Over the past year, I've written over 100 articles here and contributed more to other publishers. So I figured you may have missed some of these. 2019 was also the year I was recognized by LinkedIn as one of the Top Voices for Job Search & Careers.
Searching For A New Job _______ [fill in the blank]
Searching for a job is probably the hardest job you'll ever have. You regularly face rejection, encounter rude people and feel isolated.
But during your search, you'll make new friends, rekindle old relationships and learn some new things. In fact, you'll learn many new lessons – how to be a decent human being, how to use new technology, how to better manage your time and ways to hold yourself accountable.
Ask anyone you know who's been through a recent job search what their biggest take-aways are and you'll find their answers have little to do with job hunting strategies or how they revamped their resume for the 1,000th time. They learned how important relationships are, how vital clear concise communication is and how to overcome mental challenges.
So if you are thinking about a job search or are looking for ways to improve your search, I encourage you to take a look back and assess your 2019 and take note of your successes.
Top 10 Job Search Articles from 2019
Thanks for making it this far! If you liked any of these articles, feel free to share them!

Hannah Morgan speaks and writes about job search and career strategies. She founded CareerSherpa.net to educate professionals on how to maneuver through today's job search process. Hannah was nominated as a LinkedIn Top Voice in Job Search and Careers and is a regular contributor to US News & World Report. She has been quoted by media outlets, including Forbes, USA Today, Money Magazine, Huffington Post, as well as many other publications. She is also author of The Infographic Resume and co-author of Social Networking for Business Success.