Writing a modern resume requires you create one that makes it through an applicant tracking system AND catches the attention of different readers (recruiter and hiring manager).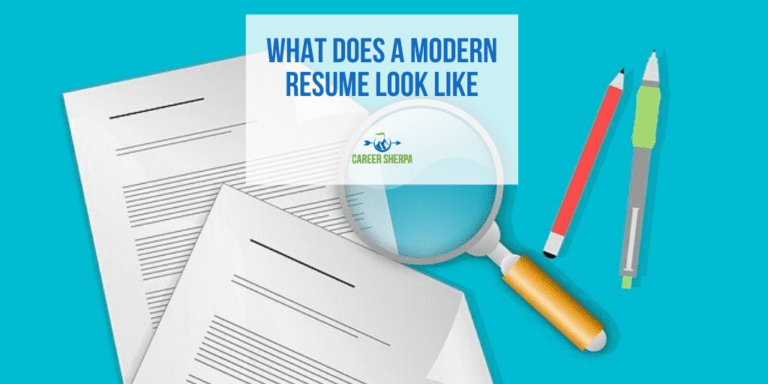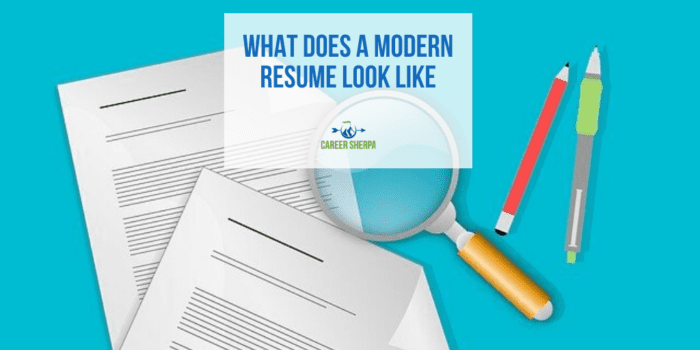 How well do you understand how applicant tracking systems work and how recruiters review resumes?
This overview of what a modern resume looks like helps you understand the most important aspects of writing a resume today.
Submitting your resume online
When you apply for a job online, you're asked to upload your resume and complete an online application. Every ATS is a little different in how they work but the information you supply determines your success. To learn more about how ATS work, read this How To Get Past The Applicant Tracking System (ATS)
In order for your resume to get through the ATS, it has to show you have the qualifications, ie. you may need to tweak your resume to align with the role you are applying for.
Tweaking your resume requires reviewing the job description and highlighting the skills, technology and systems (keywords) requested. Without lying, you want to use those words in your resume. Here's more help dissecting a job posting to uncover keywords – Applying for a Job? Invest Time Reviewing the Job Posting.
How long does a recruiter look at your resume?
7.4 seconds.
The updated eye-tracking study by TheLadders found recruiters look at your resume almost 2 seconds longer than they did in 2012. TheLadder's full analysis is here.
The 7.4 seconds is only a first review of a resume to see if it looks worth further review. If the resume makes it to the next step, the recruiter will spend as much time as it takes to evaluate the qualifications shown in the resume.
Furthermore, most of us don't read anything – we skim. We look for headlines and things that catch our interest.
Recruiters are no different. They don't have time to figure out what the resume is trying to say. It is your job to clearly convey how you meet the job requirements.
Recruiter Eye-Tracking Findings
As you look at the images below, you will see how the layout of a resume can impact where the reader spends more time. When you see red dots on the images below, it signifies that more time was spent looking at the section.
Formatting Takeaways
Titles, headings, job titles and most recent job content all tend to get more attention.
We read left to right so structure important information to take advantage of this. Put the most relevant information first.
Pay attention to the information you list in your most recent job as it receives the most attention.
And don't overlook your contact information. As you can see, the city and state contact information are important. (You no longer need to include your street address.)
Make Your Resume Skimmable
Some of the key recommendations by TheLadders include:
A simple, uncluttered layout
Clear fonts (sans serif fonts are easier to read online.)
An overview, branding statement, value proposition or summary at the top (do not use an objective statement such as "to obtain a challenging, rewarding, full-time job.")
Use job titles and clear sub-headings
Address Each Reader
In order for your resume to make it through the screening software, the eyes of a recruiter and get selected by the hiring manager, your resume has to take multiple readers into consideration. This is why you get different feedback from different people. Everyone has their own preferences.
You need to find the balance between giving them what they want and at the same time, promoting your assets.
Emphasize Current Job
Your most recent job will get the most attention because it contains the freshest skills. Pay close attention to this space and help the reader understand how your work relates to the job you are applying for.
Use accomplishments in your bullets, not job duties!
1 Page or 2-3 Pages
A general rule of thumb is that five years of experience or less should usually fit on a single page. But if you have more than five years of experience, do not limit your resume to one page. Some senior-level job seekers may even have a three-page resume.
Remember to use a readable font size, no smaller than 10 or 11 point. And be sure your margins are no smaller than a half-inch.
Graphics
Should you use fancy charts on your resume? That's a personal choice. What you should know is that an ATS will not read the data contained in the chart. But, if you already have the accomplishment listed with the data, you don't need to worry that the ATS won't show the chart.
And what about including a headshot? That's still not something recruiters or hiring managers want to see on your resume in the United States. Instead, include the URL (link) to your LinkedIn profile.
What we do know is that when documents include visual elements (charts, graphics, images), it tends to keep the reader on the page longer. Think about USA Today's early use of graphs and color and how that helped differentiate them and increased readership.
Color
Don't be afraid to use color. Adding subtle lines and shading is another way for your resume to stand out. Don't overdo it though. Use basic lines and styles.
Several Modern Resume Samples
These are just some of CDI's TORI award-winning resumes from this year.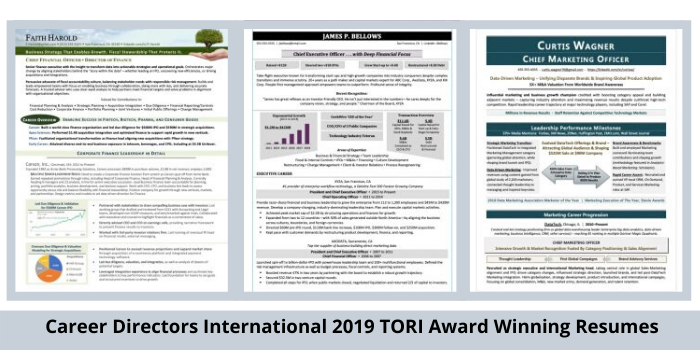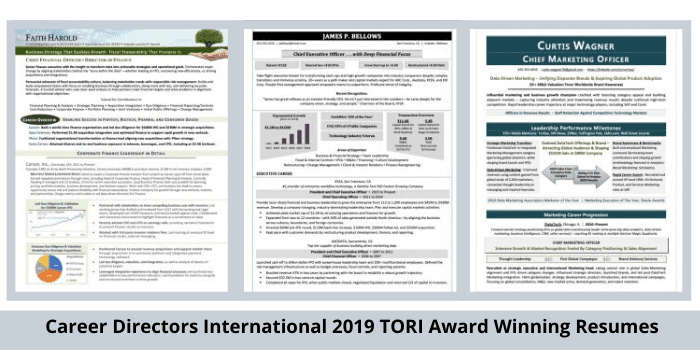 ATS Version
You should always have a version of your resume stripped of formatting that will easily upload into an online applicant tracking system (ATS). Save your Word document as a .txt or .rtf file and fix any visual quirks or inconsistencies.
I am not a resume writer
There are professional resume writers who have been trained and specialize in all the current resume writing standards. That isn't me.
You will want to carefully review the qualifications of any resume writer you hire- and a resume writer is no different. They often specialize in industries and cater to certain occupations. Here's help knowing what to look for Do You Need To Hire A Professional Resume Writer
There are several talented resume writers I've worked with and you can find my recommended professional resume writers here.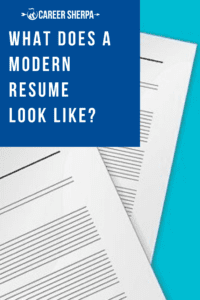 Hannah Morgan speaks and writes about job search and career strategies. She founded CareerSherpa.net to educate professionals on how to maneuver through today's job search process. Hannah was nominated as a LinkedIn Top Voice in Job Search and Careers and is a regular contributor to US News & World Report. She has been quoted by media outlets, including Forbes, USA Today, Money Magazine, Huffington Post, as well as many other publications. She is also author of The Infographic Resume and co-author of Social Networking for Business Success.